The Real Reason 'Gossip Girl' Alum Amanda Setton Left 'The Mindy Project'
The Mindy Project ended after six seasons. Some fans may have forgotten about the casting shakeups that occurred back in season 1. While creator and series lead, Mindy Kaling, has gone on to produce other projects, why did Amanda Setton leave The Mindy Project just as it took off?
Who is Amanda Setton?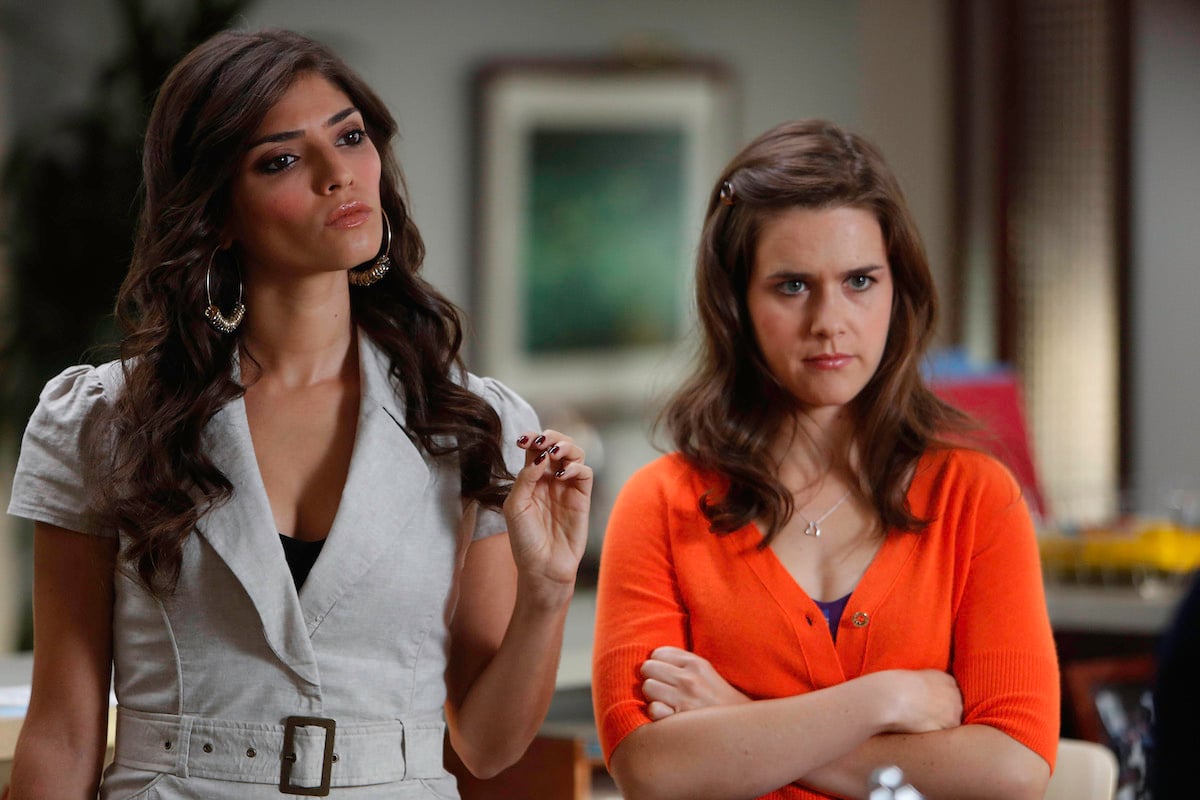 Amanda Setton might be an instantly recognizable name, but the star has appeared in plenty of well-known projects such as Gossip Girl, One Life to Live, and most recently as Brook Lynn Quartermaine in General Hospital.
And, while a few of her credits have reduced Setton to "Girl Slapping Guy, and "Hot Woman," she landed the role of Mindy Lahiri's (Mindy Kaling) receptionist, Shauna Dicanio, in the 2012-2013 premiere season of The Mindy Project.
For 12 episodes, the New York native played a "tenacious, Jersey-born office manager at Schulman and Associates who collects unpaid patient bills as if she were a bounty hunter," as described by The Hollywood Reporter.
With such a promising start in a series with so much potential, why did Setton leave?
Setton left 'The Mindy Project' amid 24-episode order
During midseason of the first go-around, The Mindy Project struggled to find its footing. The Fox sitcom remained a work-in-progress well into season 1. According to TV Line, Setton departed along with co-star, Anna Camp.
Camp played Mindy's best friend, Gwen. Her status changed from "series regular" to "recurring," after she asked to be taken off her contract. This move "allowed the star to pursue other opportunities while continuing to appear on The Mindy Project," the outlet stated. Her role completely disappeared by the end of the first season.
At the time, the network ordered a 24-episode (full) season, just as casting began for "a new female character" for the series regular role of "Maggie," described as "a tomboyish college friend of Mindy's."
As far as Setton, it doesn't appear as though she was "let go." Instead, multiple reports say the star left for "creative reasons." Some speculate Kaling didn't want to pursue a fictional love triangle between her character, Setton's character, and love interest, Danny Castellano, played by Chris Messina.
Likewise, co-star and writer, Ike Barinholtz, later told Entertainment Weekly she didn't want relationship buildup between hers and Messina's characters.
"This isn't Gossip Girl. These are not, like, super young teenage kids. These are professional doctors who are in their early- to late-40s and to kind of tease it out too long seemed a little unrealistic, you know?" she said.
Setton hasn't commented on her character's sudden disappearance.
What really happened, according to Kaling
The Mindy Project, which was canceled after three seasons on Fox then picked up by Hulu through 2017, eventually settled on its primary cast. However, Kaling downplayed the season 1 cast shakeups.
"[Camp's] part on the show hasn't changed storywise," Kaling said via Vulture. "It's a workplace show so we weren't using her as much."
The outlet added that Kaling didn't explain Setton's exit but went on to gush about other co-stars. As for Setton, The Mindy Project is in her rearview mirror as she cements herself deeper into the soap opera world where she can come and go — and not be forgotten.