The Real Reason Why The Weeknd and Drake Didn't Talk To Each Other For 7 Years
The Weeknd and Drake are two of the biggest music artists in the world. Between the two of them, they've sold more than 335 million records and have accrued more than 40 #1 hits on the Billboard Hot 100. 
Although both of the supremely talented artists hail from Toronto, Canada, the two haven't appeared together on a record since Drake lent his vocals to 'Live For,' from The Weeknd's debut album Kiss Land.
Rumors circulated for years that The Weeknd and Drake were at odds, there weren't many facts about why. However, Drake revealed that there was indeed a rift between the two of them that kept them from collaborating again.
The Weeknd didn't want to sign to Drake's OVO record label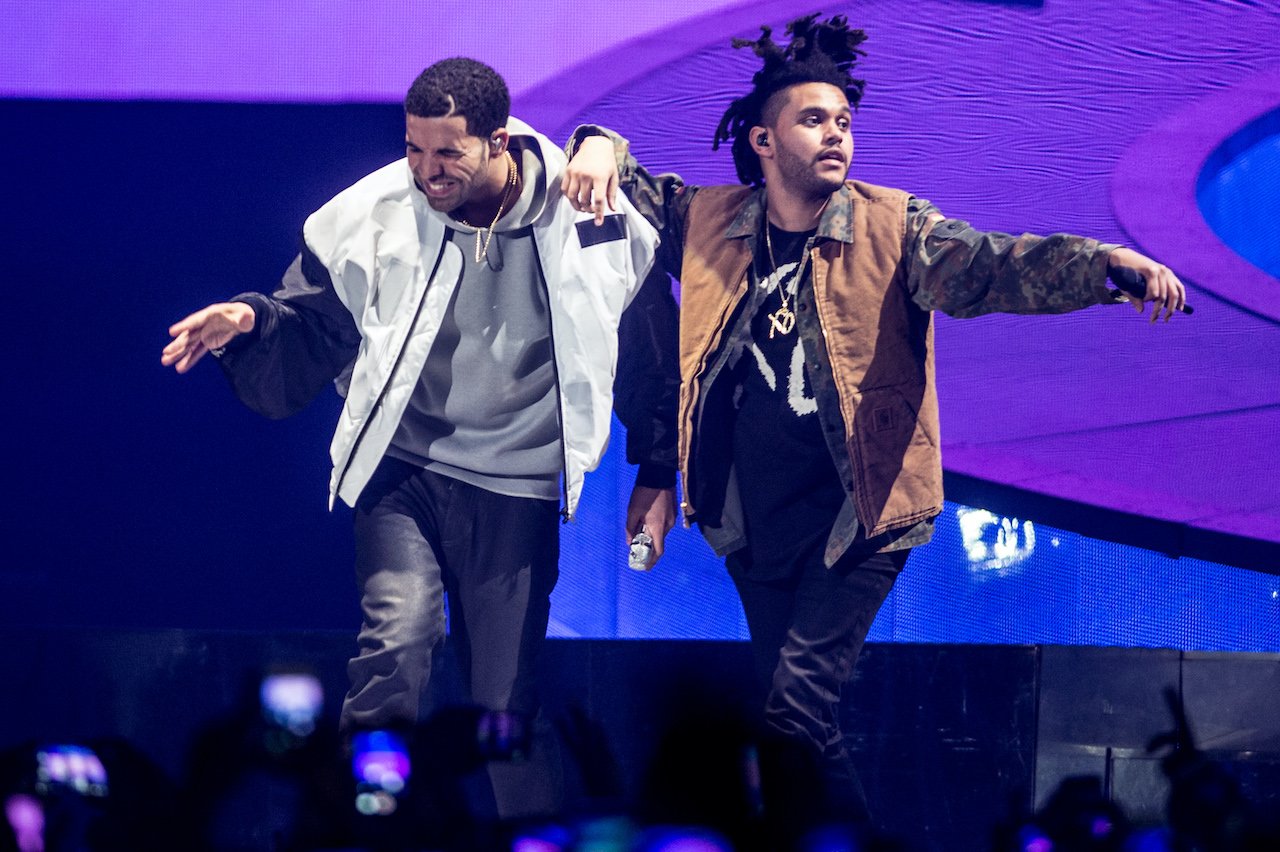 RELATED: Dionne Warwick Praises The Weeknd's Super Bowl Halftime Performance After Trolling Him on Twitter
Earlier in his career, The Weeknd received a boost in popularity after Drake began working with the 'Can't Feel My Face' singer. There was speculation that The Weeknd would sign to Drake's OVO record label, although he decided not to. His decision led to some tension between the two artists' camps, souring their relationship.
Drake explained the details behind their feud during an interview with Rap Radar.
"Well, with Abel we had our run, we had our moments on Take Care, and my features on his projects," Drake said. "And he just really came to me at one point—came to all of us—and was like, 'Look, I don't want to be signed under another artist because I feel like I could be just as big, or bigger. And I want to start my own thing.'"
Drake never expected The Weeknd to stay under his record label
Drake assured that he was never offended by The Weeknd deciding to walk his own path and create his own label, XO records.
"And it was never like—to this day, I'm always excited, always super happy for all those guys, and I never had any resentment towards, like, 'You didn't stay on OVO,'" Drake said. "That was never really…"
However, although Drake himself wasn't upset with The Weeknd, other members of his team didn't like the move.
"I'm not gonna say there weren't people that didn't feel a way about it, but that was never my—like, my thing, I never expected Abel to stay under OVO," Drake said. "As soon as I heard him once express that he wanted to do his own thing."
He regrets not speaking to The Weeknd for 7 years
In hindsight, Drake regrets allowing so much time to pass without communication between the two.
"So it's like my biggest regret would maybe be that we probably wasted seven years not communicating with each other when we had something beautiful going on," Drake said. "OVO [and] XO still could've been a thing, and still will be a thing, by the way."
Specifically, he feels like he missed an opportunity to provide their collective fans with a great musical moment.
"Obviously, like you said, people have to grow, and we gotta work through things, and I have my fair share of s–t to apologize for, as does he," Drake said, "We've obviously had our bumps in the road but… Yeah, my biggest regret isn't that he never signed to OVO, my biggest regret would just be that we didn't give people that album, that tour."
Drake looks forward to working with The Weeknd in the future—if he's up for it.
"'Cause it's just like, the two biggest artists from the city don't link," Drake said. "So it's just not a good look for where we're from, so… You know, hopefully, we can fix that and make good on the years that we missed. … I look forward to that, and hopefully, he's open-minded to it."