The Real Royal Feud Is Between Prince Charles and His Sons, Not William and Harry
New reports claim that the royal feud is between Prince Charles and his sons, not between Prince William and Prince Harry.
A lot has been made about Prince William's ongoing feud with Prince Harry, but royal experts believe that the real war is between the brothers and their father, Prince Charles. William and Harry were much closer to their mother, Princess Diana, growing up, and while they have grown closer to Charles over the years, there is still a lot of tension in the family. Here's a look at Prince Charles' strained relationship with his sons and how it may have contributed to Harry's shocking announcement.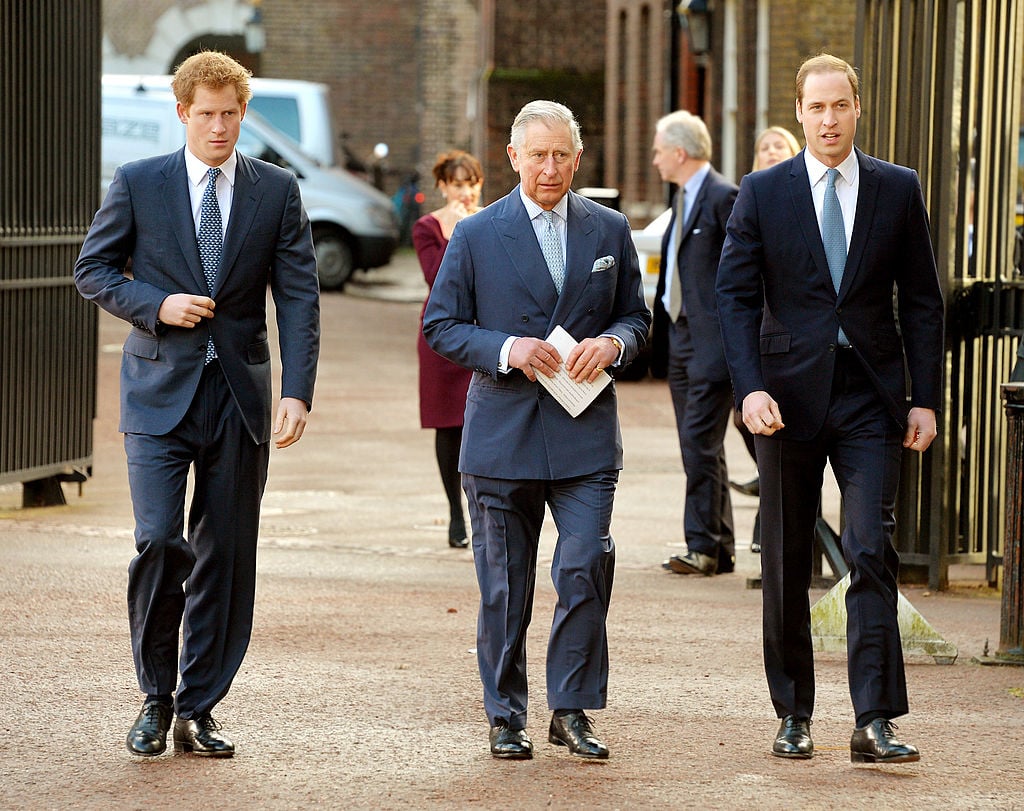 Inside Prince Charles' feud
Royal experts believe that Charles has always had a rather complicated relationship with his boys. William and Harry have never been shy about being "mummy's boys," and Charles has reportedly leaned on outsiders to help reel them in.
According to Spectator, the Prince of Wales asked William and Harry to mention him in their documentary marking the 20th anniversary of Diana's tragic death. William outright refused to say anything about Charles while Harry offered him a short tribute.
Things reportedly took a turn for the worse when Charles refused to let Harry and Meghan launch a separate court at Windsor. The Duke and Duchess of Sussex reportedly wanted to create their own court after moving out of Kensington Palace last year.
Queen Elizabeth reportedly sided with Prince Charles and agreed that a second court should not be created. Unfortunately for Harry and Charles, that was only the start of their escalating feud.
Prince Harry defies his father
Harry allegedly came to his father last month with plans to set up a second home base in North America. Not wanting to see Harry and Meghan leave the U.K., Prince Charles reportedly told Harry that he needed a more detailed plan of action before anything could be approved.
After the rejection, Harry requested a meeting with Queen Elizabeth in Sandringham. But when Charles' courtiers got wind of the meeting, they suspected that Harry was trying to undermine the Prince of Wales.
To prevent a potentially embarrassing situation for Charles, the courtiers blocked the meeting. The move only fueled the growing feud between Prince Charles and his son. Harry feared that his plan would get leaked to the public, which is why he and Meghan broke the news on social media.
Shortly after the bombshell announcement, Queen Elizabeth called a meeting with Prince Charles, William, and Harry. She later issued a statement about how she supports Harry and Meghan's decision to step down from their previous positions.
Prince Charles wanted his sons to work together
In light of everything that has happened, inside sources claim that Prince Charles has always wanted Harry to play an important part in the monarchy. Although it was always going to be William who took the throne, Charles wanted Harry to be one of William's biggest supporters throughout his reign.
"Charles has always envisioned working with both of his sons and their families in the future," the source stated.
There has been a lot of talk about Prince Charles slimming down the monarchy, but the insider insists that Charles always envisioned Harry as being a part of that exclusive group.
With that in mind, the insider revealed that the royals are doing their best to support Harry and Meghan and understand why they felt a need to leave. They also want to get the couple to a place where they feel comfortable once again.
Meghan is currently back in Canada while Harry is spending some time in the U.K. before rejoining her in a few days.
Prince Harry makes his first public appearance
While we wait to see how the situation unfolds, Harry made his first public appearance since the shocking announcement.
Harry took part in the drawings for the 2021 Rugby League World Cup inside Buckingham Palace. The event has been on Harry's schedule for quite some time.
Prince Harry also opened up about his decision to leave the royal family behind in a second appearance. At a dinner for the supporters of the Sentebale charity in London, Harry made it clear that he felt like he had "no other option."
"The decision that I have made for my wife and I to step back is not one I made lightly," the Prince said. "It was so many months of talks after so many years of challenges. And I know I haven't always gotten it right, but as far as this goes, there really was no other option. What I want to make clear is, we're not walking away, and we certainly aren't walking away from you."
Despite the reports, Prince Harry has not commented on the rumors surrounding his relationship with Prince Charles.