'The Real': Will the Show Hire a New Co-Host After Amanda Seales' Exit?
There's a shakeup happening at The Real.
On June 2, Amanda Seales announced that she isn't renewing her contract for the show after being on it for just six months. Now that the news is out, many viewers can't help but wonder who might take her place — if anyone. While the show has yet to address the topic, the co-hosts have offered up information in the past that might provide some insight.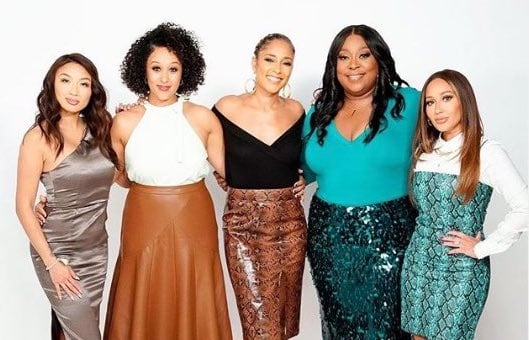 First, why is Amanda Seales leaving 'The Real'?
Seales said on Instagram Live that her decision to leave stems from censorship concerns and potential mistreatment by staff.
"I didn't renew it because it doesn't feel good to my soul to be at a place where I cannot speak to my people the way they need to be spoken to. And where the people who are speaking to me in disparaging ways are not being handled," she said.
"I'm not in a space where I can, as a full black woman, have my voice and my co-workers also have their voices and where the people at the top are not respecting the necessity for black voices to be at the top too," Seales continued.
"So you reach a point — like, even when it just comes to Hollywood, in general, you've seen me transform into a way that I just can't function in this place the same way. I can't," she added.
Seales joined the show in early January. Her entry marked the first time the show had five co-hosts since Tamar Braxton was forced off The Real in 2016.
Will Amanda Seales be replaced on 'The Real'?
Who knows what will happen in the future, but Adrienne Bailon told OK! Magazine after Braxton's exit that she and her co-hosts wanted the spot to remain open.
"I think we are the core and we love it that way," she explained. "But at the same time, we love love love having guests. Guest co-hosts are so much fun. I think they add a little something different to the show every time one comes on. And I think that's how we like it. We were playing off of that for a while and we've been loving it that way."
The co-hosts do not have control over hiring decisions
In a 2018 interview with Essence, Bailon noted, "We also can't stop them from adding [a co-host]."
She went on to talk about how difficult it was for them to adjust following Braxton's exit. But the bright side is that it made her and her co-stars closer.
"In all honesty, there was a moment in time when we said, 'Why is this happening to us?'" she recalled. "But because of going through that, we more than ever value this…and what we went through has made our bond so much stronger. And we're grateful for that so we value this; its precious to us; and we don't allow anything to infiltrate this."
Read more: 'The Real' Newcomer Amanda Seales Reveals the Co-Host She's Closest To