The Reason Kate Middleton Has a Large Scar On Her Head
Everyone has scars but because she's in the spotlight Kate Middleton's scars become news. If you noticed the rather large mark on the Duchess of Cambridge's head, you may be wondering how she got it. And if you never noticed it before, you're probably wondering the same thing now.
Inquiring minds were so interested in Middleton's scar that Kensington Palace actually released a statement about it. Here's the story behind her scar, plus what other marking on the duchess' body fans noticed and freaked out about.
How Middleton got that scar on her head
Prince William's wife has been photographed countless times over the years leaving tons of photos for the world to see and dissect. So, of course, some people noticed that she has a three-inch scar on her left temple.
For the most part, it's hidden in her hairline but one picture taken during an event in 2011 had people speculating that she was wearing hair extensions and it was a track showing.
A Kensington Palace spokesperson later clarified that was not the case and revealed that Middleton has a scar there which is a result of an operation she had when she was a kid.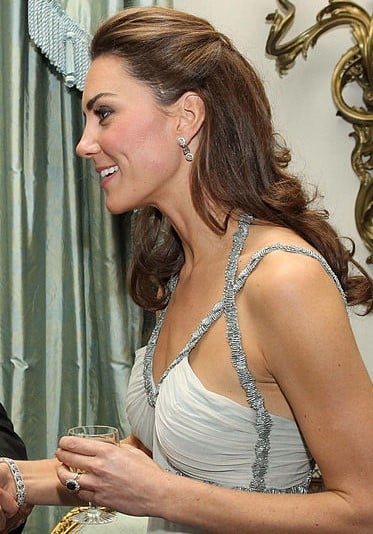 "The scar is related to a childhood operation," the palace spokesman told E! News.
Exactly what kind of operation Middleton had has never been revealed. But Dr. John Scurr, a consultant surgeon at the Lister Hospital in London, spoke to the Daily Mail and opined that it likely wasn't due to any serious medical condition.
"I would say it is as a result of an arteriovenous malformation — a birthmark — being removed."
These days the duchess usually covers her scar by wearing her hair in different styles or updos that hide it.
The other marking on Middleton's body fans questioned
This isn't the first time a marking on the duchess made news and had fans asking questions. The other time was in 2018, when she was spotted with a much smaller marking on her body. Fans freaked out after seeing for the first time what appeared to be a tiny tattoo on the royal's hand.
The marking in question wasn't permanent ink. It was actually a henna tattoo on the future queen. While speaking with a group from Young Asian Voices, Middleton was asked by one of the girls if she could draw a henna design on her hand.
"I said 'Would you like a design?' and she was like 'Yes, if you don't mind,'" Shajida Begum, who drew the tiny black flower, explained. "She was saying that it was really pretty. I was just telling her how it works. I was telling her when she can wash it off — I said 'when it becomes flaky.'"
The semi-permanent tattoos are done with a natural dye and last anywhere from one to four weeks.
Read more: Why Prince Harry's Ex Chelsy Davy Refused To Be Friends With Kate Middleton
Check out Showbiz Cheat Sheet on Facebook!