The Reason Sarah Ferguson Feuded With Prince Andrew's Younger Brother, Prince Edward
Prince Andrew and his ex-wife, Sarah Ferguson, are on great terms these days. The two have been attending royal events together and reportedly still live under the same roof. However, Fergie's relationship with some of Andrew's family members isn't so great.
Prince Philip is likely the first person that comes to mind when we think of who has feuded with Fergie but he's not the only one. Some royal fans may not be aware that the Duchess of York has always been at odds with both of Andrew's brothers. Here's why Prince Charles and Prince Edward don't get along with Fergie, plus if Prince Philip is finally ready to bury the hatchet.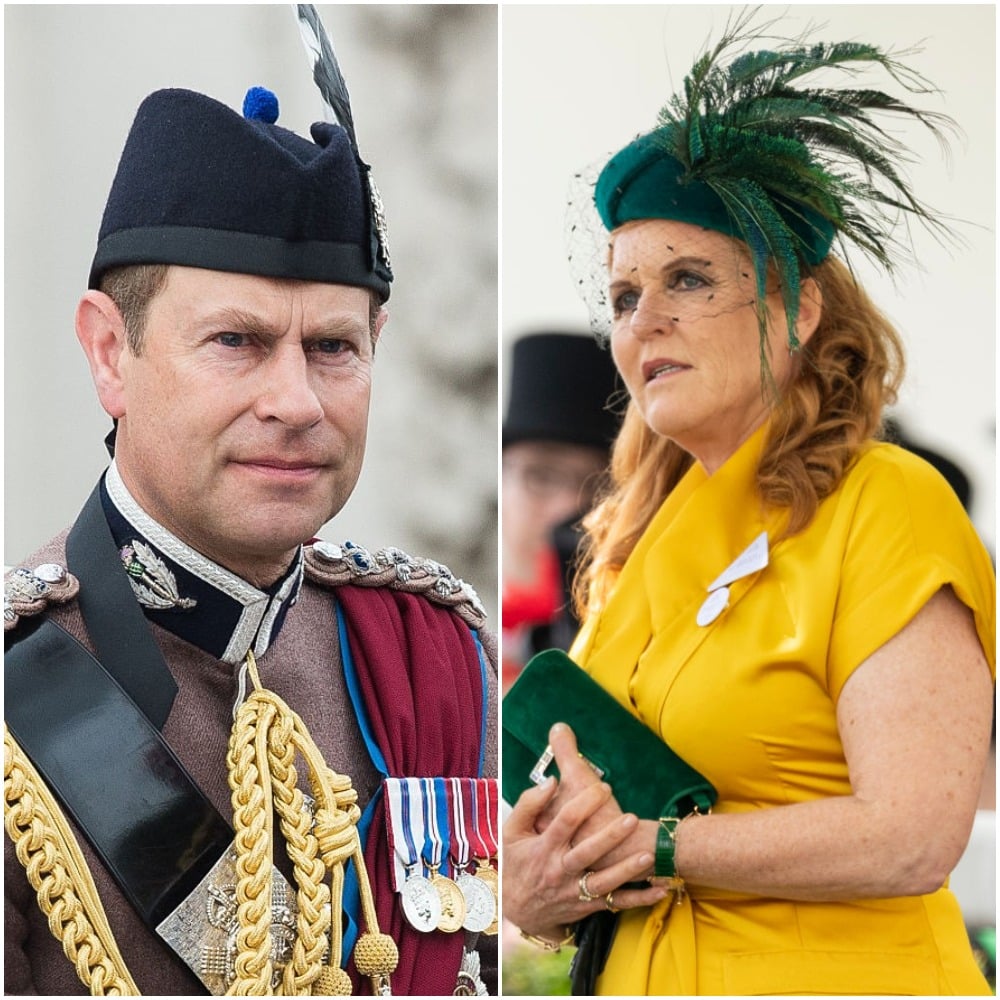 Are Prince Philip and Fergie still feuding?
Fergie and her former father-in-law's feud goes all the way back to her infamous toe-sucking scandal in 1992. The royal patriarch was reportedly furious with Ferguson who was still married to his son at the time she photographed in compromising positions with a man that wasn't Andrew. The Duke of Edinburgh blamed the duchess for damaging his family's reputation.
In 2018 though many thought that Philip was finally ready to let bygones be bygones when he agreed to attend Princess Eugenie's wedding and pose for the same pictures Eugenie's mother would be in. However, while he was at the church and sat in for the photos he did not speak to or acknowledge Fergie.
In August 2019, the public learned that they were in fact still feuding when Ferguson abruptly left the queen's summer home in Scotland after Philip had arrived earlier than expected.
Why Prince Charles does not get along with the duchess
Fergie and the future king also have a very icy relationship. There have been reports that these days Charles despises Fergie. When Prince Harry and Meghan Markle tied the knot, Fergie was invited to their nuptials but not the private reception that her ex-husband and children were because Prince Charles did not want her there.
An insider commented on Ferguson being snubbed from the evening party saying, "She is not a member of the royal family anymore and Prince Charles simply doesn't have time for her. He just can't see why she is still such a big part of his brother's life."
Other sources have claimed that Charles' reasoning for not liking her is because he feels Fergie always took Princess Diana's side years ago.
"Charles is not OK with Fergie. He can't stand her in reality," the insider said. "They don't get on personally. There's so much baggage because he feels she sided with Diana over Camilla."
Reason Ferguson and Prince Edward feuded
Which brings us to Prince Edward. So what have the queen's youngest child and Fergie feuded over? Well, according to royal biographer Ingrid Seward, Edward and Fergie got along very well for years until the press found out that the prince was dating Sophie Rhys-Jones in the early '90s.
In her book titled Prince Edward, Seward wrote that Edward believed Fergie contacted someone from the media and leaked the information.
"Initially, Edward got on well with the exuberant redhead. Everyone did," Seward noted. "On occasion, Sarah would drive into Soho and join Prince Edward and [theatre director] Biddy Hayward for lunch at a nearby bistro."
Seaward added that after the press learned who the private royal was dating he was "convinced" Fergie was behind the leak.
"There were to be no more lunches with Prince Edward … he became convinced that she had leaked the information about Sophie to her press contacts," Seaward wrote. "The source was in fact an employee, not a member of the royal family."
The royal author claimed that the duchess was "incensed" that Edward had accused her of being the source when she was not.
Read more: Sarah Ferguson Reveals Why She Was So Upset About Being Banned From Prince William and Kate Middleton's Wedding