The Rock Has a NSFW Nickname for 'Jungle Cruise' Co-Star Emily Blunt
Disney's Jungle Cruise pairs Emily Blunt and Dwayne "The Rock" Johnson together as co-leads, and fans love their on-screen comedic chemistry. In all their promo interviews, they've spilled on their experience shooting the movie and gave fans a peek at their friendship. It's obvious they're comfortable enough with each other (and castmate Jack Whitehall) to the point where they can coin nicknames. And Rock's name for Blunt may make someone clutch their pearls.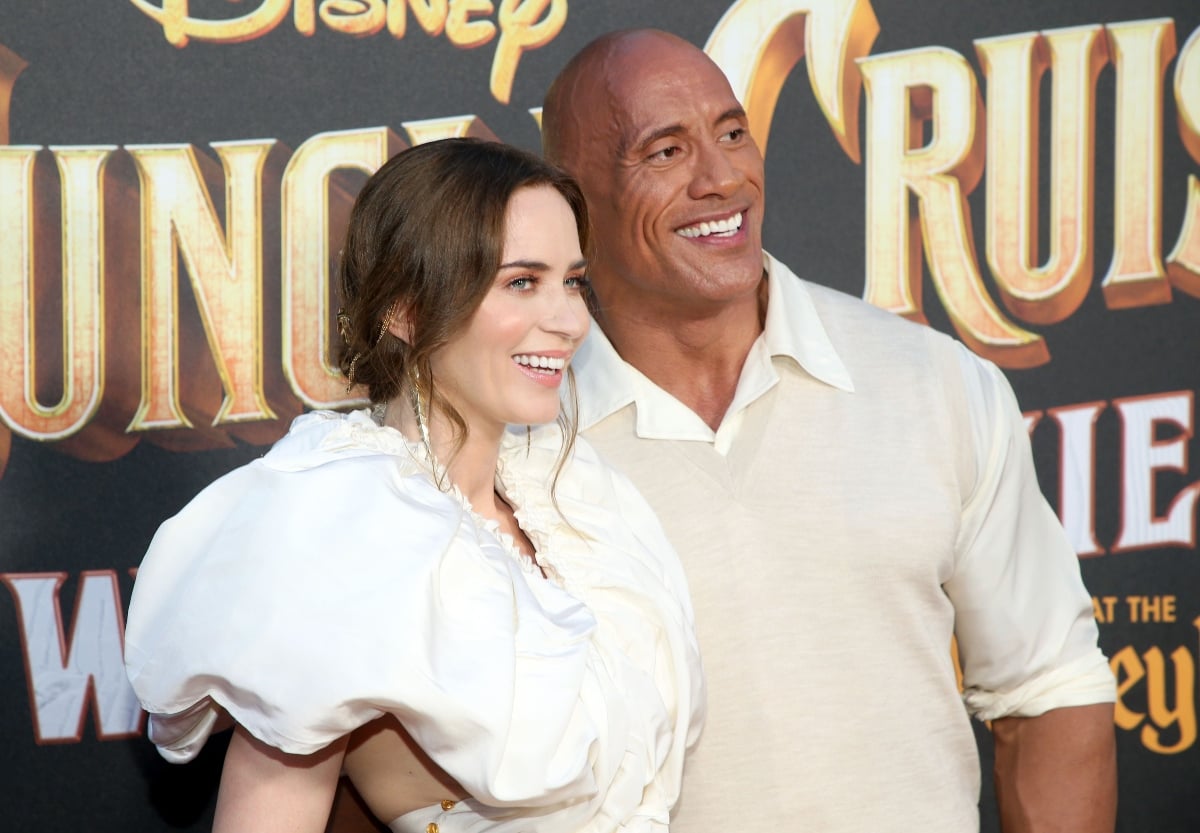 The Rock's raunchy nickname for Emily Blunt made her say, 'WTF!'
Emily Blunt, The Rock, and Jack Whitehall hit the media circuit to hype up Jungle Cruise, and their conversations often turn into giddy admissions of their on-set behavior. For those who didn't know, all three bestowed nicknames on one another, and The Rock shared one of his for Blunt.
During a chat with IMDb, he blurted it out: "Oily *#*$!" Blunt was simultaneously amused and caught off guard. Her immediate reaction? "What the f—k!" she said, declaring war on the actor. Though his phrase is censored in the video, some Instagram fans believe they've figured it out by reading the Rock's lips. And it's not safe for thine ears.
Guesses range from a "c-sucker" to "d-sucker," which we won't spell out fully here. One person speculated that he said, "oily discharge," but part of the fun seems to be laughing without knowing for sure. In all fairness, in another part of the video, Blunt implied her co-star is a "be-ye-yatch" when it comes to snakes.
Blunt's nickname for Rock is 'Toots'
He may play Frank Wolff in the movie, but off camera, the Rock had a different name. Blunt gave him the moniker "Toots." Some fans may have seen the Rock's Instagram post about Jungle Cruise where he acknowledged the cutesy name. But when the cast dropped by BBC 1 Radio to talk shop, they joked about it.
"Jack is so happy that this is out there into the world now," said Blunt. "Not only do I call him Toots, but everyone in our team and our Jungle Cruise family — my hair and makeup girls now, my publicist, everyone. Everyone calls him Toots, and I love it." That's her favorite term for him, but she admittedly also calls him Dave Gobson, a play on his real name, Dwayne Johnson.
Rock has an unflattering nickname for Jack Whitehall
Clearly this trio had a blast filming this movie, as they cracked up the entire time they discussed the nicknames. And Whitehall didn't escape the harmless disses either. During their BBC chat, the Rock made a name up on the spot for him, and Blunt couldn't stop giggling. It's "Tight Balls," which creatively rhymes with his last name, Whitehall.
However, Blunt has a much safer, innuendo-free nickname for the comedian, and the reverse is true as well. She's called "Stunty Blunty" for her fighting prowess, and even tapped the Rock on the nose with her fist. Jungle Cruise continues to soar at the box office, and fans can catch it in theaters or on Disney+.