'The Rockford Files' Sort of Had a Spinoff That Didn't Last
The Rockford Files — starring American actor and producer James Garner as the character Jim Rockford — premiered in the fall of 1974.
NBC's hit TV show The Rockford Files — starring American actor and producer James Garner as the character Jim Rockford — premiered in the fall of 1974.
By the time its series finale aired in 1980, the show had won numerous Emmy Awards. The Rockford Files had also grown into a pop culture phenomenon, sparking widespread interest in its theme song (which charted on the Billboard Hot 100) and its featured vehicles (i.e., the Pontiac Firebird Espirit, the GMC Sierra Classic, and others).
In an effort to capitalize on the success of The Rockford Files, NBC attempted to do a spinoff show. Unfortunately, the spinoff show didn't have the same longevity as its predecessor. In fact, the spinoff was cancelled before it even finished airing.
'The Rockford Files' aired for six seasons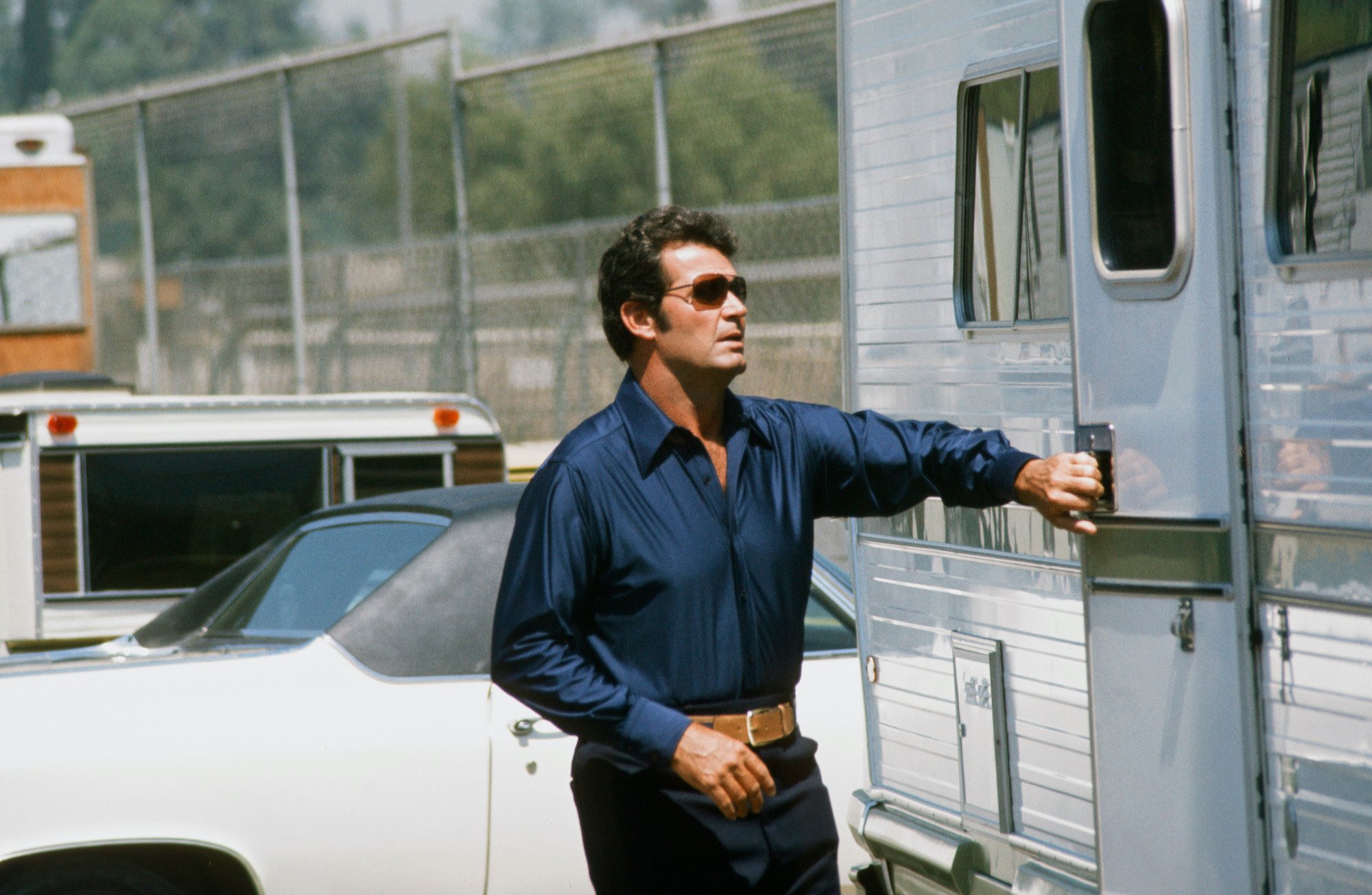 The Rockford Files follows Garner's Rockford as he's wrongfully imprisoned in California's San Quentin Prison. When Rockford gets released, he becomes a private detective working out of a rundown mobile home perched in a Malibu beach parking lot. In each episode, Rockford helps solve cold cases and missing person investigations.
While the premise may seem simple today, it was groundbreaking in the '70s. The Rockford Files was an attempt to apply a "devil-may-care attitude to the private-investigator show, which was to the '70s what Westerns had been to the '50s," explains AV Club.
"The show's popularity, even now, can be attributed to a number of elements," adds the outlet. At the time, most local TV stations aired The Rockford Files every afternoon for nearly a decade.
Garner was also a big hit with audiences, especially with the way he added a sarcastic touch to the character. Besides being innovative in its theme, AV Club notes that "the series' craftsmanship is also apparent," adding that "to this day, it's the easiest drama series of its era to watch in marathon sessions."
With a successful template to follow, NBC and the show's writers tried to use The Rockford Files to launch a spin-off show. But not unlike Rockford's dilapidated mobile home, the spin-off fell apart.
'Richie Brockelman, Private Eye' was supposed to be a spin-off of 'The Rockford Files'
Richie Brockelman, Private Eye was another American detective drama from NBC's studios, and it premiered in March 1978 just a little over halfway through The Rockford Files' run. It featured actor Dennis Dugan as a 22-year-old private investigator in Los Angeles, California. 
"The character of Richie…had appeared in the 1978 episode [of The Rockford Files]," reports Wide Open Country. This is what Hollywood executives call a "backdoor pilot," where audiences are introduced to a new series through another popular show. However, the spinoff didn't perform well with audiences.
"The series ran for just five episodes and was not renewed," reports TV Obscurities. "At least one telefilm was later created by editing episodes of Richie Brockelman, Private Eye together." 
But TV executives didn't give up, and Richie Brockelman, Private Eye wasn't the only time they attempted to make a spinoff from The Rockford Files.
There were two other spinoffs of 'The Rockford Files'
In a 1977 episode of The Rockford Files entitled "Just Another Polish Wedding," audiences meet two black characters: Gandolph "Gandy" Fitch (Isaac Hayes) and Marcus "Gabby" Hayes (Lou Gossett, Jr.) "This episode was a 'backdoor' pilot for a possible spinoff series," points out IMDb.
The series was supposed to be called Gabby & Gandy, with Hayes being a smooth-talking investigator and Fitch being a brawny, serious investigator. However, the studios decided not to proceed with the spinoff.
"At a time when black actors on crime dramas often played pimps, streetwalkers, drug dealers, or addict-informants, this attempt at a spinoff series with two black detectives was ambitious," adds Crime Reads.
Last but not least, there was an attempt to create a ganger show off of The Rockford Files.
American screenwriter David Chase joined The Rockford Files towards the end of its run. "Chase signed on…in 1976 and remained until its premature conclusion midway through the sixth season in 1980, writing and/or producing nearly two-dozen shows," reports Slate. "And Rockford's penultimate installment was actually a backdoor pilot for what would have been a Chase-produced spin-off about New Jersey mobsters."
That spinoff also didn't happen. Interestingly, Chase would go on to write and produce another famous gangster show: The Sopranos on HBO.