'The Ruch Life' Star Angela Ruch Talks Favorite Moments and the Return of Nascar (Exclusive)
The Ruch Life star Angela Ruch is dishing on her first experience in reality TV. Debuting on Facebook Watch, The Ruch Life explores Ruch's return to NASCAR and her journey adopting two babies with husband Mike Ruch. With one season of reality television under her belt, here's a look at Ruch's favorite moments from the show, plus how she feels about her return to the race track.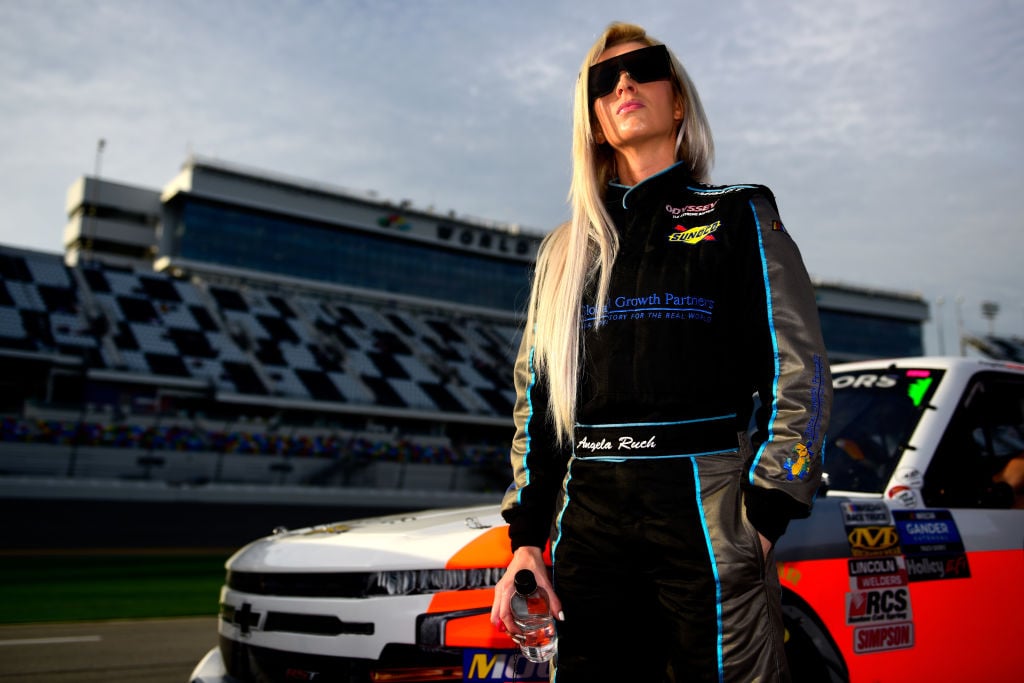 Ruch opens up about season 1 of 'The Ruch Life'
Ruch was dealing with quite a few changes in the first season of The Ruch Life. Not only was she making an epic comeback to NASCAR as the sport's only driver who is also a mom, but she had also just adopted two babies.
In a recent interview with Showbiz Cheat Sheet, Angela Ruch opened up about her favorite moment from the first season. Ruch revealed that finishing eighth at Dayton was a "dream come true" and easily her favorite moment from the show.
"I would say Daytona. That was huge for me. Dream come true. But not just that, you know, having that eighth place finish just showing people that I can do it and I do deserve to be in the sport. I definitely turned some heads," she shared.
There are currently three women racing in NASCAR, with Ruch being the only mom in the mix. Ruch has accumulated some very impressive stats over the years, and her finish at Daytona brought her one step closer to enjoying a big win.
The Ruch Life, meanwhile, debuted on Facebook Watch back in February. The reality series featured eight episodes in its first season and attracted over 7 million views.
What has Angela Ruch been doing during the quarantine
Like other professional sports, the coronavirus pandemic forced NASCAR to postpone races. Amid the quarantine, drivers have turned to iRacing to help deal with not being on the track every week.
Although Ruch has been taking part in the races with her fellow drivers, she admitted that there has been a learning curve, especially given how she "didn't grow up on video games."
"For me, it's been tough trying to understand the whole system because the system is not. It's quite expensive and quite lavish like it. There's so many buttons on. I'm still trying to figure it out every day that I get," she shared.
When she isn't trying to learn the ins and outs of iRacing, Ruch has been busy with her new podcast. Although Ruch has plenty of things on her plate at the moment, she revealed that the podcast has "been helping fill my days" and has "been a ton of fun."
She also understands that people loved watching her reality show and want to see more of her life. The podcast has helped fill that need, and she hopes it gives fans something to "cheer" about.
Ruch opens up about becoming a mom
She also discussed how her babies, King and Lord, are doing. Although King travels to most of her races, Ruch revealed that things have been more challenging with Lord.
Angela Ruch revealed that Lord's biological mother was doing drugs when she gave birth, so they had to deal with some "really heavy" withdrawals for the first few months. Despite the struggles, Ruch is happy to report that most of the bad things are out of Lord's system and she has been doing much better.
She is also looking forward to having Lord and King with her when she goes back on tour with NASCAR, which is set to kick-off at the end of the month.
Inside Angela Ruch's return to NASCAR
With areas of the country opening up, NASCAR will be back in action in Charlotte on May 26. Ruch cannot wait to get back in the driver's seat, especially since the race is in her hometown.
"We all need it, right? Going back May 26 and we'll be at Charlotte, the hometown race, which will be awesome," she shared.
Ruch added that it will be difficult fitting an entire year's worth of competitions into the next six months, but she believes things will work out just fine. She is also very excited about competing on the track once again, something that has been "a dream" come true.
Fans can Angela Ruch on the first season of The Ruch Life on Facebook Watch.