The Russo Brothers Said This 'Avengers: Endgame' Scene Was 'Touching' to Shoot
During a virtual watch party, the Russo Brothers revealed what scene from 'Avengers: Endgame' was 'touching' to shoot.
On April 27, ComicBook.com held a virtual watch party of Avengers: Endgame. While taking part in the watch party, fans tweeted #QuarantineWatchParty and #AvengersAssemble. Directors Joe and Anthony Russo also joined in on the Russo Brothers Twitter account and revealed which scene from Avengers: Endgame was "touching" to shoot.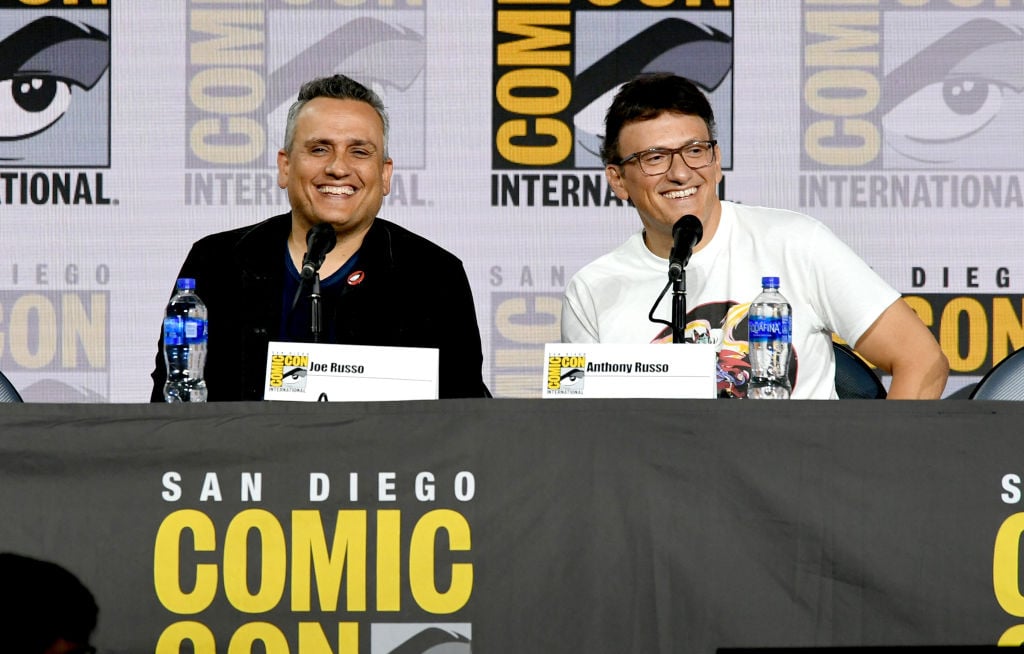 The directors said the scene in 'Avengers: Endgame' involved Steve Rogers
In Avengers: Endgame, Steve Rogers goes back in time to the S.H.I.E.L.D. headquarters with Tony Stark. There, he accidentally stumbles into Peggy Carter's office. Not only does he see Peggy still keeps a photo of him on her desk, he sees her working through a window in her office.
During the Avengers: Endgame watch party, Joe and Anthony Russo tweeted from the official Russo Brothers Twitter account that this was a "touching" scene to shoot.
"This was definitely one of the more touching scenes to shoot. @ChrisEvans's performance in Peggy's office is… #AvengersAssemble," they tweeted.
Some fans did not like that Steve Rogers went back in time to be with Peggy Carter
At the end of Avengers: Endgame, Steve goes back in time to return all of the Infinity Stones. He then remains in the past to reunite and stay with Peggy until present day, when he passes on the mantle of Captain America to Sam Wilson.
Steve staying in the past with Peggy was controversial to some fans of the Marvel Cinematic Universe. After Joe and Anthony Russo tweeted about the scene, some fans voiced their disapproval in the replies.
"Yeah, and Steve should have realized in that moment that Peggy was fine, that she moved on with her life and was happy and follow her example," a fan tweeted.
Another fan replied to the directors, "And by touching, you mean creepy and completely unrealistic. Where are the pictures of her kids and husband? Why does the director of SHIELD have her desk facing away from the door? Why does a woman in her 50s look like she was still in her 20s?"
"He should've just left it there and never went back. He saw she was doing fine. Boom. Leave," wrote a Twitter user.
The Russo Brothers answered questions about 'Avengers: Endgame'
Joe and Anthony Russo used the movie watch party as a way to give behind-the-scenes insight to the making of Avengers: Endgame. In addition to giving their opinion about the movie, the directors also answered fans' questions.
One fan asked, "Was there any plan to include the Soul Stone place other than Vormir? Like Wakanda or even Adam Warlock himself? @ComicBook #InfinityWar #QuarantineWatchParty."
"Early on in development talks we considered making Cap the soul stone… But that idea fell away rather quickly. #AvengersAssemble," the directors answered.
Another fan asked, "When did you tell @ChrisEvans that he was going to wield Mjolnir and who was on set for when it was filmed? What was the reaction?"
Joe and Anthony Russo replied, "It was early in development when we let him know he was going to pick up the hammer… needless to say he was psyched. The crew on these films are filled with comic book lovers, so you can guess how excited everyone was the day we filmed this. #AvengersAssemble."