'The Scorpion King': Dwayne Johnson Said It Only Took '2 Minutes' for Him to Learn a Fight Scene
Dwayne Johnson has starred in countless big-budget blockbusters that kill it at the box office. He's one of the most bankable movie stars in the world. But when he started out on his Hollywood journey, he was a superstar professional wrestler who hadn't yet proved himself as a box office draw. His first starring role was as a character called the Scorpion King. Going from a wrestler to an actor isn't necessarily an easy transition, but Johnson's background as a grappler actually helped him when it came time to shoot the movies in which he played that character. Here's how. 
The Scorpion King in 'The Mummy Returns' was Dwayne Johnson's first big starring role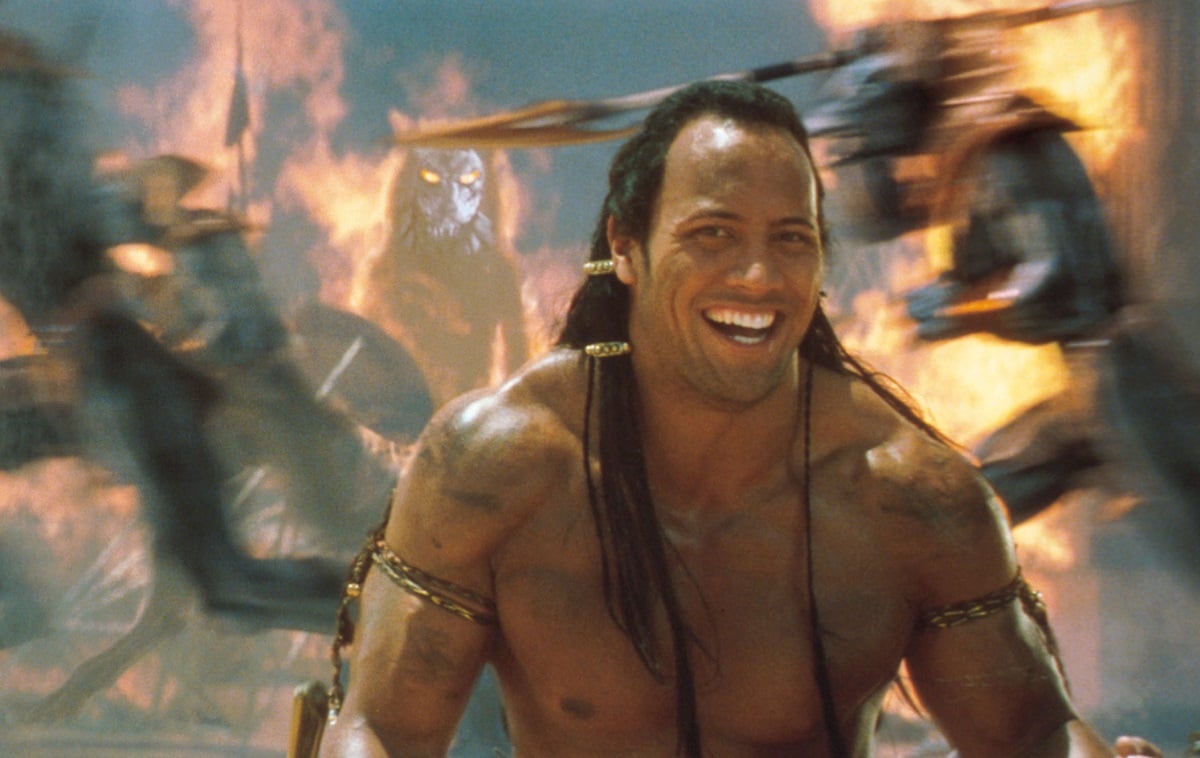 Currently, Johnson stars in just about every type of blockbuster you can imagine. He's helmed franchise after franchise: GI Joe, Jumanji, The Fast and the Furious … the list goes on and on. He'll soon join the world of superheroes and villains as Black Adam. But before he was in any of those films, he was known by only two words: "The Rock." 
Johnson came from the world of pro wrestling, competing as a WWE superstar. He started as something of a bland babyface, wrestling under the moniker of Rocky Maivia. This name paid tribute to his pro wrestling family lineage: his father, Rocky Johnson, and his grandfather, High Chief Peter Maivia. After an unsuccessful first run as a good guy, Johnson adopted a new gimmick and attitude. As "The Rock," he played a cocky heel who spoke in the third person and continually spouted catchphrases. 
The fans ate it up. Despite the fact that he was playing the villain, WWE fans loved cheering for him and he quickly became one of the most popular and successful pro wrestlers of all time. 
On top of being incredibly charismatic, he was also talented as an in-ring performer. After several years as a top player in the WWE, he made the transition to movies. His first starring role was in The Mummy Returns playing a character known as the Scorpion King, and his wrestling background helped him prepare in a major way. 
Dwayne Johnson used his WWE background to make the fight scenes in 'The Mummy Returns' believable
According to Entertainment Weekly, Johnson first played the character of the Scorpion King in the 2001 film The Mummy Returns. Johnson was hardly the first wrestling star to attempt a transition to action movie hero: Jesse Ventura, "Rowdy" Roddy Piper, and Hulk Hogan before him had all tried with varying levels of success. But for The Mummy Returns, Johnson said his time as a wrestler was what made him such a natural. 
"This part of it isn't all that different from what I do on TV," Johnson said of the film's fight scenes. "But instead of smashing people with metal folding chairs, we're using swords and knives and a wider array of props. I'm able to pick it up fairly quickly. All I need is about 2 minutes to figure out the scene."
According to IMDb, Johnson got his shot to reprise the role of the Scorpion King in a 2002 film named after the character. 
'The Scorpion King' is getting another shot in theaters
For fans of Johnson's performance as the Scorpion King, he's getting another crack at the character that launched his legendary Hollywood career. According to Comic Book, Johnson is planning to produce and star in a reboot of The Scorpion King. 
Johnson released a statement saying, "The Scorpion King was my very first role ever on the silver screen and I'm honored and excited to reimagine and deliver this cool mythology to a whole new generation." 
It's been a long time since Johnson has wrestled professionally on a regular basis, but at this point, he's a pro at these movie fight scenes. There's no question a new Scorpion King would have legit action sequences in it due to this.