The Secret Life Of The Cast Of 'Sons Of Anarchy'
Kurt Sutter created a violent and tragic world over the course of seven seasons of Sons of Anarchy. The actors that portrayed the gang members on the show were only pretending, but their real-life stories are sometimes just an interesting — and intense — as their on-screen counterparts. Here is a look at the secret life of the cast of Sons of Anarchy.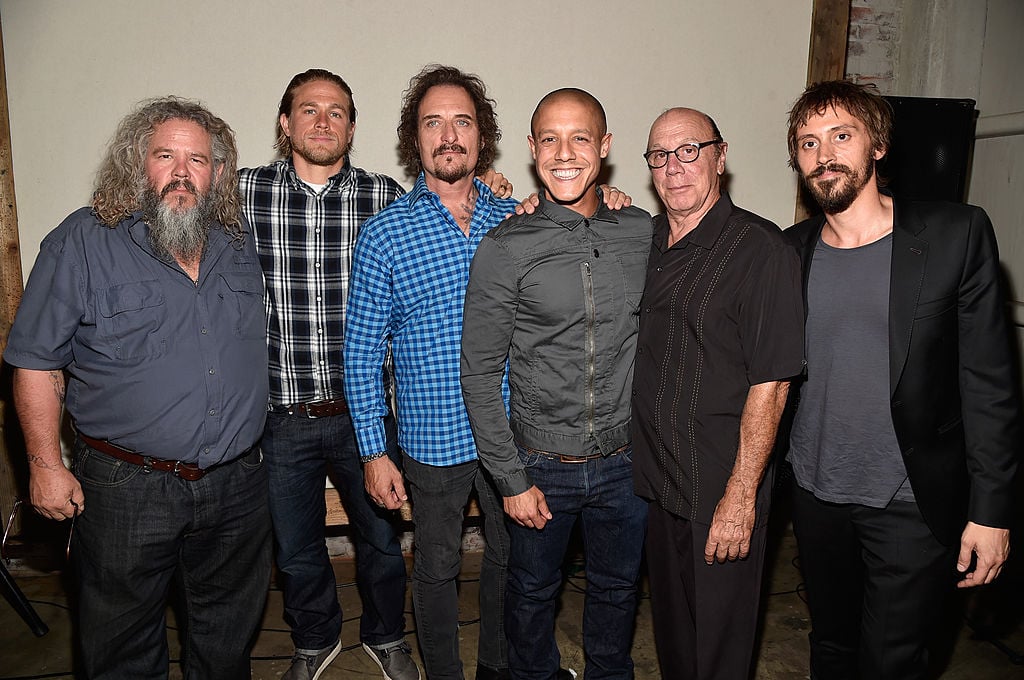 Johnny Lewis was a murderer
Johnny Lewis played the part of Kip "Half-Sack" Epps on Sons of Anarchy before his exit in Season 2. Years after his departure, Lewis's life took a dark turn. The former actor completely snapped in the fall of 2012, assaulting two of his neighbors and murdering his landlady, who was 81 years old at the time. He also killed the poor lady's cat.
Police were dispatched to the crime scene, where they found Lewis deceased. Investigators later deduced that Lewis jumped from the garage or roof of the home to his death.
Sutter posted a tweet following Lewis' death, lamenting how the actor had "lost his way." The Sons of Anarchy creator also noted that he was not surprised by what happened.
David Labrava is in a real biker gang
Unlike his co-stars, David Labrava did not have to do a lot of research for his character, Happy. Labrava is actually a member of the Hells Angels and first joined the project as an advisor. He impressed Sutter, however, with some custom scripts he wrote and asked for a chance to be cast as a recurring character.
Sutter obviously gave him a chance and Labrava ended up playing an important part across all seven seasons of Sons of Anarchy.
Kurt Sutter feuds with the 'Sons of Anarchy' cast
Sutter has never been afraid of confrontation, even when it comes to members of his own cast. Apart from getting into fights with FX executives, Sutter reportedly got into a squabble with both Tommy Flanagan and Charlie Hunnam on the set of Sons of Anarchy.
Sutter and Flanagan allegedly got into a shouting match during a scene in 2012. Their argument did not turn physical, though Sutter did allude to it in a later tweet.
When it comes to Hunnam, the actor once criticized how Sutter withheld information about character story arcs. Hunnam explained how he is used to knowing everything about a character at the start of a project, and that Sutter's philosophy was to only give them as much information as they needed.
Sutter commented about the situation on Twitter, though he later apologized for getting involved in the squabble.
Ron Perlman did not like his bike
When Ron Perlman was cast to play the part of the show's villain, Clay Morrow, he had never driven a motorcycle. According to Screen Rant, Perlman took lessons to learn how to ride for Sons of Anarchy, but even still, the actor was afraid of his Harley. Most of his fears were based on several minor accidents.
Luckily, Perlman eventually got the hang of it and learned how to ride like a pro by the time the show got off the ground.
Speaking of their bikes, many of the cast members rode motorcycles to and from the set of Sons of Anarchy. Hunnam once claimed that he did not ride in a car during all seven seasons of the show.
Tommy Flanagan has real scars
Tommy Flanagan's scars fit perfectly for his Sons of Anarchy character, Chibs Telford, but few fans would guess that the scars are real. Flanagan was involved in an altercation with a group of criminals outside a nightclub in Glasgow, Scotland.
The thugs held Flanagan down and gave him what is called a "Glasgow Smile," slicing him from mouth to ear. Flanagan survived the ordeal and went on to have a successful career in Hollywood.
Katey Sagal struggled with addiction
Katey Sagal has enjoyed a long career in the entertainment industry, but her journey has not always been smooth sailing. In her personal memoir, the actress revealed that she struggled with substance abuse for many years. Her friendship with Lorna Luft, the daughter of legendary actress Judy Garland, helped her get over her issues.
Sagal's mother also struggled with addiction, as did Garland's mom. The two bonded over their family history and, after 15 years of struggles, Sagal got over her addiction.
Fans can binge Sons of Anarchy on Hulu.