The Secret Trick Meghan Markle Uses That Guarantees a Flawless Look Every Time
Meghan, Duchess of Sussex always looks put together even when her style is more casual. Whether she's wearing jeans or is dressed more formally, Meghan makes it all look effortless. She has a few tricks up her sleeve, including one secret fashion hack that guarantees a flawless look.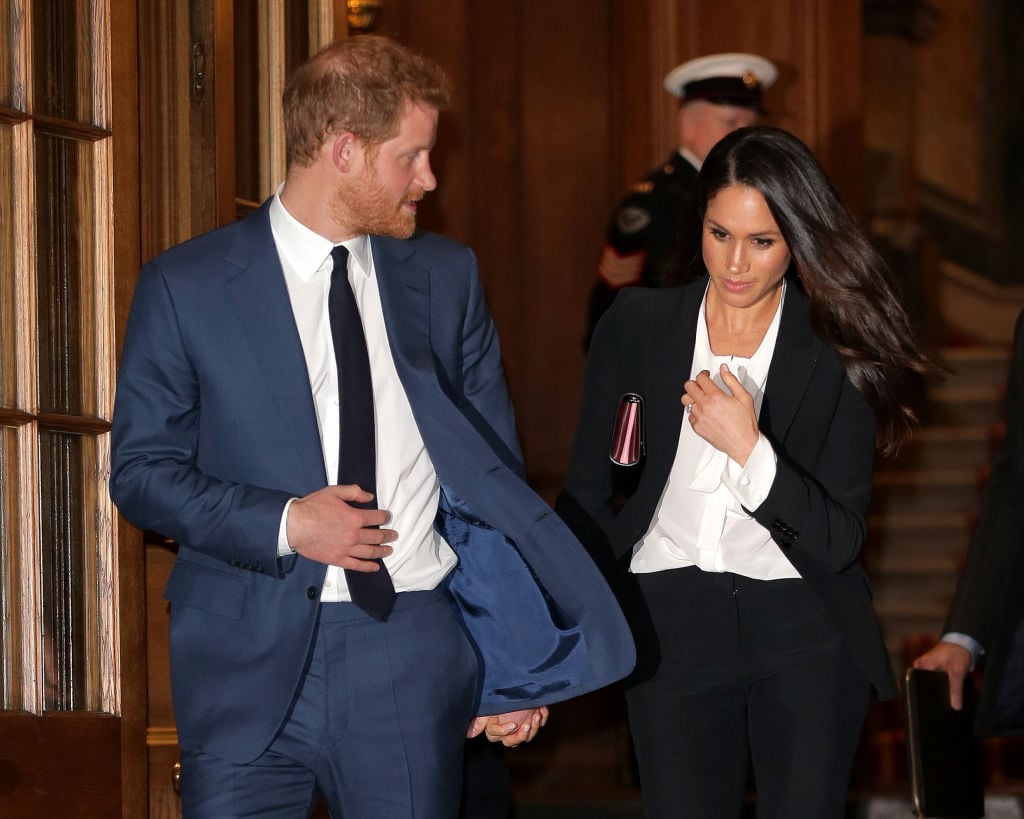 Meghan avoids bunching tops with this trick
Meghan has found a surefire way to avoid the bunching you get when you tuck a top into pants or a skirt. She wears a variety of bodysuits that create a smooth look rather than dealing with a bunched blouse.
The duchess has worn bodysuits on a number of occasions and her fans have been none the wiser. She sported a black turtleneck bodysuit during her first official royal engagement in Nottingham as well as on a trip to Australia with Prince Harry.
What appeared to be a silk blouse that she wore to the 2018 Endeavour Fund Awards was actually a bodysuit, as was the ribbed turtleneck bodysuit she wore at a luncheon to launch the Together: Our Community Kitchen cookbook.
RELATED: Meghan Markle Wore This Adorable 'Sixteen Candles' T-shirt: Where to Buy It for Under $20
It's a perfect solution for a sleek look
The trick is quite easy and avoids any fuss. "Meghan is very aware of her own style and as someone who favors sleek, chic silhouettes the bodysuit is the perfect option for her," stylist and brand consultant Alexandra Fullerton told Mail Online.
Fullerton added, "Bodysuits are a very smart way of dressing as they never bunch or ruche under outfits, meaning she can get on with the business of being a duchess, rather than worrying that her top is untucking itself."
Fashion expert Rochelle White added, "I think Meghan chooses to wear a bodysuit as it is comfortable and offers a much sleeker finished look. It saves any tops that she were raising up, becoming untucked or being a bit messy when out on royal visits or engagements."
"Bodysuits are perfect for any type of occasion, and they compliment Meghan's body shape and silhouette," she noted.
Kate Middleton has a trick for avoiding visible bra straps
Meghan isn't the only duchess who has a useful style hack. Catherine, Duchess of Cambridge utilizes strapless shapewear to avoid visible bra straps.
Royal style expert Myka Meier shared Kate's hack in an April Instagram post, writing, "Royal Style Hack Alert! Ever wonder why you never see bra straps?! Swipe to see a secret trick which is a must-have royal wardrobe piece!"
The caption accompanied photos of Kate in a blue dress with a sheer top that she wore to Royal Ascot last summer, underneath which she wore a strapless shapewear piece in nude.
When one commenter remarked, "Which is still a nuisance when you have to go," Meier noted, "yes but the snaps are at the crotch so makes it easy."
Meier shared with Fabulous that there a few ways to keep undergarments out of view. "There are a few options to hide bra straps, with one option being a bra that is actually sewn into the piece," she explained. "A second option is strapless shapewear, which is a one-piece that either snaps at the bottom or has legs attached. You can buy them in almost any skin tone so they appear transparent and don't show through clothing."