'The Simpsons' 'Star Wars' Day Short 'The Force Awakens from its Nap' Skewers the Franchise and Disney
Disney+ debuted a new three-minute 'Simpsons' short on May 4. 'The Force Awakens from its Nap' stars Maggie Simpson in a 'Star Wars' spoof that takes some jabs at Disney too.
The Simpsons surprised fans for Star Wars Day on May 4. A new Maggie Simpson short, The Force Awakens from its Nap, premiered on Disney+. Maggie has previously starred in shorts like The Longest Daycare which preceded feature films.
[Spoiler alert: This article contains spoilers for the short The Force Awakens From its Nap.]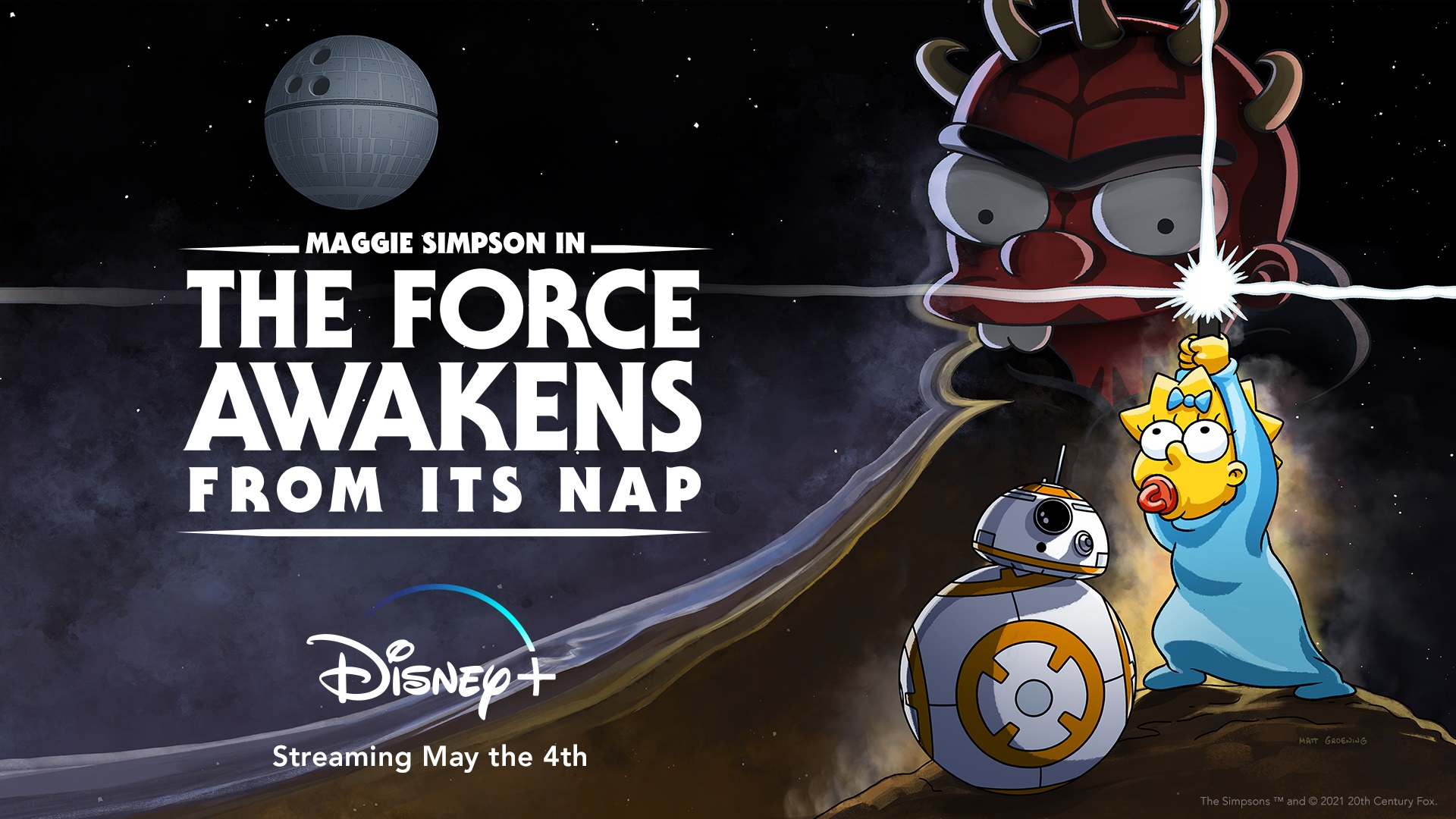 The Force Awakens From Its Nap, too, is a silent comedy derived entirely from reactions and visual jokes. These just happen to satirize the Star Wars franchise, and the Walt Disney Company, which now owns both Star Wars and The Simpsons.
What is 'The Simpsons' 'Star Wars' short 'The Force Awakens From a Nap' About?
Marge Simpson drives Maggie to preschool. This time, they drive by the Ayn Rand School for Tots, which Maggie has attended in the past. Instead, they go to Jabba's Hut Jedi Preschool. There's a baby Star Wars aliens in the class with other human kids, all Simpsonized with animated overbites.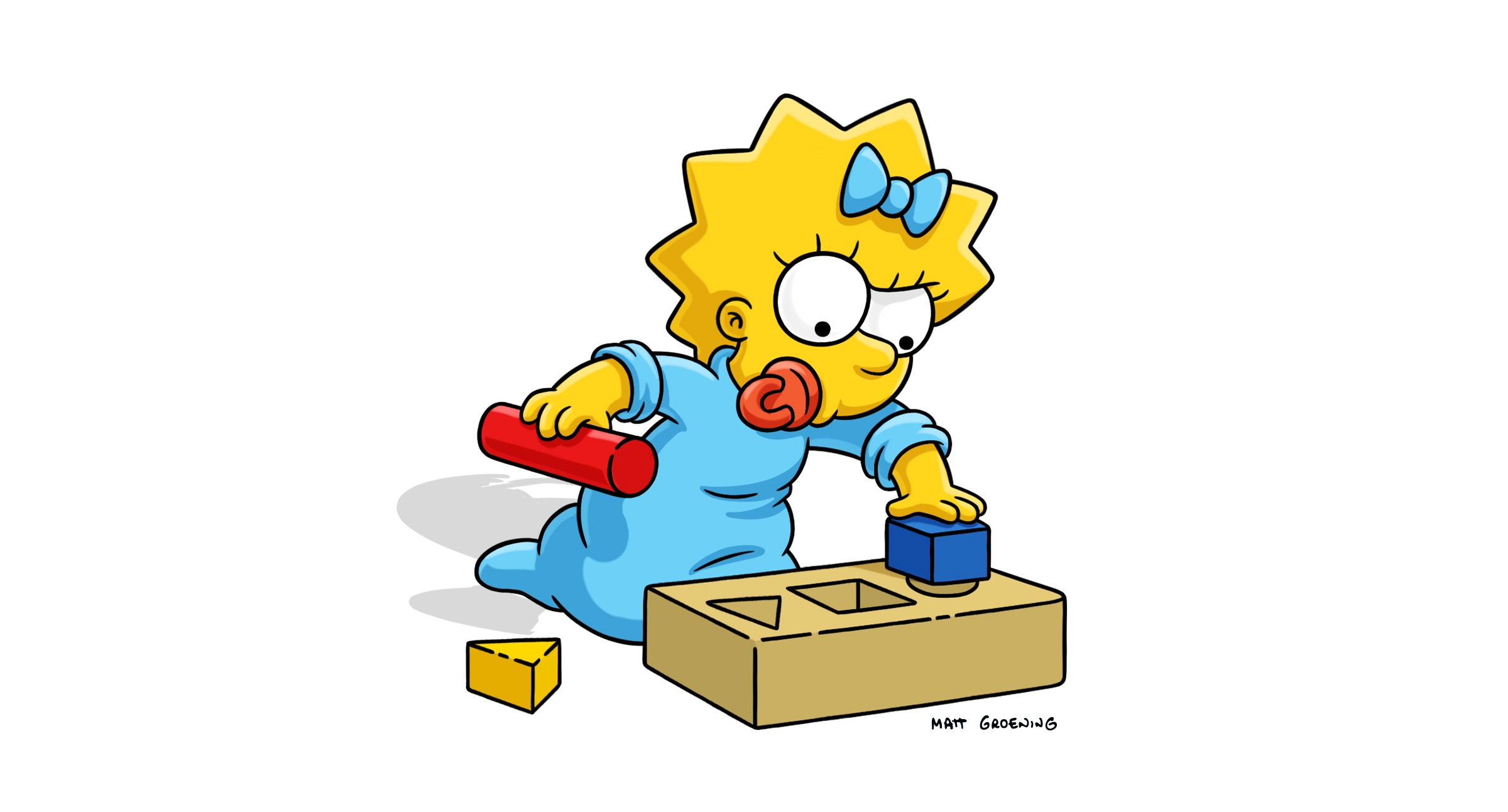 Maggie losing her pacifier proves to be the brilliant, simple engine for any Maggie story. This time, famous Star Wars droids help her which prove to be the perfect companion for Maggie since they only communicates in beeps anyway. Maggie seems to speak the language, just like every Star Wars character seems to understand droid beeps and bloops. Maggie's nemesis, the Unibrow Baby, shows up, too.
Simpsons regular director David Silverman (who also directed The Simpsons Movie), directed the short. Head writer and showrunner Al Jean co-wrote with Joel H. Cohen and Michael Price.
Disney jokes in 'The Force Awakens from its Nap'
One of the big jokes involves a book case with the Seven Dwarves holding up the roof. This is an homage to a real building on the Disney studio lot with the Seven Dwarves holding up the roof. 
The Force Awakens from its Nap also takes a shot at the value of Walt Disney stock, and look for Mickey Mouse in a very familiar spot for Simpsons fans.
'The Simpsons' takes on 'Star Wars' for three straight minutes
A Jedi making peanut butter and jelly sandwiches looks familiar. A mean human boy gets appropriately punished for teasing a Togruta girl in a way mean boys often torture girls with pony tails. Four arms aren't enough to help General Grievous handle a baby. 
The Unibrow Baby battles Maggie like a famous Star Wars duel. In the background of their fight, you can see a reference to a much more peaceful world of Star Wars. 
Perhaps the most scathing commentary on Star Wars is its repeated use of Death Stars.  An opening crawl occurs two and a half minutes into the short listing franchise rules that often betray strong narratives, but we as fans often look the other way. Stay for the credits for a lot more Star Wars jokes, too, including Homer's only appearance in this short and a fitting Selma joke, too.