'The Sound of Magic': Does Il-deung Get the Girl in the Finale?
There are K-drama male characters who either get the girl or do not. In The Sound of Magic K-drama, the focus is not on romance but on the main characters rediscovering what society and school have forced them to lose using musical elements and visual effects. But there is a small teen crush by Il-deung on Ah-yi. Amid the story in The Sound of Magic, does Il-deung get the girl?
[Warning: This article contains spoilers for The Sound of Magic.]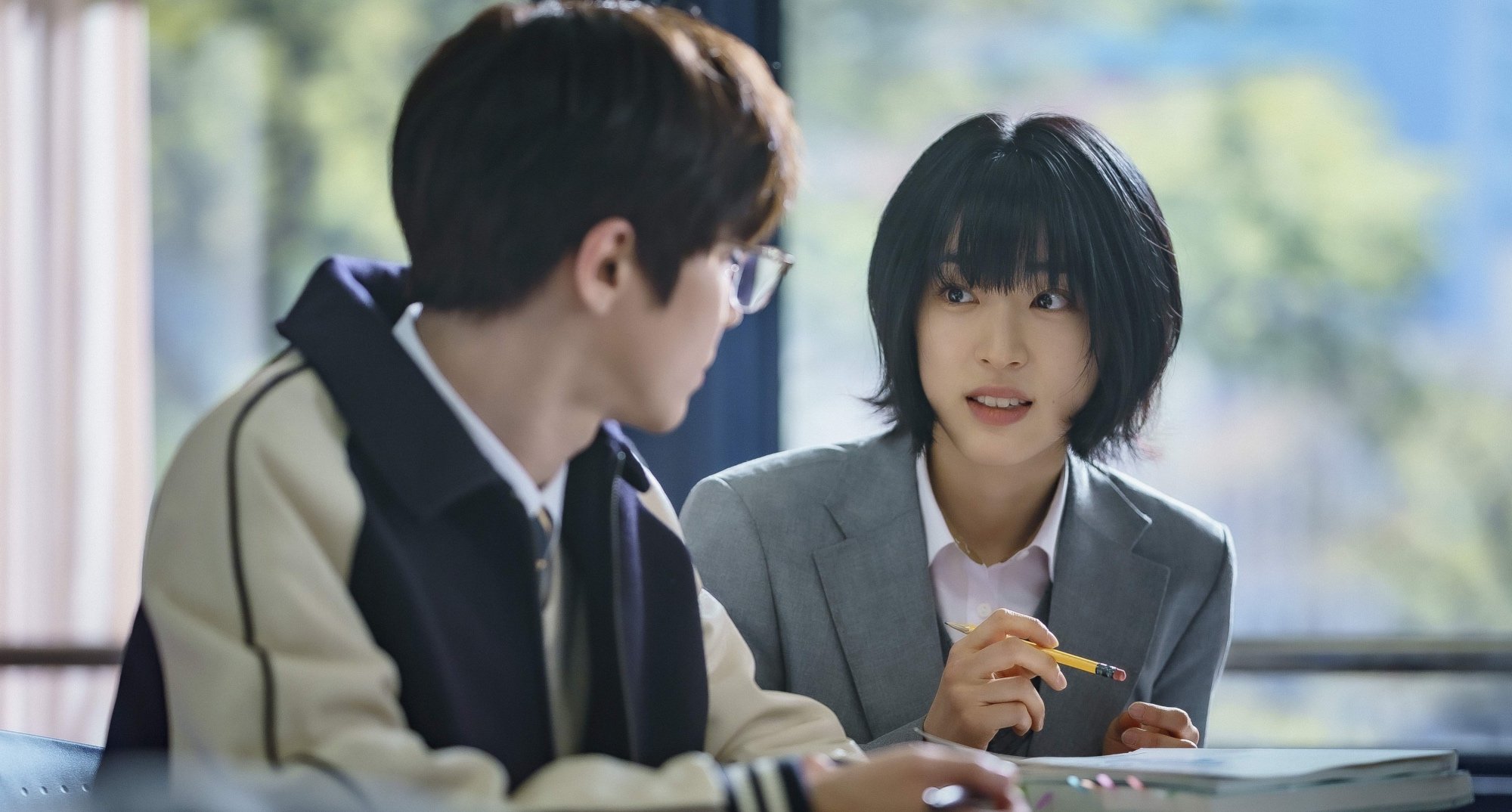 Il-deung is the highest-ranked student who falls for Ah-yi in 'The Sound of Magic'
Based on the original webtoon, Il-deung is described as a handsome and smart male but depicted with an inflated head and long neck due to his ego. Il-deung, played by Hwang In-yeop, is the school's top student and almost unbeatable in The Sound of Magic. He comes from a well-off family who has predetermined his life, successes, and education.
He has the opposite lifestyle to Ah-yi, who is left to take care of her sister and financial burdens. But Il-deung never looks down on Ah-yi for being his academic rival. Instead, he develops a crush and starts to realize her financial predicament.
Fans were enamored by how a shy Il-deung tried to convey his emotions to Ah-yi. He even gets nervous when trying to give her a drink. Even more so when he asks her out on a date and gets rejected.
One of The Sound of Magic's sweetest scenes is when Il-deung convinces her to go to the library to use his study books so he can be with her. They share headphones and are transported to a meadow where Il-deung serenades her. But as the K-drama progresses, he becomes jealous of her attention to Ri-eul. He even uses her to get good grades until realizing he was wrong.
With the criminal investigation and Ri-eul's past revealed, Il-deung feelings for Ah-yi have him stay by her side.
Il-deung drops out of school and out of Ah-yi's life in the K-drama
RELATED: 'The Sound Of Magic': Ji Chang-wook Hopes the K-Drama Is Remembered as a 'Fairytale' About 'Innocence'
Il-deung's crush on Ah-yi develops into a friendship as they rediscover their childlike wonder. Ri-eul has Il-deung realize that his life plan is not what he truly desires. His life has been planned against his will by his parents. Il-deung's life is muddled with academics, the need to succeed, and have a successful career.
In the musical number "A Curse of Asphalt," Il-deung is forced to learn that his future is a cold one. This leads Il-deung to spiral in The Sound of Magic. He lashes out when his mother plans to throw away his magician's equipment. She believes they are useless, and his only focus is school.
Il-deung holds on to his feelings for Ah-yi. But they are too focused on helping Ri-eul as he is accused in a criminal case. Becoming friends with Ri-eul has Il-deung realize he needs to change his life. In the finale of The Sound of Magic, Il-deung drops out of school. He does not admit his feelings to Ah-yi or starts a relationship. The last fans see of him is when he walks down the hall to a new future.
'The Sound of Magic' webtoon has a different ending for Il-deung
RELATED: 'The Sound of Magic': Filming Locations From the Magical K-Drama Fans Can Visit for Themselves
While Il-deung does not get the girl in the K-drama, fans still love to see him have a sense of happiness with his crush on Ah-yi. His story was left on an open-ended but hopeful note that he would find his own path one day. But The Sound of Magic webtoon continues Il-deung's feelings for Ah-yi.
Years after Ri-eul disappears, Ah-yi and Il-deung are both in college. Il-deung calls her on Christmas Eve and asks if she would like to spend time together. She explains she is working but gets out at 8 p.m. Il-deung agrees to meet her. The webtoon gives fans hope that Il-deung still has a crush on Ah-yi that could develop into something more.
But the webtoon also teases that Il-deung held onto his wonder for magic. While the K-drama filmed the webtoon scene, fans never got to see it, and it became a deleted scene. The webtoon has Il-deung perform a small trick for a little girl.
The Sound of Magic is available to stream on Netflix.
RELATED: 'The Sound of Magic': Ji Chang-wook Learned Magic and Worked With a Master Illusionist