The Strangest Foods Guy Fieri Ever Tried on 'Diners, Drive-Ins, and Dives'
Guy Fieri isn't afraid to think outside the bun. The restaurateur and Emmy-nominated television host puts a lot of work into his famed Food Network show, Diners, Drive-Ins, and Dives. And sometimes that means consuming strange concoctions that he wouldn't normally try.
As a veteran member of the food and restaurant industry, plus a skilled chef, Fieri has had plenty of opportunities to get adventurous with recipes. But it's when he's on the road discovering America's best-kept secret gems that Fieri gets a real taste of the exotic, the disgusting, and the downright weird.
Ahead, check out the strangest foods he's ever eaten on Diners, Drive-Ins, and Dives.
'Diners, Drive-Ins, and Dives' is popular because it's real
Say what you may about Fieri's style, but one thing that's indisputable is his talent giving the people what they want. Diners, Drive-Ins, and Dives has been nominated for the Emmy for Outstanding Structured Reality Program five times thanks to the work Fieri and the crew puts in.
"We put blood, sweat, and tears into making these shows happen, and finding the best places," Fieri told Deadline. "We'll go into a town and shoot six locations, in the course of the week. But before we do that, we spend two to three months evaluating the city, and looking at the food scene."
He went on to say that he hopes to help small-time restaurants make it big. And for the most part, they enjoy massive popularity after Fieri stops by.
Fieri samples some wild items
Fans love the show because it's so unique, and part of that appeal comes from the insane combinations that some restaurants come up with. Fieri is always willing to try them all.
For example, at Taquiza in Miami Beach, Fieri got to experience their high quality and protein-packed tacos with a twist. The Chapulines Tacos dish includes crunchy grasshoppers on a bed of guacamole inside a blue corn tortilla.
At Vida Cantina in Portsmouth, New Hampshire, Fieri was introduced to the Pig Head Platter which is exactly what you think it is. The huge animal head is plated and served with edible flowers.
The show features all kinds of creative dishes
At Tacopocalypse in Des Moines, Chef Sam Auen combined two different cuisines to create a new classic. The Bulgogi Masa Fries include marinated chuck round that's grilled to make Korean bulgogi. He puts that on top of the fries to make his unique creation.
Dinner cannoli at A Taste of Home Cooking in Wheat Ridge, Colorado is another rare treat. While most cannoli is served as a sweet dessert, this restaurant serves it with house-made sausage and jalapenos instead. The whole thing is topped with provolone cheese and marinara sauce.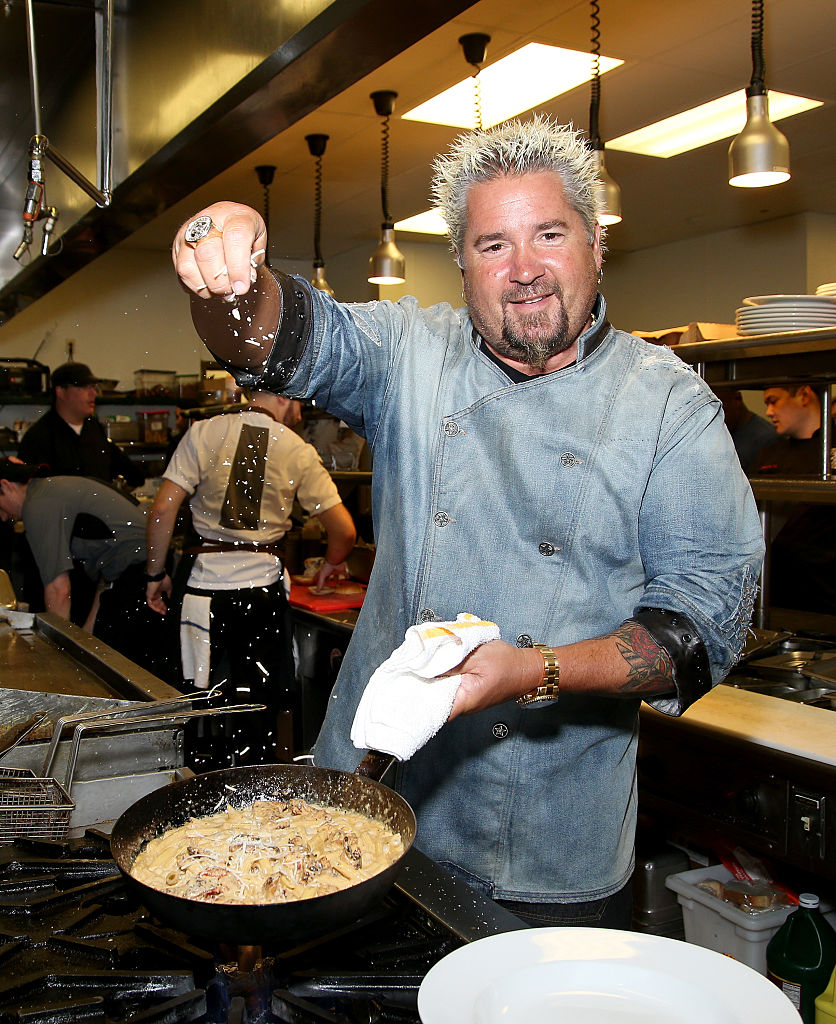 Fieri doesn't love every food he samples
Though the Diners, Drive-Ins, and Dives host would never disparage a popular recipe on camera, there are subtle ways that fans can figure out if he likes the food or not.
"Some chefs that'll see it… will do their investigation," Fieri explained during a podcast interview. "And, you know, they've watched the show for years. We'll go to commercial, and they'll go, "Well, did you like that?" And I'm like, "Yeah it was good." And they'll go, "Well you didn't go, like, 'This is off the hook.'" And I'm like, 'Well, it was good."
He continued, saying, "And I'm like, "Don't be offended, I don't like every song that's on the Rolling Stones album. There's ones that you like."
Even if he's not the biggest fan of the cuisine, Fieri is always willing to offer a few pointers. It's one reason local chefs love when he rolls into town.