The Striking Similarities Between the Kardashian and Braxton Families
It's not too often that all members from large families reach superstar status but that's been the case for two celebrity families – The Kardashians and the Braxtons. With hit reality television shows, musical careers, and brand endorsements, these two families have been making their mark across the entertainment space for years.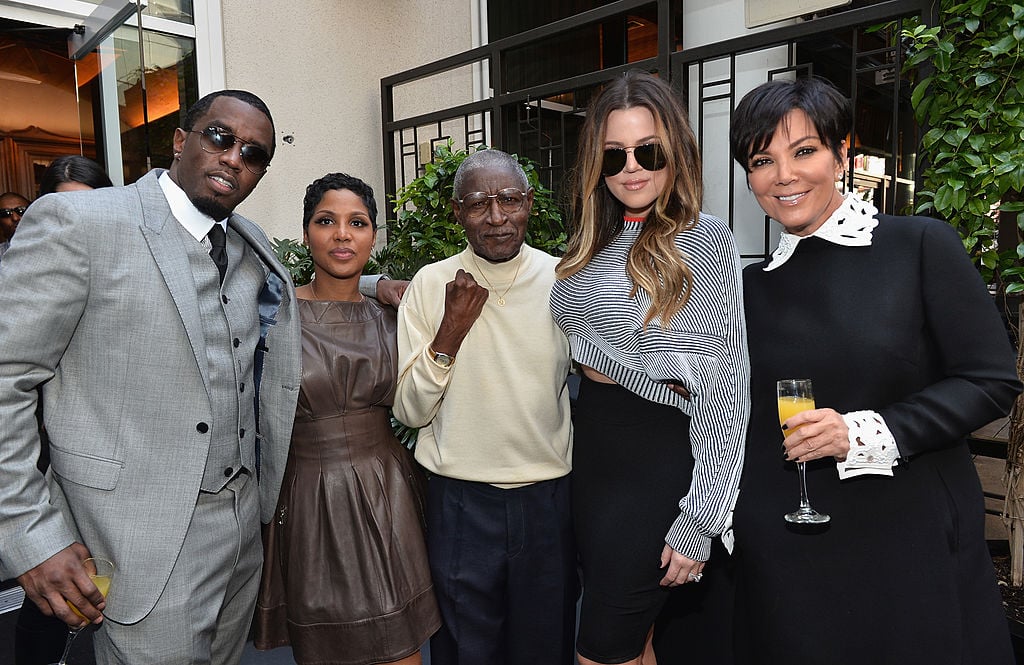 While the Kardashians have taken a less traditional route to become famous, they've proven that their formula works. With music being the primary Braxton family business, critics have shadily labeled them as the "Kardashians with talent." The Braxtons, however, have always given the Kardashians the utmost respect, with Toni telling WetPaint that the Kardashians set the standard for their show. 
The Braxtons and Kardashians have a lot more in common than just reality television shows. 
Kardashians and Braxtons have large families
The Kardashians and Braxtons clans are both huge, tight-knit families. It's not always easy navigating such close relationships between so many people, especially in the public eye. Both families have shown that it takes hard work to keep their units tight.
The Braxtons have been in the spotlight since 1989 when they stepped onto the music scene as a group of five. Big sister Toni, would go on to a successful solo career but her four sisters weren't too far behind. Traci, Towanda, Trina, and Tamar all worked as background singers for Toni before branching out on their own. Fans were surprised when they discovered it was not just the five Braxton girls. They also have a brother, Michael, who sang with them growing up in their parents' church choir. Mikey appears on the family reality show sporadically to document major family moments but mainly stays out of the spotlight and works as a nurse in Maryland. 
With 6 Braxton kids, the Kardashian crew comes out equal with 6 immediate siblings. Kourtney, Kim, Khloe, and Robert were joined by Kendall and, future billionaire, Kylie, after their mother remarried. Their family extends even further if you count Kris Jenner's ex-husband, Bruce Jenner (now known as Caitlin Jenner), who had four children from two previous marriages. The larger Kardashian-Jenner family brings their sibling total 10. That's a lot of gifts for Christmas! 
The Kardashians and Braxtons have successful reality shows on their respective networks
The Kardashians were the first to tackle reality television at a time where there weren't many family-focused unscripted shows. Debuting on the E! Network in 2007, Keeping Up With The Kardashians had had a whopping 17 successful seasons. It's chronicled the rise of Kim's career from a small boutique owner and celebrity stylist to one of the most notable celebrity influencers and brands in the world. Kim brought her family along for the ride and they each have become as successful as the breakout star of the show. The Kardashian-Jenner's family continues to grow with all but one sibling having children of their own. KUWTK remains E's most successful series.
Just a few years after KUWTK, the Braxtons were ready for their shot at reality television fame. After losing a bet in a game of Monopoly to her sisters, Toni reluctantly agreed to do the show. She was hesitant after filing for bankruptcy a second time but thanks to the success of Braxton Family Values, her career was reinvigorated. The WeTV series has focused primarily on the sisters' struggle to balance their sisterhood with their desire to step out of big sister Toni's shadow. All have been able to do so with Traci, Trina and Tamar releasing music and Towanda opting for an acting career. The show is in its second half of its sixth season and has become the longest-running family reality series in television history to feature an African American led female cast. 
Fans can look forward to more from the Braxtons and the Kardashians as both shows have been picked up for additional seasons. 
Kardashians and Braxtons share mutual friends 
With such success in similar industries, the Kardashians and Braxtons frequent the same social circles. All of the Kardashians live in the upscale Calabasas section of Los Angeles. Both Toni and Tamar were once neighbors to their reality star peers.
Living so closely together, Khloe and Tamar built a close friendship. The two have been seen at dinner and happy hours over the years. Toni also developed her own relationship with the Kardashian family and has attended their annual Christmas extravaganza few times in the past.
What members of both families share most closely is a best friend. Both Khloe and Tamar consider the Haqq Twins, Malika and Khadijah, their BFF. The foursome have been seen together at family functions but also spend time separately. They all have shared close photos of their outings and time together on their social media pages.
A bonus fun fact: Kris Jenner and Babyface worked together on a joint music label. Babyface is one of the producers who helped to jumpstart Toni Braxton's career.
KUWTK airs on Sundays on E! at 9PM EST. Fans can watch Braxton Family Values when it returns to WeTV on Thursday nights at 9PM EST.