The 'Summer House' Season 4 Crew Talk Hook-Ups and Hangover Cures
The cast of Summer House may have matured over the past four seasons of the show, but they still know how to party hard. And with two new faces to mix things up, the drama is heating up like never before. Season 4 of Summer House is in full swing, and the cast of Bravo's hit reality series recently talked about their secret hook-up spots and what they do to cure a good hangover.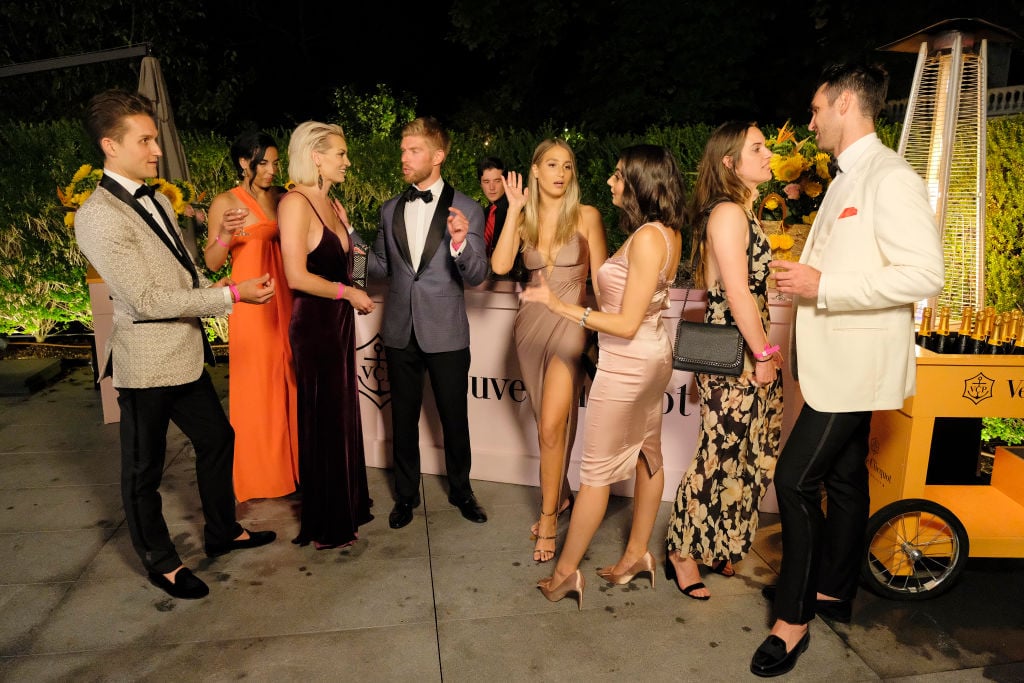 'Summer House' introduces two new cast members
This season, Bravo introduced two new cast members to Summer House: Jules Daoud and Luke Gulbranson. We might only be a few episodes into the new season, but it is clear that the newcomers are looking for love.
So far, Gulbranson has his eyes set on Hannah Berner, while Daoud is looking to spark up a romance with Carl Radke. Prior to the season premiere, Gulbranson and Daoud opened up about what is ahead this season and dished on their potential romances.
Daoud revealed that she hit it off with the Summer House OG from the very beginning. His overall looks are what attracted her first, though she did appreciate that he is from the Midwest.
"I had my eye on Carl from the moment I met him," she stated. "He's tall, dark and handsome, and he's from the Midwest, too, so he has a good heart… at times. For the most part."
Gulbranson was less open about his summer fling this season. Although Berner "caught his eye," Gulbranson warned fans that he had a lot on his plate over the summer. Even still, Gulbranson admitted that he definitely felt a "connection" with Berner, which is a start.
How did Daoud and Gulbranson get on the show?
Daoud and Gulbranson were brought on the show through mutual friends. Gulbranson and Kyle Cooke met through a mutual acquaintance and immediately sparked up a friendship.
"Me and Kyle had a mutual friend from being out in the city and I had run into Kyle and he asked if I wanted to be part of the house, and I was at a point in my life where I was like, 'Why not do something different with my summer?'" Gulbranson shared.
As far as Daoud is concerned, she knew former Summer House cast member Jordan Verroi, who did not return to the show after season 3. The two met in Chicago and it was not long before she made a connection with other cast members from the show.
As far as how things went this season, both of the new crew members said they had a blast filming, though they did admit that the drama got a little crazy from time to time.
There is no telling if the pair will return for another season, but it definitely sounds like they had quite the experience being in front of the cameras.
Season 4 'Summer House' crew talks hook-ups and hangover cures
During a recent interview with Bustle, some of the cast members opened up about how things have changed this season. With the pantry not a thing anymore, Amanda Batula revealed that this season's secret hook-up spot is actually in the woods.
"There is no safe place in the house. We did find a hidden bench in the woods this summer, which could be the new spot," she stated.
Gulbranson added that his go-to make-out place is actually the tennis court or the hot tub, whichever is available.
The crew members were also asked which celebrity from Bravo they would like to see come to Summer House. Berner revealed that she would love to see any of the deckhands from Below Deck, while Gulbranson said that contestants from Top Chef would be ideal — but only because they could provide everyone with a good hangover cure.
Speaking of cooking, they were all in agreement that Batula is the best cook this season. As shocking as it sounds, she is the only one who knows how to properly cut veggies.
This 'Southern Charm' star crashes 'Summer House'
While fans wait for the drama to unfold, there is one moment from this season that was not included in any of the trailers.
At some point, the crew of Summer House will be graced by a cast member from Bravo's popular reality show Southern Charm. Fans will see Craig Conover come on the show and he apparently hits it off with Kyle Cooke right away.
"It was a good addition," Cooke shared. "Craig and I went down a waterslide together holding hands. He was actually really upset that didn't make the trailer."
Cooke added that Conover's cameo was completely by chance. The Southern Charm star just happened to be in the area and decided to drop by for some quick action.
There is no telling what other gems will pop up this season, but it definitely sounds like it is going to be a lot of fun.
New episodes of Summer House air Wednesday nights on Bravo.