The Surprising Foods Kourtney Kardashian Allows Her Kids to Eat
Kourtney Kardashian is the most health-conscious of all her sisters. The eldest Kar-Jenner sibling has long promoted healthy eating and famously adopted a dairy and gluten-free diet.
A few years back the mother of Mason, Penelope, and Reign revealed she did so because "the kids and I did muscle testing and found out we have sensitivities to both gluten and dairy. After speaking with my doctor and doing some research, I decided to try a gluten- and dairy-free diet."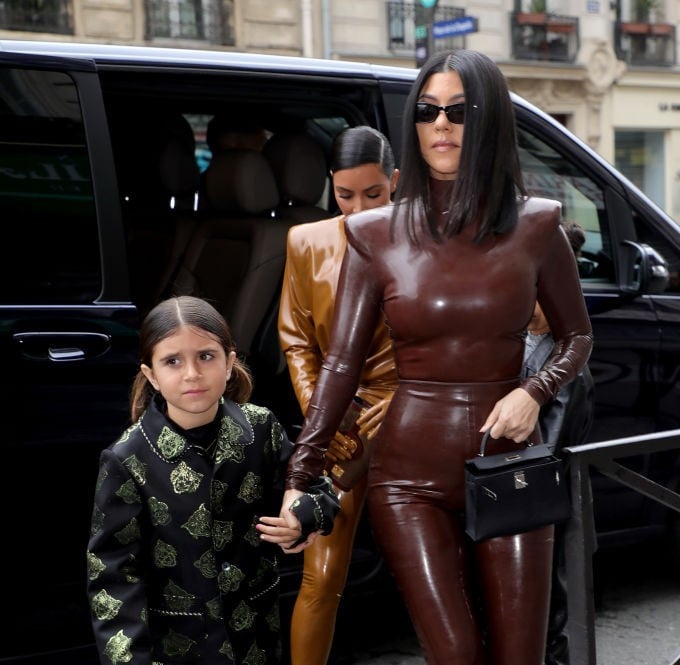 Therefore, many fans were surprised when Kardashian recently admitted she isn't super strict when it comes to her children's diet. Read on to find out what she now says about indulging and what her kids are eating.
Kourtney Kardashian's children's healthy eating habits
Back in 2016, the Keeping Up with the Kardashians star told Us Weekly that a typical breakfast in her house consisted of gluten-free waffles and eggs or cereal with quinoa clusters in either almond milk, organic rice milk, or organic coconut milk.
Lunch would be a combination of "carrots and celery with hummus and a gluten-free rice tortilla with sliced turkey meat or turkey dogs–no bun." She also noted that Penelope's a big fan of salads.
"Penelope and I love salads, so we usually eat a big yummy one for lunch." Kardashian said, adding that "Whenever possible, I try to make my own simple balsamic or ginger dressing since store-bought dressings have lots of unnecessary sugar and preservatives."
For dinner, the mom of three served steamed vegetables, gluten-free pasta, and/or a lean protein. And when it came to snacks, those were healthy options too like gluten-free and dairy-free cupcakes. Sweet potato tortillas were a popular snack in her home.
Kardashian caught heat after buying junk food
Kardashian caught heat in 2019 after buying Pringles, Funyuns, Cheetos, and Chex Mix at a gas station. Many fans found it hypocritical that she was promoting healthy eating but yet purchased these items.
The Poosh founder responded via a post on her website explaining her stance writing, "A healthy lifestyle requires balance — allowing yourself to hit the snooze button when you really need it, skipping the gym for quality time with friends, and of course, cheat days. Yes, indulging every once in a while is self-care. Whether you follow a strict diet or not, we all deserve days off. No guilt, and no boundaries."
Her kids enjoy popcorn and churros
While Kardashian wants her kids to eat healthy she says that nowadays she doesn't try to "force it" because she believes they can enjoy things in moderation.
"I teach them healthy stuff, and everything in moderation," she told Health Magazine. "When we go to Disneyland, we eat whatever; we're not bringing our own snacks!"
The reality star surprised fans when she admitted that her children have had churros at the theme park as well as popcorn when they go to the movies.
"Of course, we pick our battles and I do let the kids have popcorn at the movies and a churro at Disneyland," she said.