The Sweet Way Mariska Hargitay Wished Peter Scanavino a Happy Birthday
Mariska Hargitay is known to wish those closest to her a sweet and unique happy birthday via social media. This is especially true for her co-stars on Law & Order: SVU. Peter Scanavino, who plays Dominick "Sonny" Carisi, Jr. just celebrated a birthday and Hargitay wished him well in a very public way. Read on to learn how she helped celebrate his birthday.
Who is Sonny Carisi?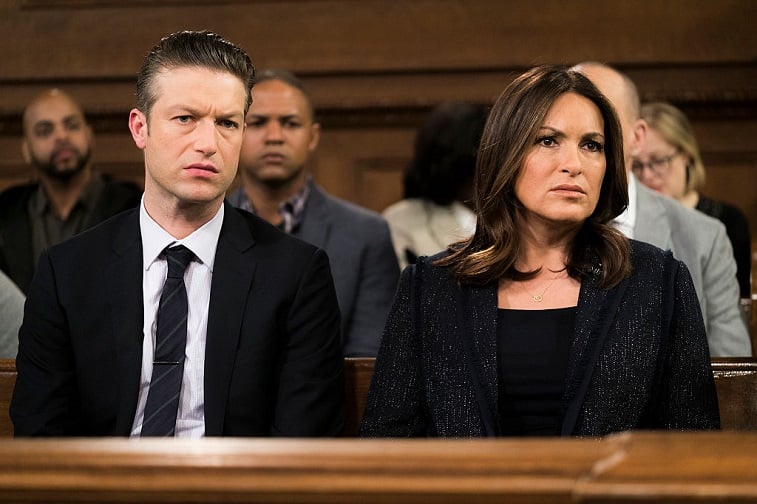 Sonny Carisi is a former detective on the SVU squad. He's now the ADA working hard for victims in a different way than viewers are used to seeing him. He's in a unique spot as a former cop, and it's hard to hold back the tendency to interrogate or use old tactics that he's used to.
It's interesting to see Carisi in a new light as a lawyer. He's stuck between two worlds and it's clearly hard for him to balance that fact. He may be the ADA now, but he'll always have his detective skills as an important asset on hand.
Mariska Hargitay wishes Peter Scanavino a happy birthday
Mariska Hargitay, who plays Captain Olivia Benson of the SVU squad wanted to wish Scanavino a happy birthday in a big way. Scanavino celebrated his birthday on February 29 and Hargitay posted on both Twitter and Instagram about the occasion.
"Happy Birthday @peterscanavino I celebrate your first-rate mind, your journeying soul, your RIDICULOUS talent—and most of all, your beautiful heart. Oh, and wait, actually most of all your totally spectacular family!" Hargitay wrote on Instagram.
She posted a sweet picture of the two together at an event. They are both smiling and it's clear they're good friends on and off the set.
Fans send Scanavino all the love for his birthday
SVU fans can certainly be described as loyal to the core, and that goes for the actors on the series as well. Viewers couldn't help but wish Scanavino all the joy a birthday can bring.
The birthday wishes were bountiful to say the least. "Cuties!!! Happy birthday Carisi 😀🎉," an Instagram user wrote.
Another fan jokingly asked a question because they look so young. "Is this your prom picture? 😉," the fan asked.
"That's such a lovely picture and beautiful sentiments ❤️ Happy Birthday @peterscanavino 🎉🎉," another said.
Many others wished Scanavino a happy birthday. "Happy Birthday Peter! Hope you have a wonderful birthday," the fan wrote.
"Happy birthday to a very talented man, from a great detective to a great ADA, hope you have a fantastic day @peterscanavino @therealmariskahargitay 🍰🎂🎈🎉🎁❤👍," someone else noted.
Fans seem to agree that the two are lucky to have each other. "Beautiful birthday post ❤ Peter is lucky to be on your team and you're lucky to have him in the absolute wonderful #svufamily 👫🏻," a fan wrote.
SVU fans are glad that Benson has Carisi on her side in any capacity. Just because he's no longer a detective, doesn't mean he isn't still fighting for the rights of survivors. He's an asset to the team and the fans know it too.