The 'The Dick Van Dyke Show' Surprisingly Inspired 'Mork & Mindy'
The Dick Van Dyke Show debuted on TV sets across the nation in 1961. It had a rough start and almost got canceled after the first season. But it eventually became one of the most popular TV shows on CBS and ran for five seasons, IMDb reports.
More than a decade after the series ended, Mork & Mindy became a hit. The two series have wildly different plots, so you might not believe there's a connection. But a single episode of The Dick Van Dyke Show sparked Mork & Mindy. 
'The Dick Van Dyke Show': A '60s sitcom classic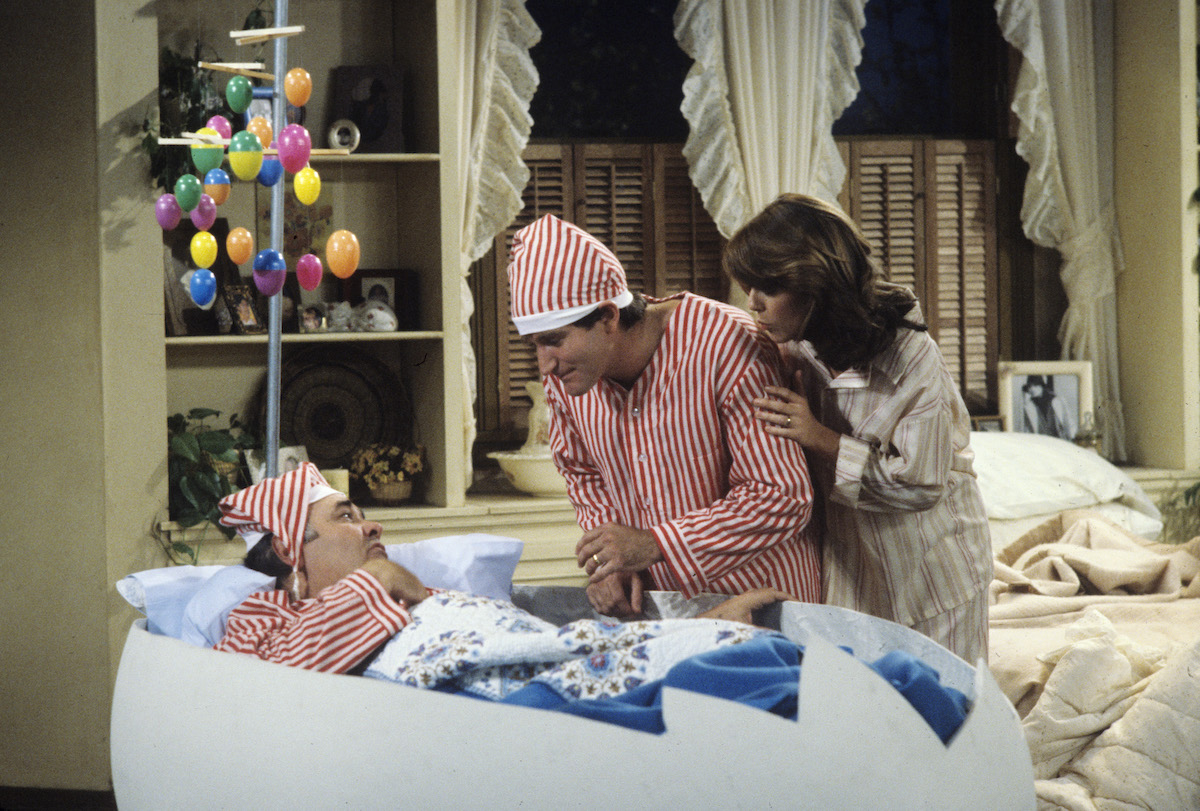 Before Mork & Mindy came along, The Dick Van Dyke Show premiered on CBS. The sitcom debuted in 1961 and concluded in 1966, according to IMDb. The show was a success and won numerous Emmy Awards. Some of the cast members include Dick Van Dyke, Mary Tyler Moore, and Rose Marie. Reruns continue to air on various streaming services, including CBS All Access and Hulu, according to Reelgood.
The premise centers on the professional and personal life of Rob Petrie, played by Van Dyke. Rob works in Manhattan as a comedy show's head writer. Viewers get insights into how TV production works. 
At work, Rob produces scripts alongside co-writers. At home, he lives with his wife Laura and son Ritchie in New Rochelle, New York. They reside in a suburban neighborhood, and some scenes feature their neighbors. 
The series shows comical situations, some inspired by real-life events. In Season 3, Laura hesitates to sign life insurance papers. It turns out she had lied about her age when marrying Rob. In fact, Mary Tyler Moore, who played Laura, faked her age to snag the role. 
'Mork & Mindy': Robin Williams' alien arrives on Earth
Another American sitcom you might recognize is Mork & Mindy. It premiered in 1978 and ran until its cancellation in 1982. Robin Williams played the lead character, Mork. Pam Dawber starred opposite him. Other cast members include Conrad Janis and Elizabeth Kerr, according to IMDb. 
The action revolves around an alien named Mork who travels to Earth from the planet Ork. He teams up with aspiring journalist Mindy as he studies human behavior. Throughout the series, the two roommates find themselves in hilarious situations. Viewers always got a laugh out of Mork reporting back to his home planet. 
The success of Star Wars sparked the popularity of spacemen on TV shows. You also might not know that Willaims' Mork character first appeared in an episode of the hit series Happy Days. Mork tries to take Richie to his planet, but Fonzie stops him. Williams' performance was so impressive that the producers offered him a spinoff series. 
How the 'The Dick Van Dyke Show' influenced 'Mork & Mindy'
The first Star Wars film was not the only thing to have influenced Mork & Mindy. According to Mental Floss, an episode of The Dick Van Dyke Show inspired the Robin Williams vehicle. That episode, "It May Look Like a Walnut," featured Danny Thomas as an alien. 
A section of the book The Dick Van Dyke Show: Anatomy of a Classic explains that one of the directors didn't like the episode's script. However, the rest of the cast thought it was cute. Later, he admitted he'd been wrong after seeing how funny the premise was. 
The episode was so memorable that another director, Jerry Paris, recalled it years later. He went on to direct Happy Days. That's when Paris decided to revisit the alien premise from The Dick Van Dyke Show, Parade reported. That, along with the Star Wars influence, gave birth to Mork.