The 'This Is Us' Cast Just Won The "Smeeze" Dance Challenge on Tik Tok
The drama on This Is Us is emotional and intense, but off-screen the Pearson family loves to have a good time. Now, the stars are getting down together in a viral Tik Tok dance challenge called the "Smeeze," and they're proving that the Pearson family has some serious moves.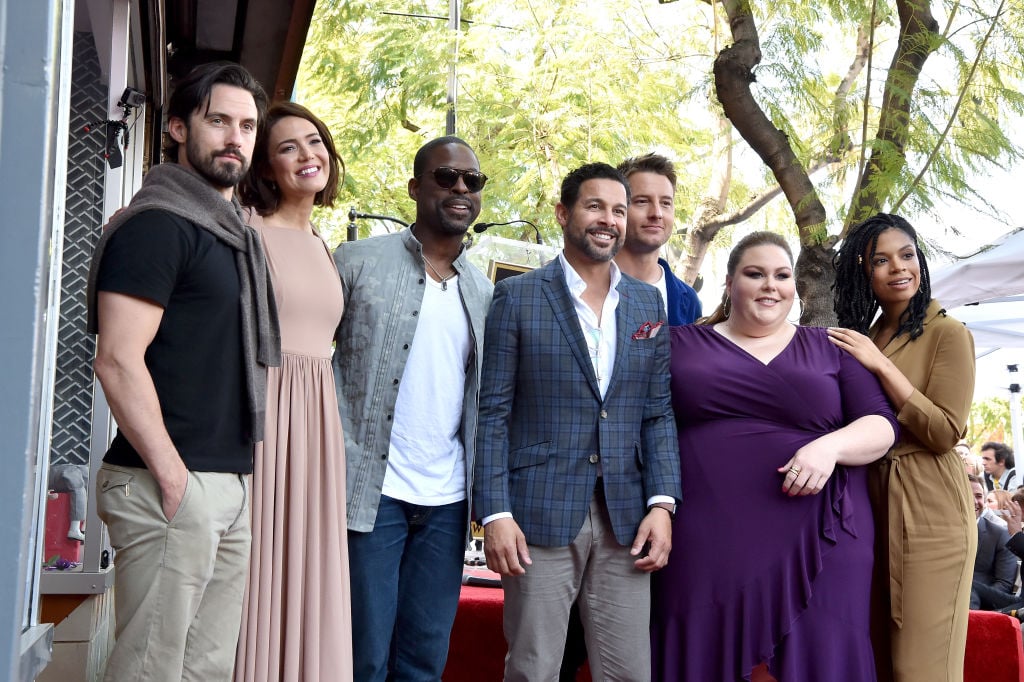 The Pearsons are a family on and off the set of 'This Is Us"
The cast of This Is Us has great chemistry on screen, and that's probably because they're all good friends. On Instagram, the actors often share pictures of themselves hanging out on set and outside of work. In an interview with Elle, Sterling K. Brown revealed that the Pearsons are more than just friends off-screen and that they all really do care for each other. 
"It is like a family," said Brown. "It seems so clichéd, like, 'Do they really love each other as much as it seems?' The answer is yes — You can't fake a relationship on-screen if you don't have it off-screen. I don't know what the alchemy is, what [creator] Dan Fogelman saw in all of us…but he brought together a group of wonderful thespians who happen to be even better individuals." 

Elle
The 'This Is Us' cast takes on Tik Tok's "Smeeze" challenge
The cast of This Is Us proved that they can move audiences, but they can move their feet just as well. Sterling K. Brown posted a Tik Tok video of the cast dancing the "Smeeze" — a viral dance challenge that has been trending on the app recently. Brown uploaded the video to Instagram, and it was also shared on Justin Hartley, Chrissy Metz, and Susan Kalechi Watson's Tik Tok pages.
The video features Sterling K. Brown, Justin Hartley, Chrissy Metz, Mandy Moore, Chris Sullivan, Susan Kelechi Watson, and Jon Huertas dancing the "Smeeze" in their costumes on set. The caption reads, "A family that smeezes together…#smeeze #smeezechallenge  #thisisus." 
Moore and Huertas are dressed in their older Rebecca and Miguel get-up, and they look absolutely adorable doing the relaxed, flowing hip-hop moves. Brown is at the front of the pack, while Metz, Watson, and Sullivan are putting on their finest smeezes right behind him. Hartley, who looks like he might be struggling with the dance, is all the way in the back. 
The only cast member missing from the Tik Tok video is Milo Ventimiglia. But seeing how Moore and Huertas are dressed as their future selves, Ventimiglia's character probably wasn't in any of the scenes they were filming that day, so he may not have been on set. 
Keep an eye on the cast's Tik Tok pages
This "smeeze" video isn't the first one the This Is Us cast posted on Tik Tok. Earlier this month, Justin Hartley and Sterling K. Brown made a hilarious Tik Tok video in which they take off their coats and end up in bed together. 
Brown recently posted a video with Susan Kelechi Watson. In it, the two are doing the "Ahi" dance challenge, with the caption, "Our hips don't lie just like @shakira."
It's obvious that the Pearsons enjoy celebrating each other on and off-screen. Hopefully, they'll continue to gift fans these amazing dance videos.