The 'Tiger King' Zoo Has Been Closed Due to Animal Neglect
'Tiger King' park has been shut down due to reports of animal neglect.
After its release in March 2020, Tiger King was a cultural phenomenon that swept social media by storm. Everyone was talking about a crazy new Netflix series that shed light on the secret society of big cat conservation and an eccentric zookeeper named "Joe Exotic." 
The series has had heavy viewership for several months, and while the initial buzz has cooled off, Greater Wynnewood Exotic Animal Park—the park where the film took place—is still a tourist hotspot. 
However, the park was recently shut down due to reports that its animals were being neglected.
'Tiger King' zoo is famous thanks to its Netflix documentary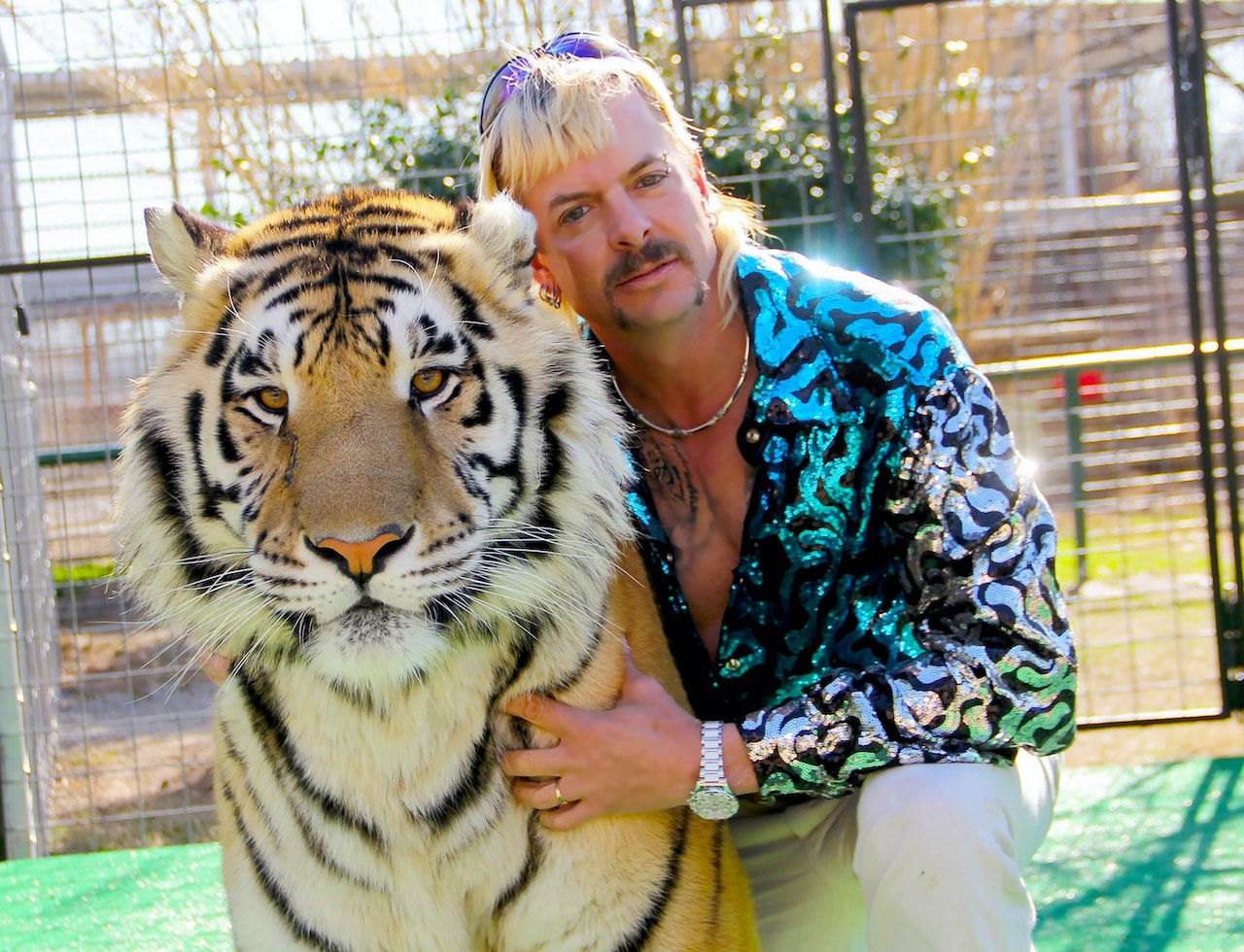 On March 20, Netflix released a documentary miniseries titled Tiger King: Murder, Mayhem and Madness that documented the life of zookeeper Joseph Allen Maldonado-Passage, better known as "Joe Exotic." The series detailed the connection between big cat conservationists and collectors, and the alleged abuse that occurred while the animals are in captivity. Specifically, the documentary chronicled Joe Exotic's contentious relationship with Carole Baskin, a wildlife conservationist Joe was at odds with. In 2019, Joe was convicted of several crimes and sentenced to 22 years in prison, leaving the 
Tiger King was wildly popular when it first came out, getting over 34 million U.S. viewers within its first 10 days, according to Variety. Critics praised the series, with the film earning an 86% approval rating on Rotten Tomatoes.
Thanks to the documentary, The G.W. Zoo had a resurgence in popularity, attracting thousands of visitors from around the country. However, due to COVID-19, the zoo was temporarily shut down in compliance with the order to close all non-essential businesses, then later reopened. 
The zoo was shut down due to reports of animal neglect 
Although the zoo was previously run by Joe Exotic, the park's current owner, Jeff Lowe, purchased it in 2016 and began to oversee its operations. On Aug. 17, the zoo was shut down after Lowe's exhibitor license was suspended by the U.S. Department of Agriculture for 21 days.
According to The Hollywood Reporter, the zoo was investigated after reports that documented animal mistreatment, including "a lion with its ears covered in flies and another with the tips of its ears covered in blood". Inspectors also found that "the only refrigerated storage for animal food was a broken refrigerator truck that zoo officials claimed had recently been fixed," according to CNN. Represent atives from PETA also claim that several lions were suffering from flystrike, a condition in which flies attracted to animal waste end up biting nearby animals and laying their eggs on them, leading to hatched maggots eating the animals' skin.
Despite the reports, Lowe claims that his license was suspended over a "litany of falsehoods", and the park's Facebook page stated that it had been unfairly targeted by animal rights groups.
Lowe plans on opening another park to film new 'Tiger King' content
Despite the controversy surrounding his park, Lowe has plans on continuing his business and intends to reopen the park, with a new focus. According to a recent post on the park's Facebook page, "Our new park will, at least for the foreseeable future, be a private film set for Tiger King related television content for cable and streaming services."
Although it's unclear what the fate of the "Tiger King" zoo will be, one thing is for certain—there won't be any public viewing of big cats any time soon.