The Time Mickey Rourke Said He 'Took' Robert De Niro 'to School' on a Film Set
In a TV interview, Mickey Rourke said he schooled Robert De Niro while making 'Angel Heart' -- something De Niro hadn't experienced to that point.
If you've followed Mickey Rourke's career in recent years, you know he's a frequent target of tabloid reports. The star of 1980s classics such as Diner, 9 1/2 Weeks, and The Pope of Greenwich Village lost his matinee-idol looks in the boxing ring a long time ago, and his career never fully recovered.
Yet Rourke can still summon a touch of the old magic when he gets a decent role. You saw that in Sin City (2005) and his Oscar-nominated performance in The Wrestler (2009). But when things are bad, you find him making the rounds on shows of Piers Morgan and Italian TV's Non è la D'Urso.
On September 15, Rourke was speaking freely about his career in Hollywood and things that have kept him back. On the subject of The Irishman, Martin Scorsese's upcoming film, Rourke said he might have a part in the picture were it not for Robert De Niro.
Rourke pointed to a decades-old beef De Niro had with him. Taking it one step further, Rourke said De Niro resented him because Rourke "took him to school" while making Angel Heart.
Rourke said he took De Niro to school on the set of 'Angel Heart.'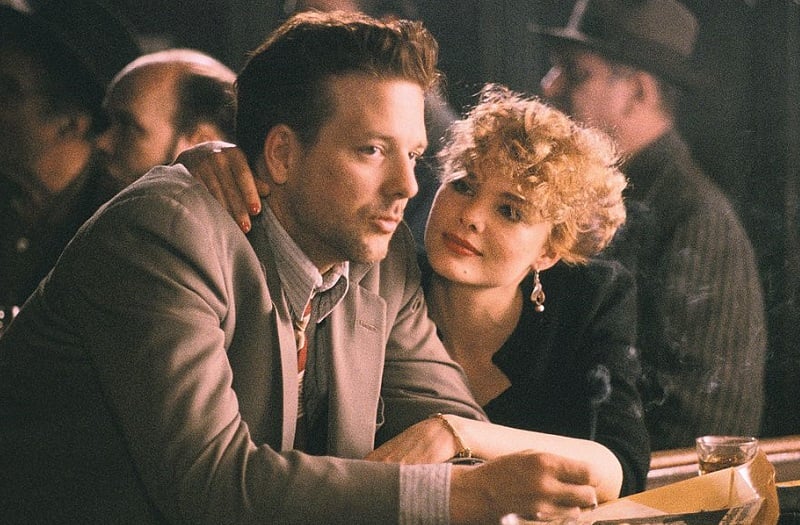 Rourke's Non è la D'Urso interview had a trashy United Nations feel to it. As the host asked questions in Italian, Rourke answered (often profanely) in English as a translator attempted to translate his comments to the audience in Italian.
When the subjects of De Niro and The Irishman came up, Rourke really went for broke. He mentioned how difficult it had been to work with De Niro on Angel Heart (1987). To illustrate his point, Rourke spoke of De Niro shutting down communication immediately after meeting for the first time.
"He said, 'I think it's better if we don't talk — because of our characters,'" Rourke recalled. Later, while working on a scene, Rourke said De Niro asked that he never touch him while they worked. (Rourke said director Alan Parker delivered the message from De Niro.)
When his shot at a part in The Irishman fell through, Rourke said it was De Niro's doing. "He doesn't forget what happened 20 years ago," Rourke told Non è la D'Urso. "They have a saying: 'I took him to school.' Before, no other actor had taken him to school."
During the 'Angel Heart' shoot, Rourke remembered it differently.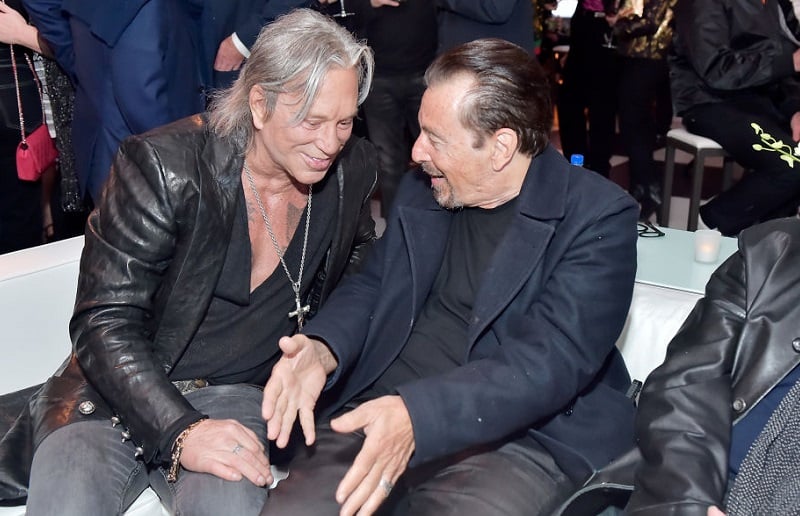 While Rourke's tale of his 30-year grudge with De Niro might make a good tabloid story, at least one person disagrees with Rourke's take on the experience of shooting Angel Heart. That person is also Mickey Rourke.
In a behind-the-scenes promo shot on the Angel Heart set in '87, Rourke had nothing but glowing things to say about De Niro. "It was the first time I think I ever had to really concentrate in the way I had to concentrate," Rourke said of working with him. "He's the most concentrated actor I've ever seen."
De Niro seems to have kept Rourke on his toes. "If you lose your concentration with [De Niro] for, like, four seconds, you're outta there," he said. "At the end of the day, I was drained." If you want to interpret that as Rourke saying De Niro schooled him, we won't stop you.
In fact, at a time Rourke was becoming disillusioned with acting, he said De Niro gave him a shot of life. "Working with him sort of rejuvenated me." Thirty-two years later, those memories seem long gone.
Also see: How Many Movies Have Robert De Niro and Al Pacino Made Together?