Is 'The Tomorrow War' Based on a Book?
The Tomorrow War, which hit Amazon Prime Video on July 2, tells the tale of a future battle between humans and a terrifying alien species. The story feels like it could have been ripped out of the pages of a thrilling sci-fi novel. But is the new movie based on a book?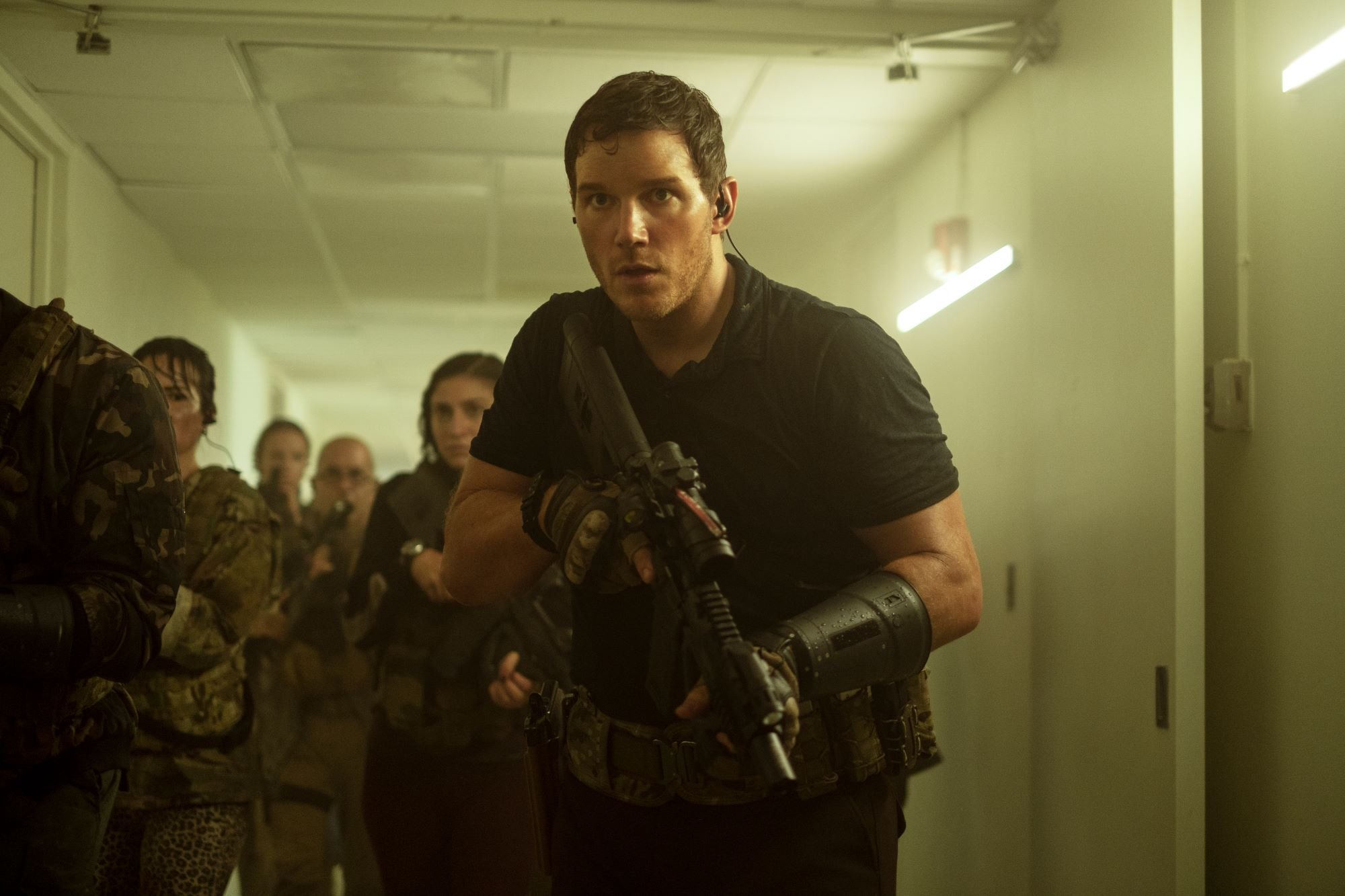 'The Tomorrow War' features Chris Pratt as a time-traveling fighter
The Tomorrow War stars Chris Pratt as Dan Forester, a high school teacher, and father who encounters a group of time-travelers bringing back a warning of a future alien invasion. With the mission of saving his daughter and all of humanity, Dan signs up to go to the future and fight.
The film comes from director Chris McKay and also stars Yvonne Strahovski, J.K. Simmons, Jasmine Mathews, Betty Gilpin, Edwin Hodges, Keith Powers, and Sam Richardson.
RELATED: Chris Pratt Has Fond Memories of Being Homeless — 'We Set up Camp on the Beach and Lived the Dream'
Is 'The Tomorrow War' based on a book?
While its story could make for a great sci-fi novel, The Tomorrow War is not based on a book. The film was written by Zach Dean, the screenwriter known for films like Deadfall and 24 Hours to Live. In a recent interview with Slashfilm, Dean revealed that being a dad to three kids inspired him to write the movie.
"At the end of the day, it's a family story about a family that has fractures in it," he explained. "And a man who has to figure out how to be a father while looking at the father that is not necessarily the one he thought he wanted, and then he has to figure out how to be a father to his kid."
RELATED: Marvel Star Chris Pratt's Entire Career Trajectory Changed Thanks to His Work on 'The O.C.'
"And so, I think that, as long as you stay in a true place where it matters, which is why it made a pleasure to write, it was a story that came very naturally," Dean added. "It's an original thing."
The screenwriter wanted to tell a very human story
When talking to Slashfilm, Dean also noted that while The Tomorrow War touches on the critical issue of global warming, it also highlights how people instinctively come together to save their children.
"If you line up 10 moms and 10 dads from all over the world, I don't care what culture you're from, and you put a little kid, and the kid falls off the bridge into the lake, how many of them are going to jump in and save that kid?" Dean said. "I mean, literally, it's a parenting decision. It's a universal human impulse."
"I would like to think that there's a universal human story of resonance here, and I think maybe the pandemic even, as we're all working together, hopefully as a globe trying to solve this big problem that, this might resonate even more," he continued. "Maybe we still have the ability to work as a whole human race and figure out something."
The Tomorrow War is currently streaming on Amazon Prime Video.