The Tragic Reason Why Carrie Fisher Called Harrison Ford Her 'Ideal Mate'
In Carrie Fisher's memoir titled The Princess Diarist, she detailed her affair with Harrison Ford. The Star Wars co-stars shared a brief relationship that Fisher described as a "summer romance" without the "romance." (And without the summer, for that matter.)
But despite the lack of affection between the two, Fisher still considered Ford to be her "ideal mate."
The reason behind this theory is rather heartbreaking. Keep reading to find out why.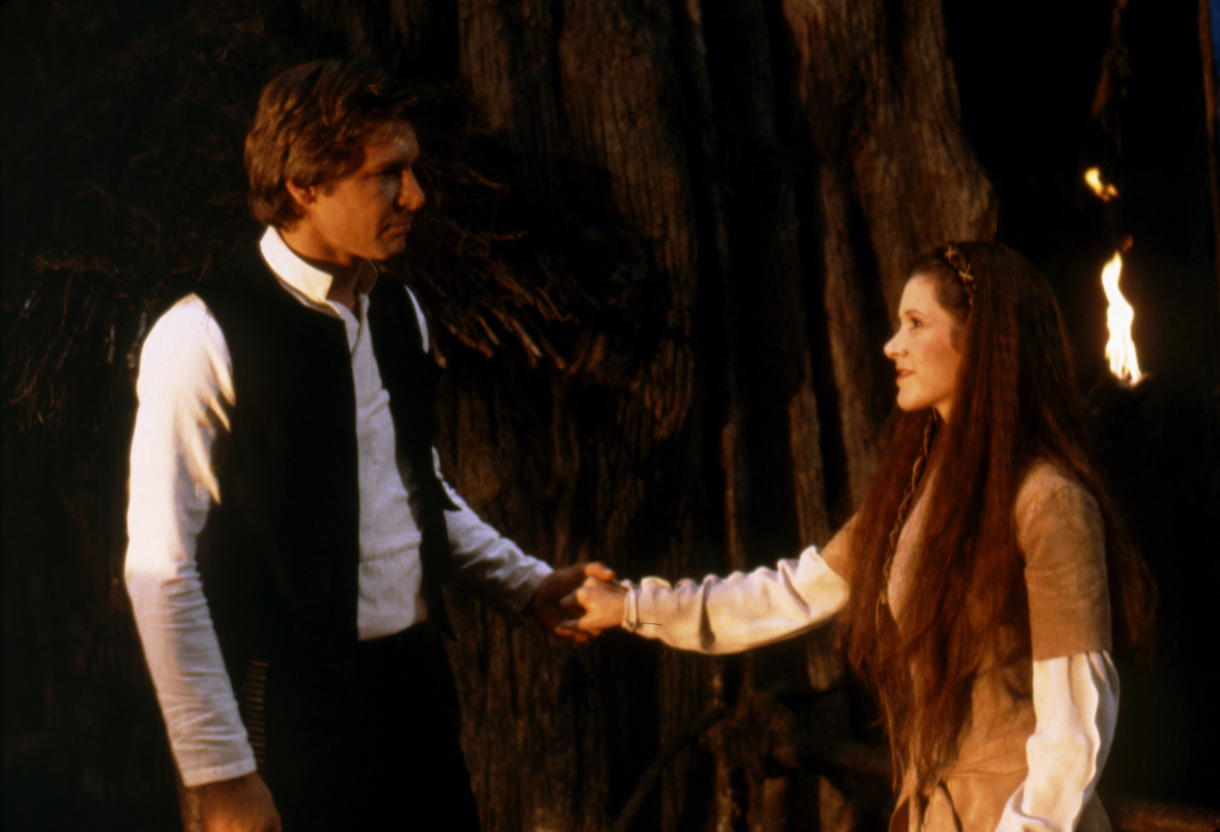 Carrie Fisher fell in love with Harrison Ford on George Lucas's birthday
After celebrating George Lucas's thirty-second birthday, Fisher and Ford spent some time making out in the backseat of his car. Fisher was blown away by how attractive he was, and considering her lack of experience in the romantic department, (she was only nineteen at the time,) she quickly fell in love with Ford. 
In fact, as she revealed in her memoir, she fell in love with him that very night. 
"Now, of course, she loved him, didn't she?" Fisher thought to herself. "She wouldn't have dared to before that business in the backseat, but now…"
This would have been all fine and good if it hadn't been for one detail: Ford was already married, with a wife and kids. 
Fisher continued, saying that Ford was on his way to becoming "everything" to her. But unfortunately, from her perspective at least, their relationship was totally one-sided. 
"It's unreciprocated love," she said.
RELATED: Carrie Fisher Said She Should've Had an Affair With Mark Hamill Instead of Harrison Ford: 'It Might Have Meant Something'
And while Ford was her "number one" priority while filming Star Wars, Fisher assumed that she was probably "number fifteen" on her co-star's list. 
"I'm sure that on our relative lists of priorities as we went about filming, I might have ranked as high as number fifteen on his agenda, while Harrison was my number one," she said.
Carrie Fisher called Harrison Ford her 'ideal mate' for a heartbreaking reason
RELATED: Carrie Fisher Fantasized About Marrying Harrison Ford While Filming 'Star Wars'
In Fisher's memoir, she talked about the allure of "unobtainable men" and how she "couldn't get enough." 
"I must figure this thing out once and for all- this pattern of becoming obsessed with inaccessible men," she wrote. "From then on, it seemed I couldn't get enough. I started with snacking on the inaccessibility of random silent jerks and seem to have arrived at making a full meal of it. Now I had more than enough. I want the check. Waiter?"
Speaking of Ford, she said, "I have filled him in to be unobtainable, disinterested, attractive, and bored with my company. My ideal mate. Someone to endure, never to enjoy. I am totally at his mercy."
Carrie Fisher said she preferred the challenge of trying to win Harrison Ford over
As heartbreaking as it was for Fisher to love a married man, she wrote in her memoir that she enjoyed the "quest" of trying to win him over. If he actually wound up loving her, she revealed, she would just end up disappointed.
"Trying relentlessly to make you love me, but I don't want the love," she wrote. "I quite prefer the quest for it. The challenge. I am always disappointed with someone who loves me- how perfect can he be if he can't see through me?"