'Jersey Shore': The Truth About Nicole 'Snooki' Polizzi and Deena Cortese's Friendship
Jersey Shore fans love the iconic Meatballs. Nicole "Snooki" Polizzi and Deena Cortese are two peas in a pod, after all. On the MTV series, it seems as though their friendship spans many years. Fans might be shocked to learn that Cortese and Polizzi haven't been friends for as long as Jersey Shore makes it seem!
Find out how Cortese and Polizzi came to be friends.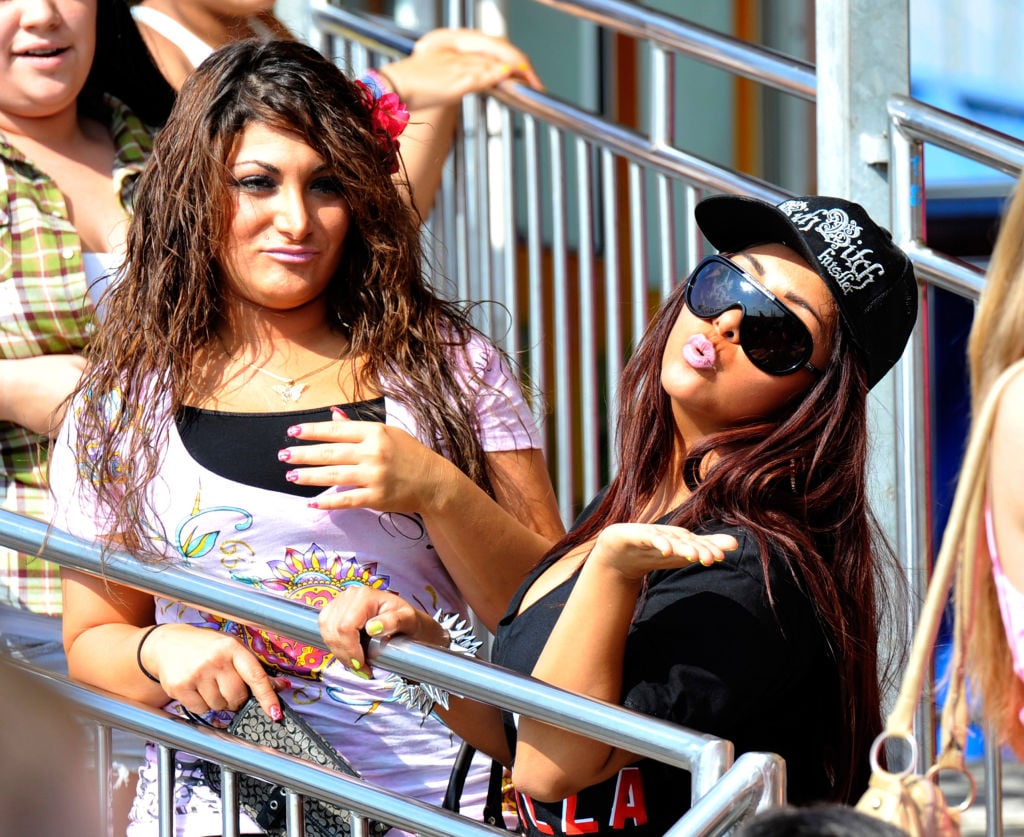 Deena was Angelina's replacement on the original 'Jersey Shore'
After Angelina Pivarnick left the Miami shore house, production was looking for someone to replace her. Polizzi suggested Cortese, and she joined the roommates in Seaside Heights, New Jersey on season 3 of Jersey Shore.
RELATED: 'Jersey Shore': Here's Why 'Snooki,' Deena, and 'JWoww' Got So Upset After Delivering Angelina's Wedding Speech
"Angelina, she's done," Polizzi says on her way to pick Cortese up. "I kicked her a*s out in Miami, and I just need a party girl, so I invited my girl, Deena." 
Deena and 'Snooki's friendship is misleading on 'Jersey Shore'
When Cortese comes onto the series, she is described as "another Snooki." In talking-head interviews — when the cast are prompted with questions from production — Polizzi speaks about Cortese as if she's known her for her whole life. "Deena is one of my best friends," Polizzi says. Then, Cortese describes how close she is with Polizzi. "As soon as I met her, it was like love at first sight."
For years, Jersey Shore fans thought Cortese and Polizzi had been friends since childhood. The way they talk about each other makes it seem that way, but it's recently come to light that that's not the case!
'Snooki' didn't know Deena before 'Jersey Shore'
A former story and field producer who worked on Jersey Shore shared on Reddit that Polizzi and Cortese didn't know each other prior to the show. "[Deena] originally auditioned for season 1," the producer said. "That's where her and Nicole met." Unlike what fans thought, Cortese and Polizzi weren't best friends that had known each other a long time. "They literally met at auditions, and then ran into each other a few times at the shore and partied together."
RELATED: 'Jersey Shore: Family Vacation': Is Deena Cortese Still Friends With Angelina Pivarnick?
When looking for Pivarnick's replacement, the producer says they combed through old audition tapes. "[We] came across Deena, knew she had a semi-connection with Nicole, and went with it because we knew she'd be less maintenance than Angelina." According to this producer, Pivarnick was challenging to work with, both for production and the rest of the roommates. When replacing her, the production team felt Cortese's light-hearted attitude would be a good fit for the series.
Deena and 'Snooki' are still close friends
Regardless of how or when they met, Jersey Shore has helped "Snooki" and Cortese form a friendship that will last a lifetime. The two are supportive of one another as mothers. They often host Instagram Lives for Jersey Shore fans, discussing episodes and even getting into their relationship with Sammi "Sweetheart" Giancola. If another season of Jersey Shore: Family Vacation is ever confirmed, fans wonder about Cortese doing the show without her meatball by her side.