'The Ultimatum': A Guide for Those Trying to Keep Up with Netflix's New Reality Show
On Apr. 6, 2022, Netflix introduced the world to yet another reality TV dating show. The Ultimatum comes from the same people who brought us Love is Blind and even has the same hosts, Nick and Vanessa Lachey. However, the concept is a little different. Think of it as a revamped Temptation Island but with slightly different rules and a somewhat different setting. It's hard to keep up with so many couples getting mixed and matched. That's why we offer you this handy guide.
[Warning: This article contains minor spoilers for the first four episodes of The Ultimatum.]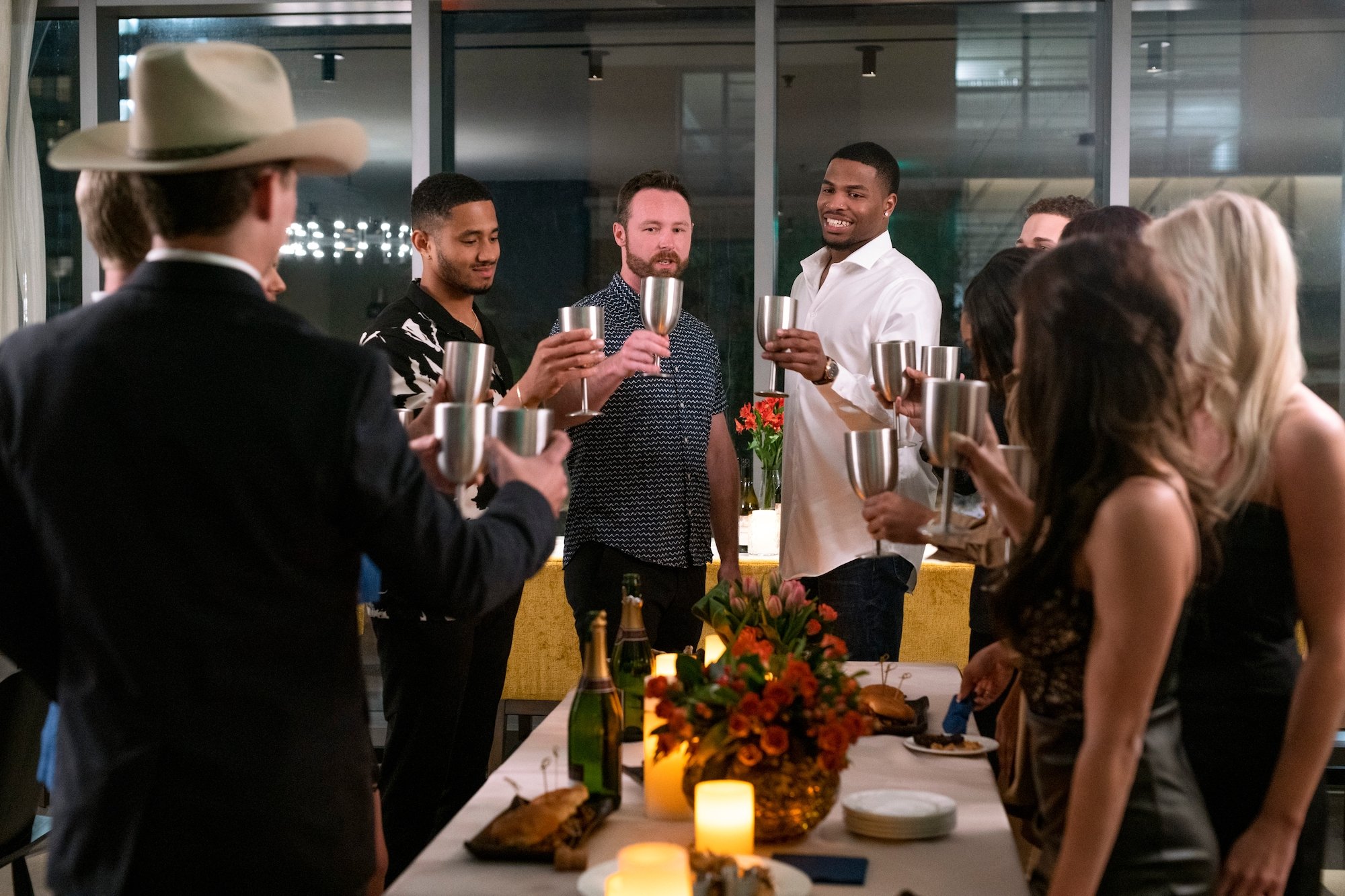 What exactly is the point of 'The Ultimatum?'
Netflix claims The Ultimatum is in the same vein as Love is Blind in that it's another "experiment." (And it wouldn't be a love experiment on Netflix without the Lacheys at the helm, right?)
The synopsis for the show reads, "Six different couples, on the verge of marriage. One partner is ready to get married, the other isn't quite as sure. An ultimatum is issued – and in just over eight weeks, they must commit to marriage, or move on. In the meantime, each will choose a new potential partner from one of the other couples, in a life-changing opportunity to get a glimpse of two different possible futures."
To break it down, one half of each couple wants to get married while the other one says, "Not yet." What would make the participants realize they want nothing more than to marry the person they're dating? Dating another beautiful person while their former loves watch from the sidelines, that's what.
Of course, those former loves will be dating new people as well, but the point is that everyone watches their significant other date someone else. Before we go any further, let's look at the couples participating in the new experiment.
The original couples of 'The Ultimatum'
This is where things get tricky. There are the couples that arrive together, and then there are the couples who form once the experiment starts. 
The couples that arrive together are:
Jake and April – April wants to get married and have kids immediately, while Jake, who just got out of the military, wants to take some time to travel. She's giving the ultimatum.
Lauren and Nate – Lauren doesn't want kids, while Nate does. However, Lauren says she wants more time to figure out if her stance on kids changes, but Nate says time's up.
Hunter and Alexis – Hunter wants to take his and Alexis' relationship a step further by moving in together. Alexis refuses to do that until she gets a ring on her finger. Alexis is giving the ultimatum.
Madlyn and Colby – Colby fell in love with Madlyn the moment he saw her in college. That was almost five years ago, and he's ready to marry her. On the other hand, Madlyn doesn't believe each person in the world has only one person they're supposed to be with for the rest of their lives. Colby's tired of waiting on Madlyn to decide. She seems utterly unimpressed with everything he does. Colby's giving the ultimatum.
Rae and Zay – These two started dating two and a half years ago, and while Rae has already graduated from college, Zay is still in school. She's ready to get married, but Zay wants to finish up his degree before taking that big step. While Rae is giving the ultimatum, Zay seems concerned that Rae can't express her feelings about him.
Randall and Shanique – Randall wants to be financially stable before popping the question, but Shanique is ready for a ring on her finger now. She's the one behind the ultimatum.
Some participants make their decisions pretty early in the show
Each couple spends one last night together before they head their separate ways. This gives everyone's nerves a chance to really go into overdrive because there's no turning back. The cast mingles as singles the next day and gets to know the other participants. After getting to know everyone, they'll each choose a new partner. From there, they'll decide if they want to marry their new person or return to the original person they showed up with.
We're not sure why marriage has to happen, but those are the rules these 12 people agreed to when they decided to participate. However, things go a little haywire, as reality TV is wont to do. Not everyone gets chosen, and some people can't stand the thought of their original girlfriend or boyfriend with another person. Decisions are made, drama ensues. It's a perfect recipe for reality TV. Well done, Netflix.
Stay tuned to Showbiz Cheat Sheet for all your coverage on The Ultimatum.