'The Ultimatum' Reunion: Randall Reacts to Shanique and Zay's Hookup
Shanique Imari explains why she hooked up with Zay Wilson, and this is how her boyfriend reacted on 'The Ultimatum'.
The Ultimatum got very messy, with former couples having to watch their partners be with someone else. Shanique Imari got jealous and decided to take her relationship with Zay Wilson to the next level. This is how Randall Griffin reacted to their hookup
[Spoiler alert: This article contains spoilers from The Ultimatum episode "Ultimatum Day" and "The Reunion."]
Shanique and Randall hooked up on 'The Ultimatum.'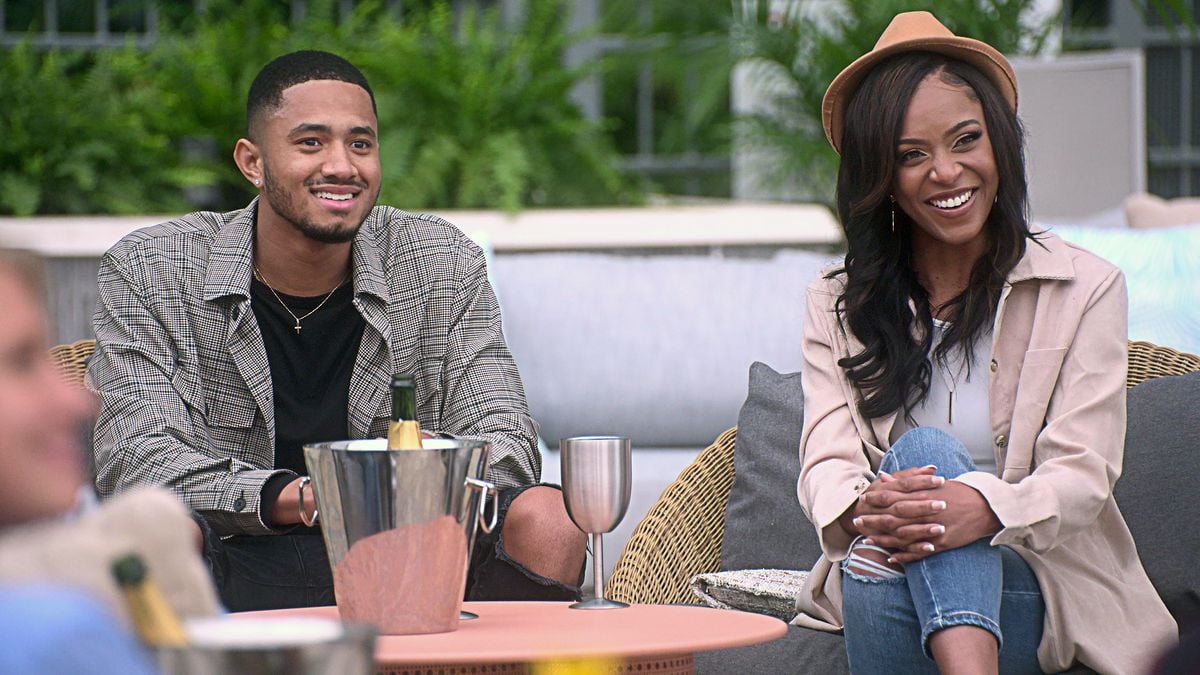 RELATED: 'The Ultimatum': April Says Watching Rae and Jake Together 'Cut Deep'
Shanique gave her boyfriend, Randall, an ultimatum. Rae Williams gave her boyfriend, Zay, the same choice to get engaged or break up.
Shanique and Zay picked each other for their trial marriage. They had a few rough moments, but they acknowledged being attracted to each other. After Shanique learned Randall kissed Madlyn Riley Ballatori, she proposed getting physical with Zay.
Fans then saw Zay and Shanique get into bed together. But they never watched them talk about it afterward. 
The season ended with Rae dumping Zay and walking off with Jake Cunningham. Randall decided to propose to Shanique after all.
Shanique said she told Randall about the hookup immediately
The reunion had the cast reunite. Shanique addressed her steamy night with Zay and why she made the decision to be physical with him.
"This is still somebody that I'm still in love with, and I want to be with,  and I knew I wanted to be with even through Zay and I's relationship," she explained. "And so, if I'm being totally honest, I was jealous. And I think that put me in a place where, I mean, as you guys can see, I just started thinking, well, if everyone is initiating these things and leaning into that physical attraction that as clearly there between a lot of people here, like why can't I do the same thing?"
She said hindsight is 20/20, and after hooking up, she knew Zay wasn't the one for her. Shanique said she wasn't embarrassed by her decision.
"I was respectful enough to Randall," she said. "That was the first thing that I told him. So Randall was well aware."
"It just sucked to see the video," Randall admitted. He said he expected to see it because of her honesty.
Rae said Zay didn't tell her about the hookup
Rae had a completely different reaction to seeing the episode because she was completely surprised. "No, Zay did not tell me about that," she told Vanessa Lachey. "And on top of Zay not telling me,  he constantly accused me of doing stuff like that with Jake when I didn't. But you wanna know why there's not a video of me and Jake in bed like that? Because that didn't f*cking happen."
Rae later told Zay, "You flipped out every time I hung out with Shanique since filming ended. I developed a friendship with Shanique after the show."
She said she never asked Shanique about their relationship because Zay should've been the one, to be honest with her. Zay claimed he understood and accepted full responsibility for everything, but they started yelling at each other. Zay walked away to cool off.
It looks like Shanique and Rae are friends. But Rae and Zay are still over and have trouble communicating with each other.