'The Umbrella Academy' Season 3 Gets Massive Update From Cast
Fans of The Umbrella Academy can't wait to see what happens next. Adapted from a comic book series with the same name, the series follows a dysfunctional family with superpowers. It premiered on Netflix in 2019 to much praise for its action and characters.
The superhero drama is now in its third season after being renewed in November of 2020. It has taken longer than usual to return to the air because of the coronavirus (COVID-19) crisis, but it looks like we're really close to new episodes.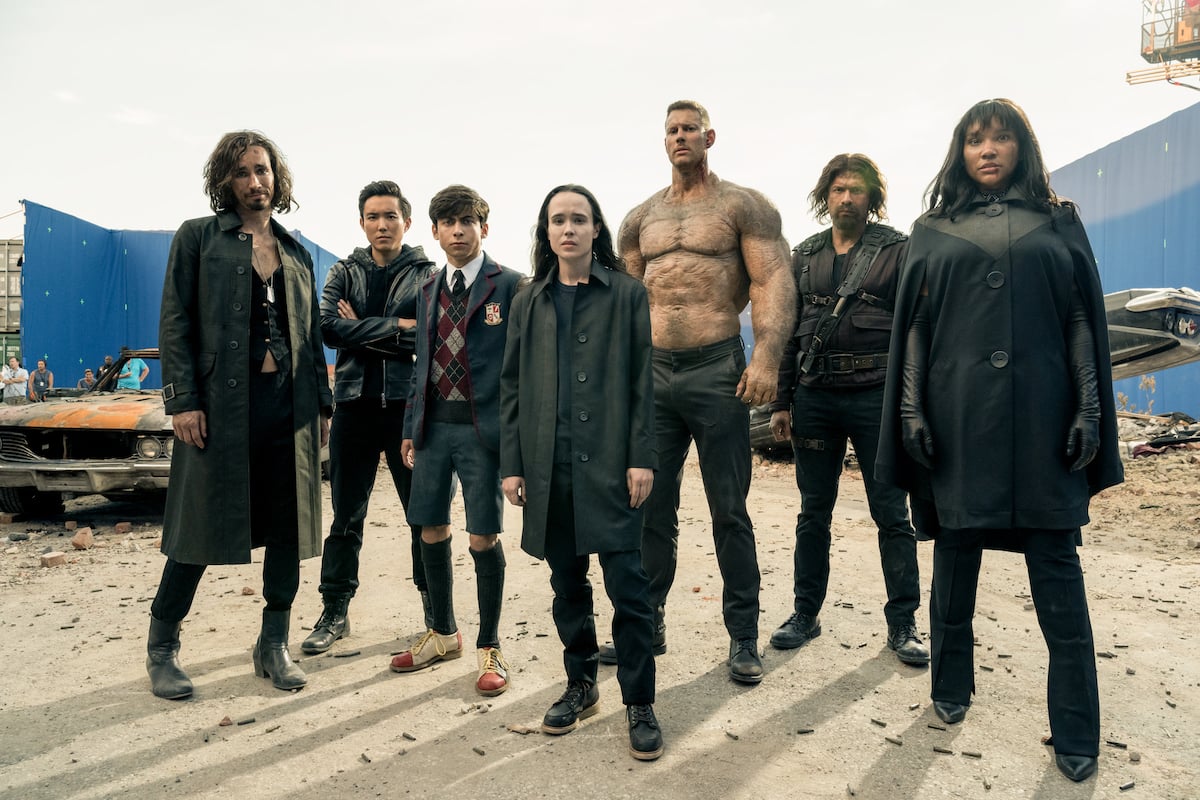 The cast of 'The Umbrella Academy' has offered an update about the third season
After months of filming, the third season of The Umbrella Academy is finally complete. The update came on Sunday, Aug. 28, when the Twitter page for the show posted a celebratory video from the cast.
Elliot Page (Vanya Hargreeves), Tom Hopper (Luther Hargreeves), David Castañeda (Diego Hargreeves), Robert Sheehan (Klaus Hargreeves), Aidan Gallagher (Number Five), Emmy Raver-Lampman (Allison Hargreeves), and Justin H. Min (Ben Hargreeves) all spoke on the end of filming.
"That's a wrap on season 3. Can't wait for you guys to see it," said Gallagher. "I don't think the world's ready for it. I think this is our best season yet," Raver-Lampman added.
What to expect in 'The Umbrella Academy' Season 3
The series left off with the Hargreeves successfully stopping the apocalypse. But when they returned home, they found their father alive and a new group of superheroes living at the mansion. Details about the next season are scarce, but showrunner Steve Blackman has reportedly promised lots of "big surprises."
"What we love is we're doing a wilder, bigger, zanier season than ever before," he said in a conversation at Netflix's GEEKED Week (via GamesRadar). "I think our emotional stories between this dysfunctional family, we're just building it up even more."
"There's some very big surprises with the family this year, there's some amazing changes that people will love to sort of dig into, and there's a lot of growth for this family this year in a way that people are just not going to expect," he continued.
In another interview with GamesRadar, Blackman said the next season would also dig more into the origin story of the Hargreeves. "Season 3 is, who are we and where did we come from? What are we as superheroes? [That] is really a story I'd love to think about more in season 3," he added.
When does 'The Umbrella Academy' Season 3 come out?
No release date for The Umbrella Academy Season 3 has been shared. Collider reported in July that it could come either in late 2021 or mid-2022. But we'll see.