'The Vampire Diaries': Ian Somerhalder and Paul Wesley Tease Their New Project
The Vampire Diaries alums Ian Somerhalder and Paul Wesley have teamed up again, but this time they're making whiskey. The former scene partners have been busily stoking excitement about the new venture, aptly named Brother's Bond Bourbon. Here's how the co-stars turned business colleagues have been touting the drink.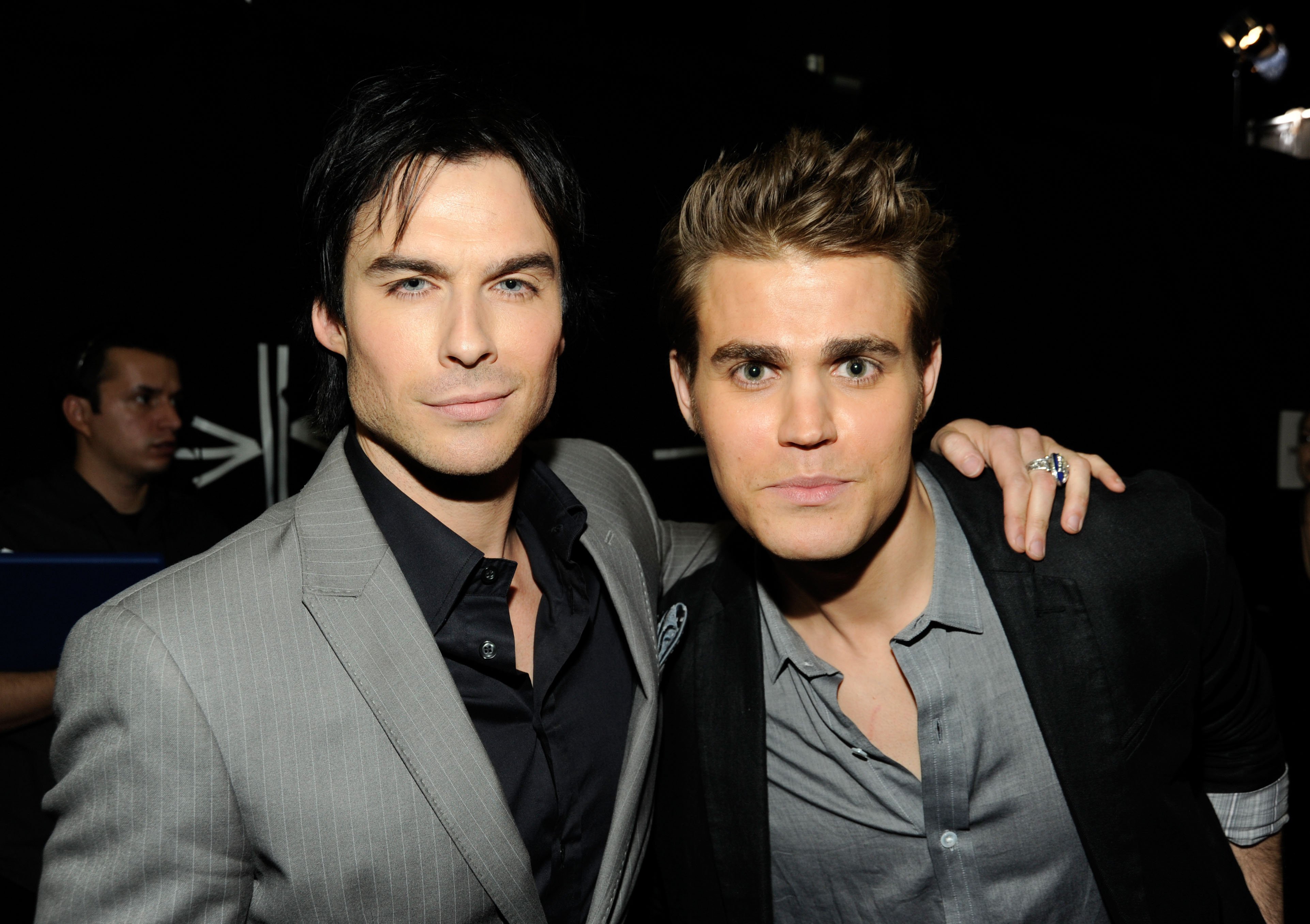 The Brother's Bond Bourbon name is a clever spin on the Somerhalder-Wesley connection
In the Spring of 2020, before launching the new adult beverage brand, Somerhalder teased the product during a visit to The Kelly Clarkson Show. He told the daytime talk show host about his latest collaboration with Wesley. The actors put their heads together to create a spirit sure to appeal to whiskey enthusiasts and fans of The Vampire Diaries.
At the time, Somerhalder kept mum about the name of the product, but in hindsight, it is clear that the entrepreneur dropped a major hint. He told Clarkson, "We love each other. We have wanted to kill each other about 800 times. But that means brothers."
It appears that Somerhalder and Wesley developed a brotherly love during their eight-year run on The Vampire Diaries. They played undead siblings on the supernatural romance series, and it seems that the off-screen camaraderie has flourished into a potentially profitable partnership.
Wesley and Somerhalder are 'thrilled' to bring fans the new beverage
Although Brothers Bond Bourbon isn't yet available to the public, Wesley gave his Instagram followers a peek at the product line. In a candid image taken by Somerhalder's wife, Nikki Reed, Wesley and Somerhalder sample the whiskey, and the two have plenty on reserve with several bottles perched next to them.
In the caption, Wesley wrote, "Ladies and gents, me and my homie, Ian Somerhalder, aka Smoldeypants, are so thrilled to bring you our latest venture: Brother's Bond Bourbon. Can't wait to share it with you! Sign up at brothersbondbourbon.com for all the latest news and updates."
Somerhalder shared the same photo, along with a few others in a lengthier Instagram post promoting the beverage and providing insights into its creation. He shared, in part, "Many many many fire-side nights sipping, balancing, blending, testing, spilling and dreaming over and over again. Then we found it. That complexity we searched so hard for, those nuances to the palate and aromas to the nose; yet all for the soul. We did this for you, for us… Are you ready to try some? Will you sign up so we can stay in touch with you? What do ya think?"
Somerhalder gave fans a closer look of Brother's Bond Bourbon
Brother's Bond may not be on the shelves yet, but Somerhalder is doing a remarkable job of building awareness around the 80-proof drink. He gave social media followers an up-close look at a brand-new bottle, which features a snazzy design. The label features an image of a tree with two figures sitting at the base. The lettering boasts a "hand selected batch" that was "distilled and aged in the tradition of all great bourbon."
In the caption for the close-up photo of the bottle, Somerhalder wrote, "Here it is. Our passion. Our baby. Ladies and gentlemen, please meet, Brother's Bond Bourbon. Time. Quality. Passion. Distilled for you and me. We appreciate your support more than you know. If you are 21 years or older in the United States or legal drinking age in your home country, please go to Brothersbondbourbon.com to sign up. We can't wait to share with you! Please share this website address with friends and family. Let's bond. Love, Ian and Paul."
Follow Erika Delgado on Twitter