'The Vampire Diaries' Stars Nina Dobrev and Paul Wesley Reunite With Cute Dog Photo
It's been years since Nina Dobrev and Paul Wesley shared the screen. But thankfully for fans of The Vampire Diaries, they've kept in touch. This is their latest cute picture and things they've said about their early days working together.
'The Vampire Diaries' co-stars had a rocky start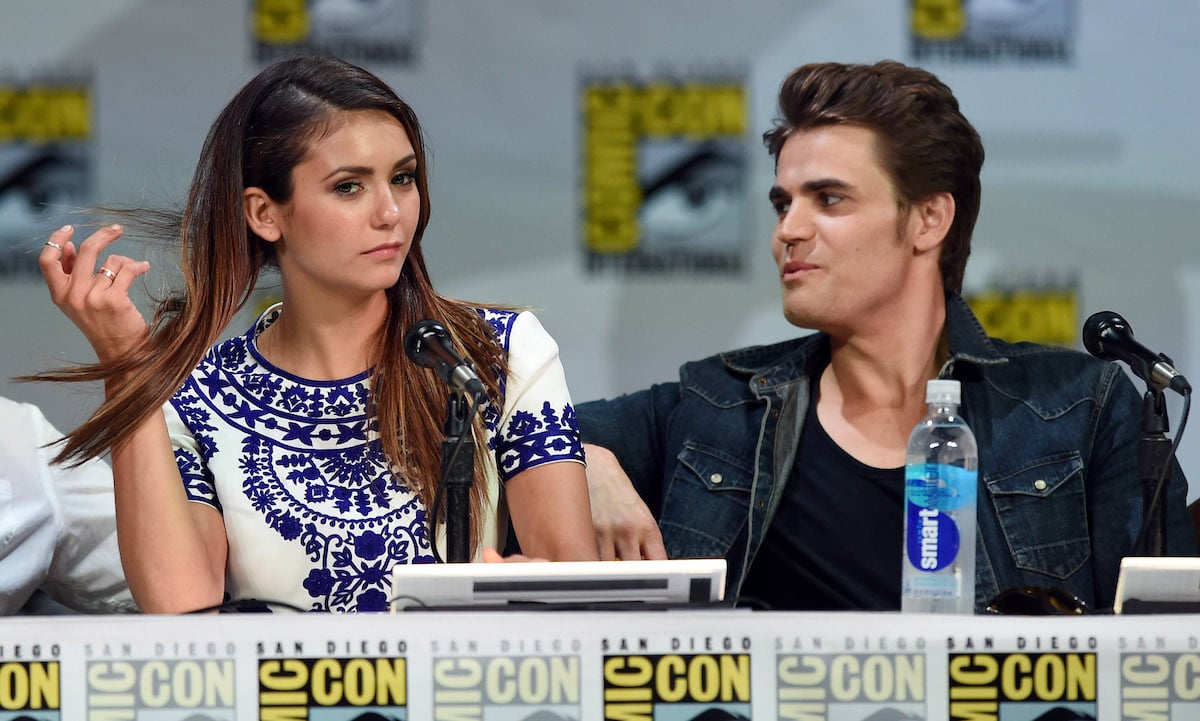 RELATED: 'The Vampire Diaries': Ian Somerhalder Reveals What Ticked Him off About Klaus and 'The Originals'
The Vampire Diaries started with Elena (Dobrev) falling for Stefan (Wesley). But the actors didn't hit it off with each other right away in real life.
"Paul and I didn't get along at the beginning of the show. I respected Paul Wesley, I didn't like Paul Wesley," Dobrev said on the Directionally Challenged podcast. Luckily, no one could tell that by their acting.
"Everyone thought that we had such good chemistry," she said. "I realize now that there's a fine line between love and hate and we despised each other so much that it read as love but … We really just didn't get along the first five months of shooting."
She noted that they're now very close. "Of everyone, I think I probably see him the most and hang out with him the most," Dobrev later said. "We're probably the closest. We hang out a lot. We're really good friends. I love his wife. It's so funny how time changes everything because I never thought he would be one of my best friends."
Wesley responded to Dobrev's comments. He backed up her story about their past.
"I think the point that Nina was making, and I'll totally back her up on this, is that we totally clashed [the] first couple years in terms of just getting on each other's nerves, and then developed this wonderful friendship," he said at the Television Critics Association, according to Us Weekly.
Nina Dobrev and Paul Wesley reunited in a new photo
RELATED: Why Ian Somerhalder Wanted to Play a Human in His New Show, 'V-Wars' After 'The Vampire Diaries'
Dobrev posted a picture with her former co-star and his wife, Ines de Ramon on Instagram. She posted it on Sept. 7 with the caption, "hard to teach a buncha old dawgs new tricks #puppyplaydate."
Wesley commented on the post with "Poor Greggy in this photo" and a separate comment of a heart emoji. Dobrev also commented on the post with "a Dobrev and Do(g)brev Wesley sandwich."
Fans weren't able to hold back their excitement in the comments. "I love how they still hang out," one person wrote. "OMG STEFAN AND ELANA [sic]," another fan wrote.
Dobrev left The Vampire Diaries after season 6. The show didn't end until 2017 after eight seasons.
The actors have since moved on to other projects. Wesley is currently playing Tucker Reed on the show, Tell Me a Story. Dobrev has appeared in movies and recently played Clem in Fam. Ian Somerhalder is set to play Luther Swann in the upcoming series V-Wars.
Somerhalder and Wesley still keep in touch. They created their own bourbon called Brother's Bond, inspired by the show. It looks like the cast members have kept their friendships alive after the show's finale.