'The View': Alexandria Ocasio-Cortez Wins Over the Audience Facing Down Meghan McCain
When pundits discuss politics at The View, you often hear them classify the co-hosts as "all liberal along with conservative Meghan McCain." But that's not exactly how it plays out on the daytime talk-show.
For starters, Sunny Hostin is anti-abortion, which puts her at odds with most in the Democratic party. Meanwhile, Whoopi Goldberg's opposition to high taxes would make her strange bedfellows with the party's left wing. (We won't get into Joy Behar's support of Mike Bloomberg.)
So when Rep. Alexandria Ocasio-Cortez (D-NY) showed up at The View on February 19, longtime viewers probably expected some pushback. And Ocasio-Cortez got just that: She had tense moments with Whoopi, Hostin, and McCain.
The studio audience, on the other hand, seemed quite enthusiastic about Ocasio-Cortez, a member of the Democratic Socialists of America. On several occasions, audience members showered "AOC" with applause.
McCain pressed AOC on 'Bernie Bro' harassment that has upset her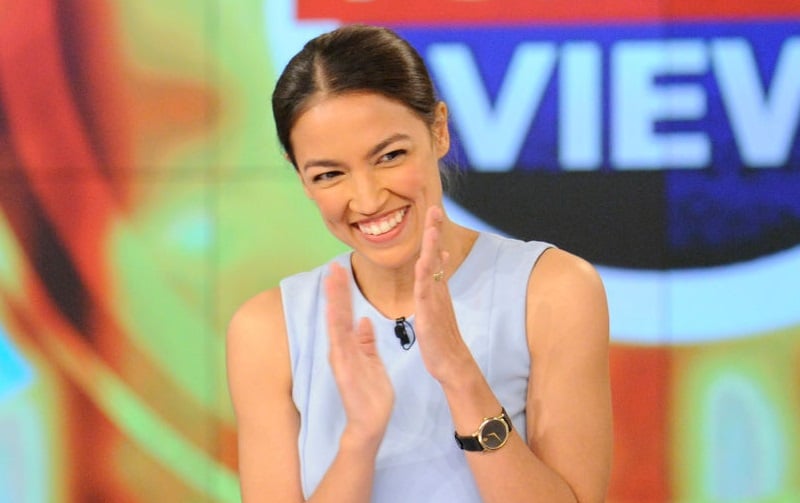 It wouldn't be an episode of The View without McCain portraying herself as a victim on some level. During Ocasio-Cortez's visit, McCain mentioned "the abuse we have all been subjected to by 'Bernie Bros.'" (McCain touched her hand to her own shoulder to indicate her personal experiences.)
She was describing a small group of Bernie Sanders fans who harass people online (much like awful MAGA supporters do). Then McCain described it "the most sexist, the most harmful" abuse out there on the internet. And McCain called it "a real problem" before asking AOC how she felt about it.
After getting into how ugly online behavior can get, AOC noted how the most frequent targets of such online abuse are "women, people of color, [and] queer people." And she pointed out how she'd been targeted online by border patrol (i.e., a government agency). "[Bernie's] got to do more," Whoopi said, interrupting AOC at the end.
Beyond that, AOC also spoke about why she supported Sanders for president. "He was fighting for [healthcare, a living wage, women's rights] since before I was born," she said to applause. When she spoke of Sanders expanding the electorate and inspiring her, she heard even more clapping from the studio audience.
AOC's biggest applause came on a line about 'rich men' in politics
While Ocasio-Cortez was mostly well-received by the audience during her lengthy visit, her biggest applause line came in a discussion about why she (in Behar's words) "triggered people." Behar described her as "a star" but wondered why AOC provoked strong reactions in people.
"Like five minutes after I won my primary, it was the apocalypse on Fox News," Ocasio-Cortez said. "I think our political system is not designed for people like us. It's not designed for working people, for young people, for women, for people of color … it's not particularly welcoming."
Closing out her comments on the topic, AOC dropped a line that connected with the show's majority-women audience. "Also, I think our entire political system revolves, frankly, around rich men. Rich men are not the center of my universe; working families are."
Not only did the audience clap enthusiastically; you could hear loud whoops and the most cheers of her entire visit. AOC may not have won over the co-hosts of The View, but the audience was a different story.
Also see: Why 'The View' Still Hasn't Replaced Abby Huntsman