'The View': Ana Navarro Shares 'Lighter Moment' From Whoopi Goldberg's Return After Suspension
Ana Navarro is a regular guest co-host on The View and happened to be on the set when Whoopi Goldberg returned to the show. The show's moderator had been placed on a two-week suspension following some insensitive Holocaust remarks that she has already apologized for. Amid all the tension, there was a "lighter moment" on the set that Navarro shared on Instagram.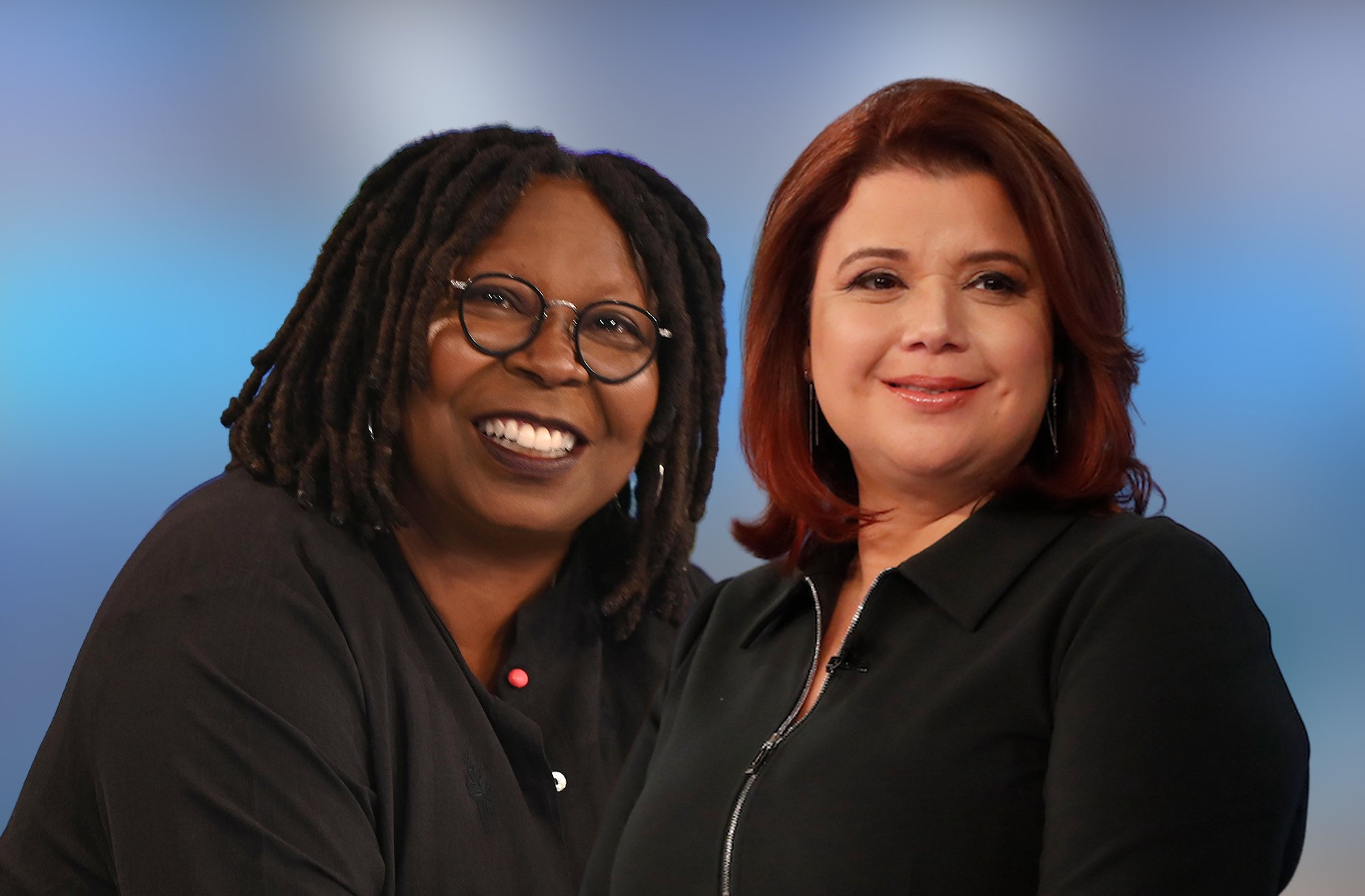 Ana Navarro shares behind-the-scenes moment of 'The View'
Goldberg returned to The View on Monday, Feb. 14 after being suspended from the show over controversial comments. Navarro was a guest co-host on that day and was at the table when Goldberg reappeared as the moderator on the ABC talk show. Due to the sensitive nature of why Goldberg was suspended, the EGOT legend had to address her comeback making for a tense moment.
However, it was not all tense on the show's set as Navarro shared on Instagram. The political commentator posted a short clip of the co-hosts as they got ready to go on the air. Goldberg, Sara Haines, Joy Behar, Sunny Hostin, and Navarro sang to the tune of "Say a little Prayer." The moment showcased what great chemistry the co-hosts have and the harmony that exists among them.
After Navarro shared the clip, it wasn't long before fans weighed in and expressed their love and support for Goldberg.
"Welcome back Whoopi. We missed you. Love you Ana, Thanks for posting," a fan replied.
"Love you guys and happy Whoopi is back!!!!" a follower added.
"Welcome back entire crew," an Instagram user said.
"What a great vibe!!!" another fan noted.
"Welcome back Whoopi! Thanks, Ana, Joy, and all the rest for supporting your sister!" another follower commented.
"Was SO good having the whole panel!!! No better!!!" another Instagram user mentioned.
RELATED: 'The View': Whoopi Goldberg Is Reportedly 'Threatening to Quit' Following Suspension
How did Whoopi Goldberg address her return?
Navarro had Goldberg's back after the "unfortunate incident" and although it was singing and dancing for The View's panel, it was all seriousness on the air. The moderator addressed her return as soon as the show started and made sure to talk to the audience at home about her experience.
"I've got to tell you, there's something kind of marvelous about being on a show like this because we are The View and this is what we do. And sometimes we don't do it as delicately as we could… But it's five minutes to get in important information about topics. And that's what we try to do every day. And I want to thank everybody who reached out while I was away," Goldberg said.
The Sister Act actor also went on to say that there were many people that contacted her following her suspension.
"It was amazing and I listened to everything everybody had to say and I was very grateful, and I hope it keeps all the important conversations happening because we're going to keep having tough conversations," she added.
Goldberg also mentioned why she loves being part of The View saying, "This is what we have been hired to do. And it's not always pretty, as I said, and it's not always as other people would like to hear, but it is an honor to sit at this table and be able to have these conversations because they're important."
RELATED: 'The View': Meghan McCain Calls out Whoopi Goldberg After Holocaust Comments