'The View': Barbara Walters 'Wanted to Cry' After Reading What Rosie O'Donnell Wrote About Her in Her Memoir
Barbara Walters recruited Rosie O'Donnell to moderate The View after Meredith Vieira's departure in 2006. After one tumultuous season, O'Donnell vacated her seat at the table following an on-air blowout with co-host Elisabeth Hasselbeck. Walters had hoped to continue an amicable relationship with O'Donnell, but was taken aback when she read the comedian's memoir.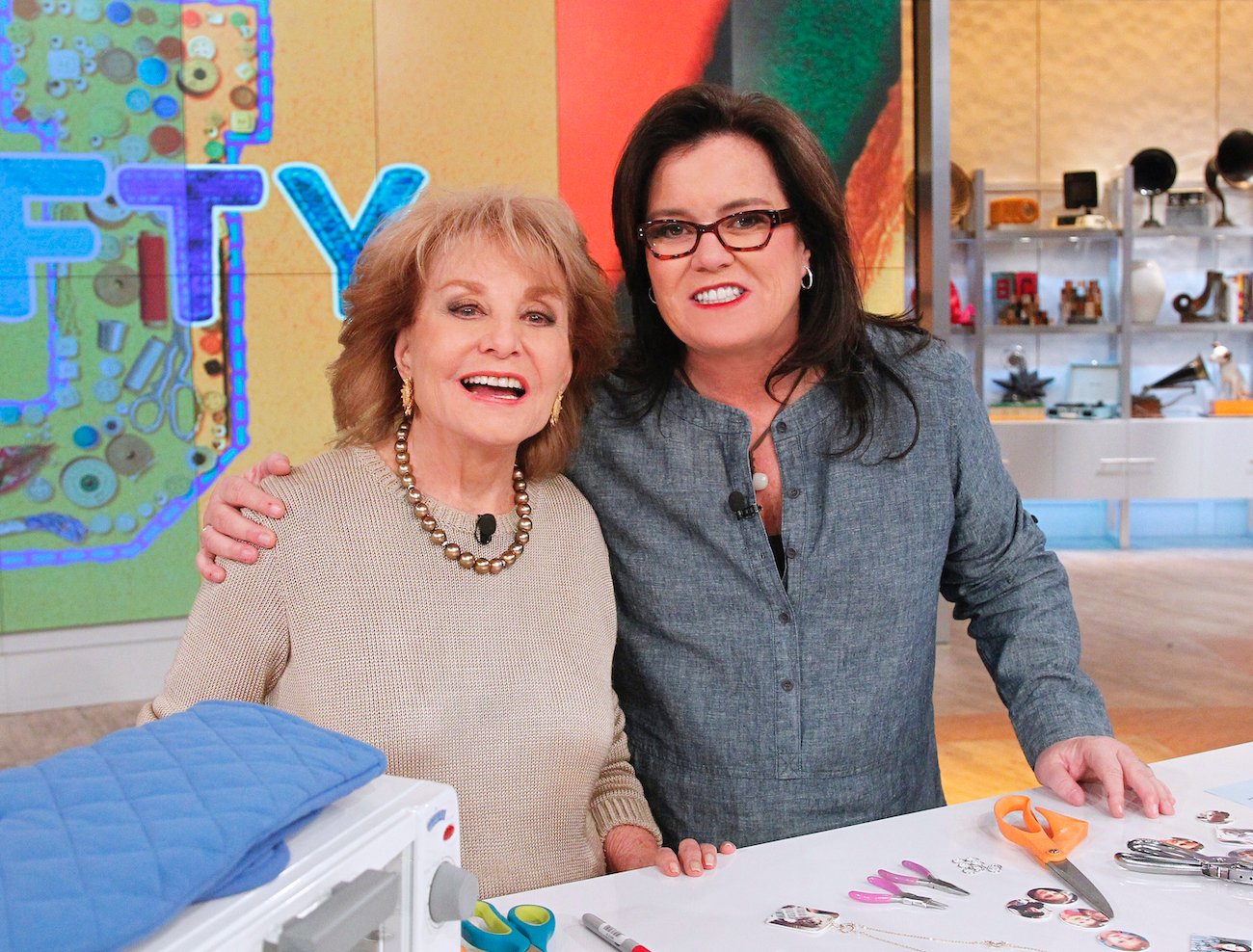 Rosie O'Donnell caused chaos on 'The View'
Walters chronicled O'Donnell's stint on The View from 2006 to 2007 in her book Audition. The news icon described some of the tumult caused by O'Donnell, which included dealing with her controlling nature and her legendary feud with Donald Trump.
"She introduced a whole new and challenging chapter of the program," Walters wrote in 2008 of O'Donnell. "How to describe it? It was like a rollercoaster ride or a bumpy trip on a fast-moving bus. Rosie had originally said she wanted to ride the bus, not drive it. But this backseat role was simply not in her nature. Rosie is a big talent, funny, smart, opinionated, passionate – and controlling."
O'Donnell had decided not to renew her contract and planned on leaving The View in June 2007, but didn't return after a highly publicized on-air clash with Hasselbeck one month prior to her exit date. Walters wanted to maintain an amicable relationship with the former co-host.
"I felt exhausted and sad," Walters said. "I emailed Rosie and said so: 'I am very sorry that you decided not to come back, but you must have felt it best for you and your family – I want you to know that my admiration and affection for you will remain unchanged.' I meant it."
Barbara Walters wasn't a fan of 'Celebrity Detox'
O'Donnell's book, Celebrity Detox, was published in the fall of 2007, several months after she left the daytime talk show. While Walters was still fond of O'Donnell after her stint on The View, the journalist had second thoughts after reading her memoir.
"She sent me an advance copy with a handwritten note proclaiming: 'Here's my book. I hope you like it. Remember Barbara Walters, I love you for real,'" The View creator recalled. "When I read the note I smiled, but when I read her book I wanted to cry."
Walters was stunned when she saw pages of O'Donnell's book riddled with negative comments about her.
"Rosie once more called me a liar who betrayed her when it came to the Donald Trump feud," Walters wrote. "Other harsh and insulting accusations, some logical, some off the wall, filled page after page. Mixed up in the criticisms were protestations of love. It was such a seesaw of emotions that I didn't know how to answer her."
Barbara Walters gave Rosie O'Donnell the benefit of the doubt
Walters had always felt compassion toward O'Donnell, knowing that the comedian dealt with a good amount of internal baggage.
"From the beginning, Rosie discussed her emotional problems," Walters explained. "She suffered from depression and often felt rage. Her mother had died when Rosie was four days away from her 11th birthday. The loss was always with her."
The legendary news person chose to take the high road and not hold O'Donnell's depiction of her in Celebrity Detox against her.
"I truly believe that Rosie did not intent to hurt me," Walters wrote. "She herself must have come to regret what she'd written, because she canceled most of her television interviews promoting the book. She also sent me a series of long, tender emails. I was touched by them and did finally respond. I can't be mad at Rosie for long."
O'Donnell came back to The View in the fall of 2014, but left once again a few months later in early 2015.