'The View': Why Candace Cameron Bure Would 'Get Sick to My Stomach' Before the Show
Hallmark Channel's Candace Cameron Bure appeared as a regular co-host on The View from 2015 to 2016. Sharing the "Hot Topics" table with Whoopi Goldberg, Joy Behar, Paula Faris, Michelle Collins, and Raven-Symoné, Bure revealed she wasn't too fond of her time on the daytime talk show.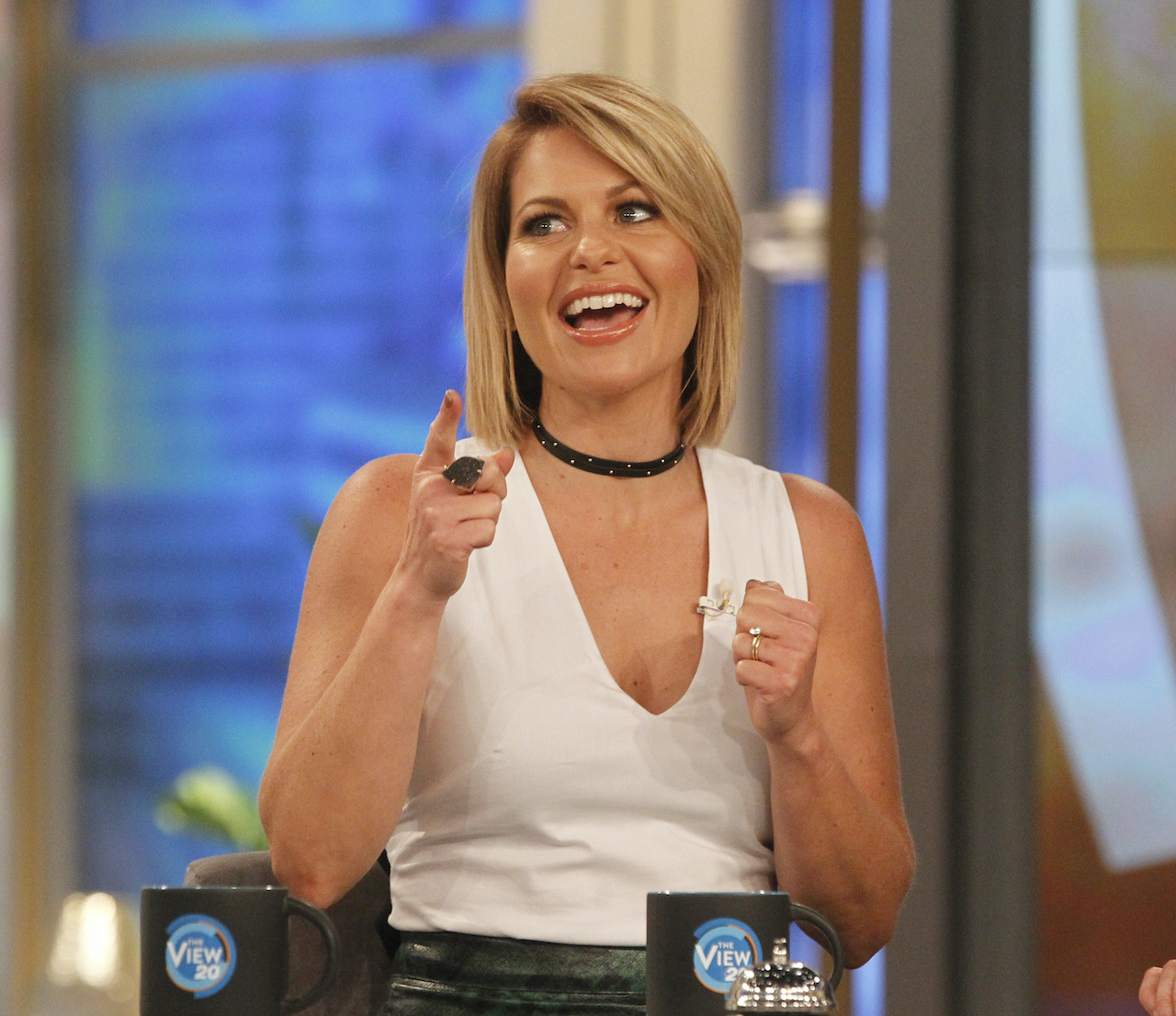 Candace Cameron Bure spoke on 'The View' podcast
The View recently launched a podcast "Behind the Table", where fans can learn some details about the talk show. Bure and Symoné spoke with current co-host Sara Haines about their experience on The View, with the Fuller House alum describing the pressure she felt during her tenure.
"The stress and the anxiety – I actually have a pit in my stomach right now," Bure remarked. "There was only one type of stress that I've ever felt in my life, that came from that show. And I [have] PTSD, like, I can feel it. It was so difficult, and to manage that emotional stress was very, very hard."
Bure said she would cry in her dressing room "almost every day" due to her constant cross-country travel to be on The View set in New York and see her family in California. She also wanted to accurately speak for those in the conservative Christian community from which she came and feared speaking out of turn.
"I felt a pressure to represent my community well," Bure explained, adding that her rigorous schedule magnified her anxiety. "A lot of it was just the fact that I was tired. I was flying back and forth every week to L.A. … It just took its toll. My schedule took its toll on my body which affected my emotional health."
RELATED: 'The View' Alum Candace Cameron Bure Recalled a Co-Host's Selfless Act During a Crisis: 'I Sat on the Floor … Sobbing'
'The View' alum felt outnumbered at times
When the 2016 presidential election began in earnest, Bure quickly realized that a lot of talk at the table would on politics. She admitted that wasn't her strong suit but frequently felt like a lone voice at the table.
"[I was] just trying to understand and have a general grasp of topics that I didn't want to talk about or didn't care about," she said. "When I felt like I was going into a show that I didn't have a clear opinion about, or it was something that I was legitimately nervous to talk about because I did have an opinion about it, but I knew I was the only one at the table that had my opinion, I would just get sick to my stomach."
Bure would sometimes steel herself against strong differing opinions from her liberal co-hosts.
"I hated that feeling," she confessed. "And then I'm like, 'I don't know who's going to come at me.'"
Candace Cameron Bure is still 'very grateful' for 'The View'
Bure previously shared that she was brought on to The View to discuss topics on the "lighter" side but soon realized the show was taking a hard political turn. Between prepping for each episode and her daunting travel schedule, the Hallmark actor was completely spent.
"The lighter version of the show I thought I was going to work for suddenly became solely about politics," Bure said, as reported by Yahoo! "I felt like I was back in school, doing four to five hours of homework a night. It was exhausting. Along with that, I was traveling back and forth from Los Angeles to New York every week to be with my family on the weekends. I'm surprised I kept up with my schedule for as long as I did."
Despite the challenges that came along with her co-host post, Bure is thankful for her time on The View.
"I don't know that I regret anything, honestly," she remarked. "I feel like there were so many wonderful takeaways from the show. And as difficult as that job was, I'm very, very grateful for it."