'The View:' Fans Are Hoping Sara Haines Stays on the Show For Good
Sara Haines is a familiar face on ABC's daytime programming. Whether she's contributing to Good Morning America, co-hosting Strahan, Sara & Keke, or pinch-hitting as a sub on The View, Haines is always showing up somewhere on the air in the early to mid-afternoon hours of the day.
Formerly a full-time panelist on The View, Haines has reclaimed her seat as a fill-in while Whoopi Goldberg, Joy Behar, and Meghan McCain are under self-quarantine due to the coronavirus crisis. Though she's back on the show on what's supposed to be a temporary basis, fans are expressing that they would like her to stay at the table permanently.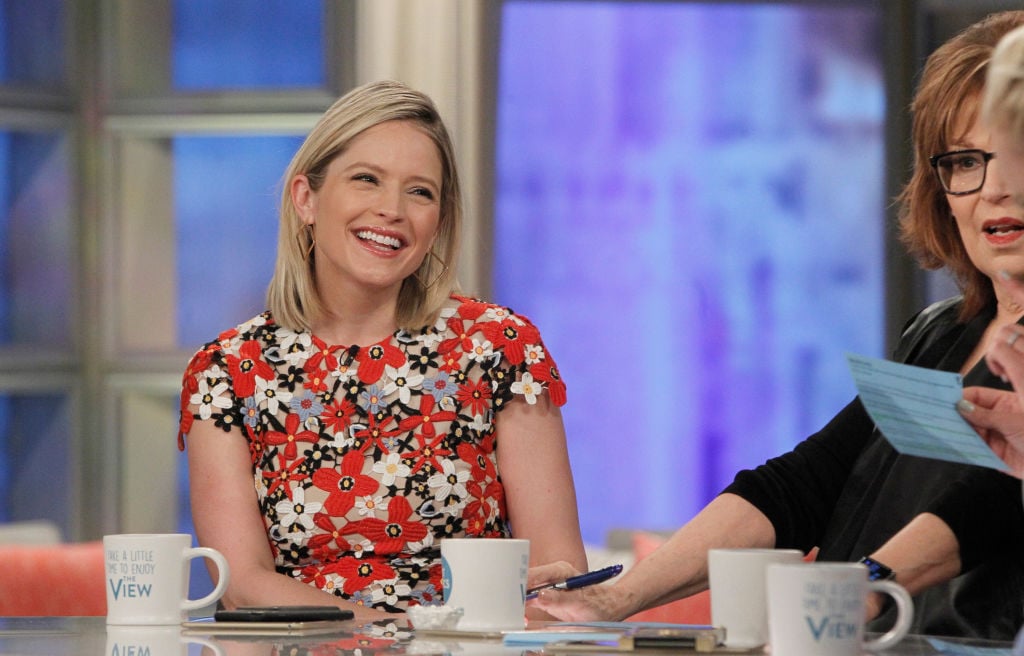 Two-year stint on 'The View'
Haines was a panelist on the ABC daytime talk show from 2016 to 2018. Leaving to head up Strahan & Sara before third co-host Keke Palmer joined the team, Haines announced her departure from The View letting her followers know the parting left her with mixed emotions.
"Ahhhhhhhh!! Not even sure I can find the words to adequately express how excited I am to sit next to @michaelstrahan as we embark on this new journey at @GMA #GMADay…it is (and has been) a dream of mine for a LONG time," Haines wrote on Instagram in July 2018. "It's bittersweet though as I leave @theviewabc, a place I have called home for the past couple years. A huge thank you to all the viewers and fans who have followed me along the way. I LOVE my View family, but don't worry, my brand new *view* is literally down the street."
Haines and Michael Strahan launched their show as the third hour of Good Morning America, with their premiere airing in September 2018.
From one dream job to another
When the opportunity to head the show with Strahan came her way, Haines was literally overcome with emotion. "Instantly eyes burning, tears falling," Haines recalled, according to Cosmopolitan. "[ABC News President] James [Goldston] had to say like, 'OK, that's enough.' I cried through that lunch and then I did that thing—you know when you're on a date and you say something weird."
The ABC co-host was also thrilled with whom she'd be sharing the stage. "He is like a jolt of sunshine and caffeine in one. In the best way," Haines said of Strahan. "He shakes everyone's hand on the way into work, and I've never seen him in a bad mood. Whenever we get together, we always end up dancing."
Landing one amazing job to then be offered another one, Haines described her roles on The View and Strahan & Sara as having to take turns between gifts. "It's like your parents giving you a big shiny toy, you're playing with it, you love it, and two weeks later they give you another shiny toy but you can only play with one at a time," she said.
Hoping Haines returns for good
When Haines started sitting in for Goldberg, Behar, and McCain, fans immediately voiced their praise for the former co-host as well as their hopes that she would stay indefinitely.
"Can we please re-hire Sara?" one follower wrote on Instagram. "❤️❤️❤️ that Sarah is back. Make her stay‼️" another posted.
"I have been loving having Sarah back on the view! I've missed her! ❤️❤️," another follower commented.
With Strahan, Sara & Keke currently replaced with ABC News' coverage of the coronavirus, Haines may be on The View for awhile. Since show producers still haven't replaced former co-host Abby Huntsman who left the show in January, fans are hoping that Haines may resume her seat on the show.