'The View' Fans Drag Elisabeth Hasselbeck on Return as Guest Co-Host
Elisabeth Hasselbeck made her triumphant return to The View after a year since the last time she appeared. The conservative co-host joined the full panel that consists of Whoopi Goldberg, Joy Behar, Sunny Hostin, and Meghan McCain. It was a different kind of show as due to the coronavirus outbreak, the show had to go on without a live studio audience. The show covered the latest "Hot Topics" and fans remembered why she was so cringe in the first place.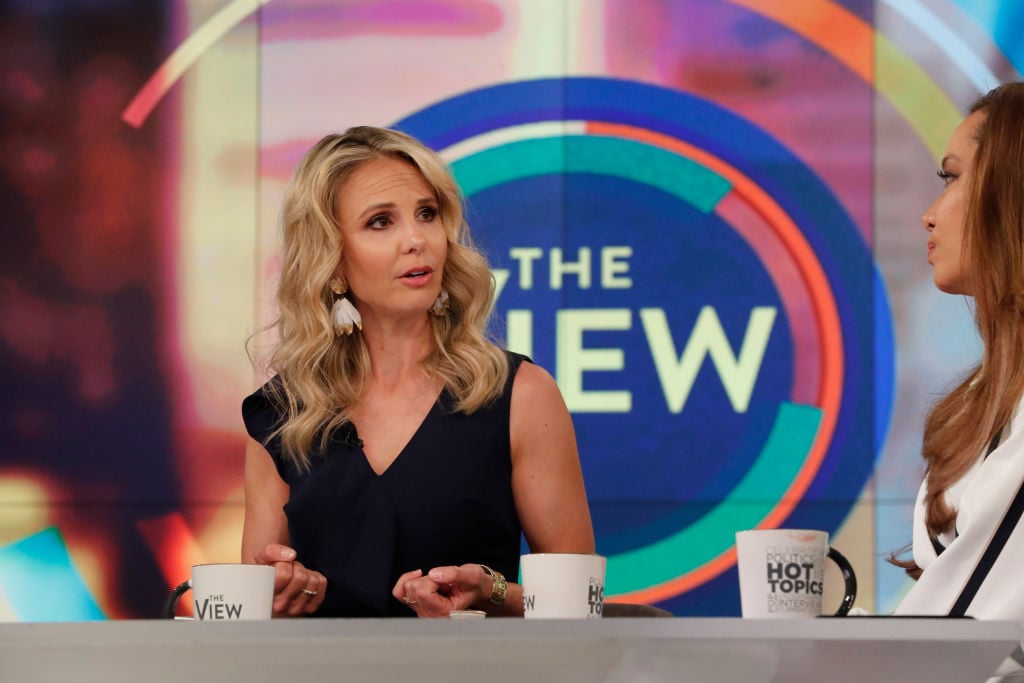 Coronavirus splits the panel
The main issue at hand was the coronavirus outbreak and the ladies had diverse opinions on the subject. Hasselbeck said that she felt good about the "strong leadership" by how Donald Trump is handling the pandemic.
"We're on the very front end of this right now, and I feel comfortable and confident that because of strong leadership," Hasselbeck said, to which she received flack from Hostin and Behar.
"Where's the strong leadership?" Behar asked.
"There are only 12 states plus D.C., you know, that have paid leave, and then you have one in four Americans that don't have paid leave, especially low wage workers. They are going to work when they don't feel well because it makes the difference for their family. So when you look at the response, Elisabeth, from this administration, it hasn't been good. I don't see real leadership," Hostin added.
It was McCain that brought the reasoning to the table for a change. She was able to take input from both opposing sides and wrap it up with a nice bow.
"I think it's different for someone like—my friends in Arizona, they're just not in the same panic level as New Yorkers are," McCain said. "So I do think this is something, that like, the coastal elites are feeling in a different way than people in the middle of the country, which is more than fine."
Fans react to Elisabeth Hasselbeck's commentary
This time, fans didn't react to McCain and spam her with negativity on social media. It was Hasselbeck that received most of the horrible comments from viewers that were watching live.
"Irresponsible of the show to have someone that doesn't have a grasp on [the] truth," a fan said. "Elisabeth Hasselbeck is a risk, she could cause deaths with her misstatements. You have to do better The View."
"Same ole Elisabeth," a viewer added. "Just reminded me again why I didn't like her on The View. She is horrible and clueless. I'm so glad Joy and Sunny checked her and corrected her. She tried it. She really did."
"Wow, having Elisabeth on the show really makes me appreciate Meghan," a Twitter user commented. "At least she's not trying to fight a deadly virus by praying and loving it away."
"I had almost forgotten how crazy Elisabeth is. Pray the coronavirus away… that's a new one," another fan tweeted.
"Please do not bring Elisabeth back on," another viewer wrote. "She just said this isn't a panic situation, it's precautionary. She thinks Purell will solve it and snarked at Joy."
"I just can't get over Elisabeth Hasselbeck's ignorant statements on the show today," another Twitter user added. "I'm flabbergasted by her comments on this virus to the American people. Why do we give these public figures a platform to spread their ignorance out to the masses? I'm glad she's back only for one day."
The View airs weekdays at 11 a.m. ET and 10 a.m. CT/PT.