'The View:' Former Panelist Rosie Perez Had a Hard Time Telling Two Co-Hosts She Was Leaving The Show
Actress and former co-host of "The View" Rosie Perez shared why she hesitated to break the news of her departure to some of the show's panelists.
The View is in full debate mode with with upcoming presidential election despite being short one co-host. Conservative panelist Abby Huntsman left the show last month, leaving Whoopi Goldberg, Joy Behar, Sunny Hostin, and Meghan McCain with an empty seat at the table.
This is far from the first time the show has experienced a shift in staff. Everyone from top journalists to celebrities has served as a co-host on The View at some point. In 2014, Academy Award-nominee Rosie Perez had her turn at the table, yet only stayed for a year.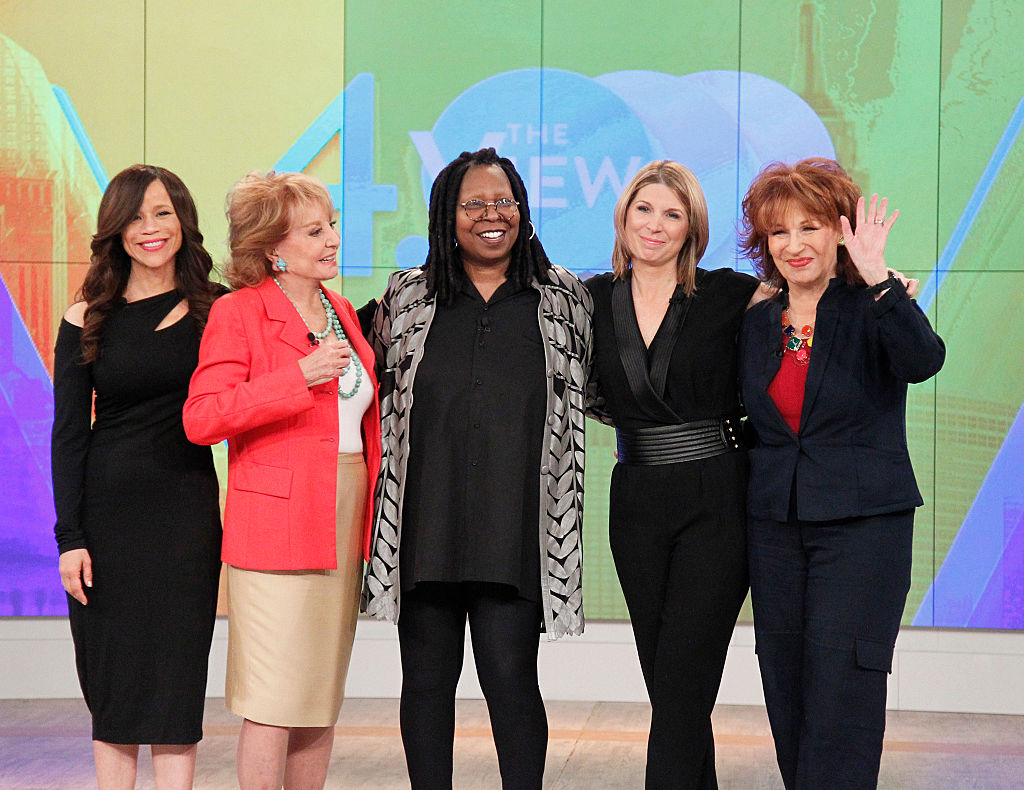 Rumors of firing Perez
Perez joined The View in the fall of 2014 for Season 18, joining Whoopi Goldberg, Nicolle Wallace, and Rosie O'Donnell. Though she was still finding her footing as a co-host, Perez took a one-month hiatus in January 2015 to star in Larry David's Broadway play Fish in the Dark. According to Variety, the departure sparked rumors that Perez was being pushed out of the daytime talk show with the network trying to plan a strategy devoid of controversy, though ABC emphatically denied the story.
"These unnamed sources are wrong," an ABC spokesperson told the outlet. "As was always the plan, the amazingly talented Rosie Perez took time off to rehearse for her Broadway play. We're eagerly looking forward to having her back on February 3rd. Any speculation to the contrary is simply untrue."
Perez pursues other projects
The actress announced in July 2015 that she would be leaving The View the following month to pursue more acting roles. "It was just time," she said, as reported by Variety. "I woke up and I told my husband, 'It's time.' It was that simple."
At that point O'Donnell had already left the show (again), yet Perez had gotten into a solid groove in her role as a panelist. "I felt like I came into my own on the show," she said. "I felt confident and secure just being myself. Maybe that was part of the reason. I was like, I mastered this, I'm doing good, now let me see what else I can do."
She formally addressed viewers and the live audience regarding her plans. "Well, you guys all heard it. I've decided that it's time to move on," Perez said in her announcement on the air. "This has been such a great opportunity to be part of such an iconic show. I will be back as a friend of the show, but it's time to go and I look forward to finishing my run on Broadway and continue acting."
Co-hosts and close friends
Perez formed especially close bonds with Goldberg and Wallace on the show, revealing that she hesitated on breaking the news of her departure to them.
"It took me a long time to dial Nicolle's number and even longer to dial Whoopi's number, but I knew I had to tell them first before I told the rest of the crew," Perez said.
Once the Broadway star made the difficult phone calls to her colleagues, she was met with understanding and support from both women. "I told Nicolle Wallace first. It was a hard call," Perez explained. "I waited on Whoopi because I didn't have the nerve to call her. But they were like, 'We get it.' Nicolle was like, 'Oh, we'll be so sad.' And Whoopi was like, 'Is this what you want to do?' And I said, 'Yes.' And she said, 'Then I'm all for it, and I love you. We'll always still be friends.'"
Perez got emotional when she broke the news on the air about her exit from The View. "[Nicolle] went to reach for my hand, and I went, 'Oh, my God, I'm not going to see you every morning.' And then I looked at Whoopi, and she was holding back the tears, and that was it. That's when I lost it," she explained, according to the Hollywood Reporter. "I was like, 'My gosh, this show has been great. It's opened me up to so many new people.'"
After her departure, Perez moved on to other projects including a role in the NBC series Rise, and most recently appeared in the film Birds of Prey.