'The View' Host Meghan Mccain Trolls President With Meme of John McCain — 'Sorry, I Had To'
Meghan McCain may not be discussing the aftermath of the U.S. presidential election with her co-hosts on The View. But the conservative pundit is still offering her political opinions on Twitter. And in a recent post, just days after congratulating President-Elect Joe Biden, McCain posted a meme of her late father, Sen. John McCain, to troll Donald Trump.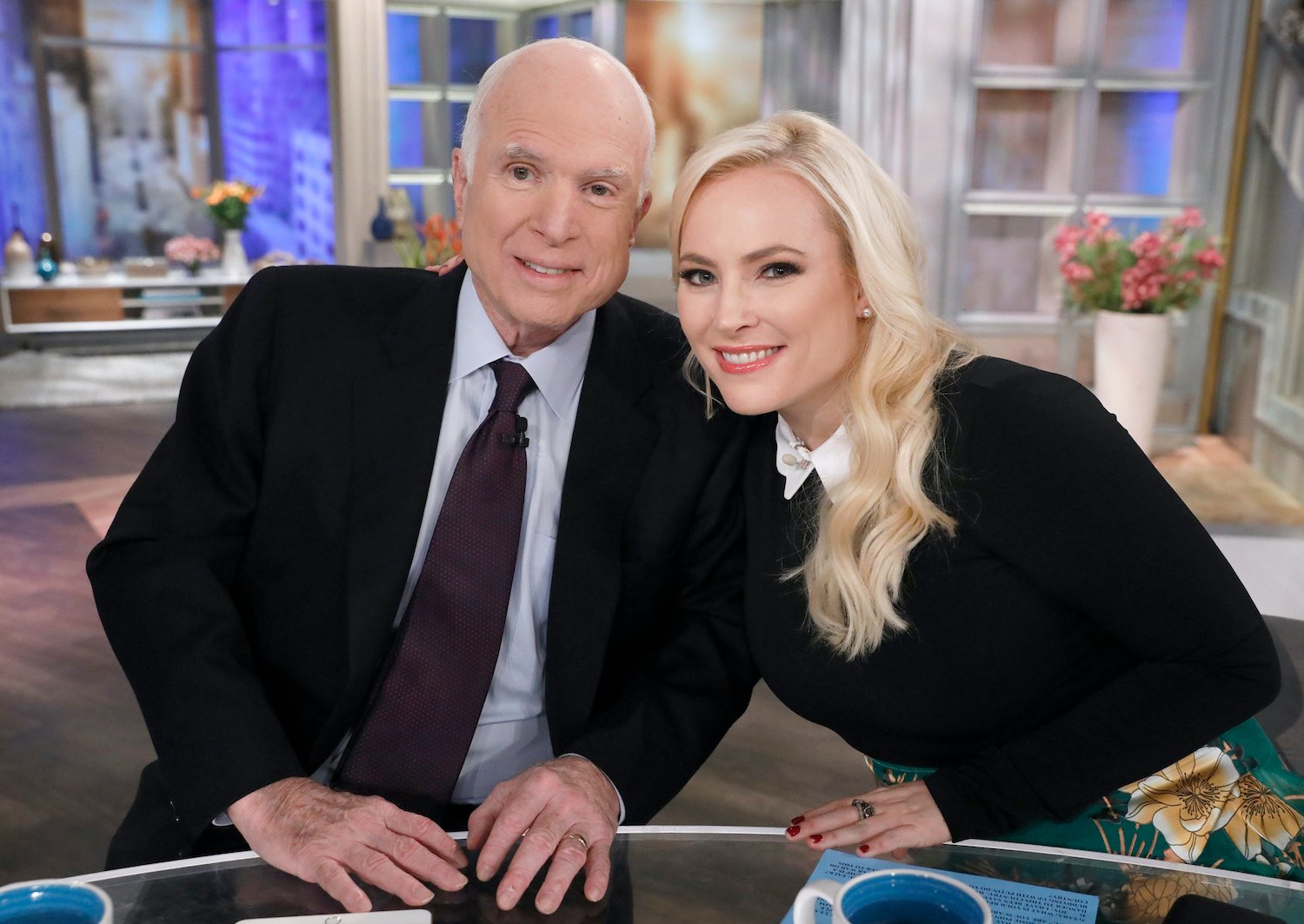 Donald Trump criticized Sen. John McCain for being a POW
During the 2016 election, Donald Trump took personal jabs at John McCain after the Arizona Senator suggested he couldn't run the country.  He attacked McCain's record of service and called him out for being a prisoner of war. 
"He was captured," Trump said. "Does being captured make you a hero?" "I like people who weren't captured."
RELATED: 'The View': Meghan McCain's Mom Gives Sweet Update on Baby Liberty
Many who heard Trump's comments were appalled at his lack of empathy and respect for such a decorated war hero. The hosts of The View defended McCain and slammed Trump for making such an insulting statement. 
"There's real sisterhood and support at this table," Meghan said at the time. "The support I have, and love, from this show in particular — thank you. All of you — for real."
Meghan McCain congratulated Joe Biden on his presidential win
The McCain and Biden families have been close for years. And in an interview with Andy Cohen on Watch What Happens Live, Meghan McCain revealed how much respect she has for the former Vice President.
"I love him dearly, and I keep telling everyone, I promise you, you'll know who I'm voting for," she said. "But it really shouldn't take a rocket scientist to know there's one man who has made pain in my life a living hell and another man who has literally shepherded me through the grief process."
So, on Nov. 7, when media outlets started projecting Biden as the new president-elect, McCain took to Twitter to congratulate him.
"Congratulations Mr. President! @JoeBiden – one of the truly decent and moral men I've ever had the privilege of knowing," she wrote. "Please lead our nation bravely towards healing and bipartisanship."
"On a very personal note," she added in a follow-up tweet. "I am relieved and look forward to having a president who respects POWs who have been captured…I had to say it."
Meghan McCain trolls Donald Trump with a meme of Sen. John McCain
McCain's home state, Arizona, was a battleground during the 2020 election. And when the state flipped blue, many wondered if it was because of Trump's relentless attacks on John McCain. 
Biden's substantial lead in Arizona gave birth to several memes honoring John McCain. And when the former Vice President won the state on Nov. 12, Meghan McCain tweeted one of those memes to troll President Trump.
"In light of tonight's news….sorry I had to, the meme is too funny," she wrote, over a photo of her dad smiling. "I like people who don't lose Arizona," the meme read, referencing Trump's attack on John McCain. 
The next day, she tweeted a heartfelt birthday message to her View co-host Whoopi Goldberg. In the post, she shared a picture of Goldberg standing next to her late father.