'The View:' Jenny McCarthy Recalled A 'War' Between Two Co-Hosts When She Was On The Show
ABC's The View is rarely short on drama or controversy. Now with the 2020 Presidential election heating up, co-hosts Whoopi Goldberg, Joy Behar, Sunny Hostin, and Meghan McCain are often in spirited debates over today's murky political climate.
The daytime talk show has had its share of theatrics over the years both on the air and behind the scenes. Former co-host Jenny McCarthy recalled a particularly sticky issue between two strong personalities at the table that became quite a power struggle.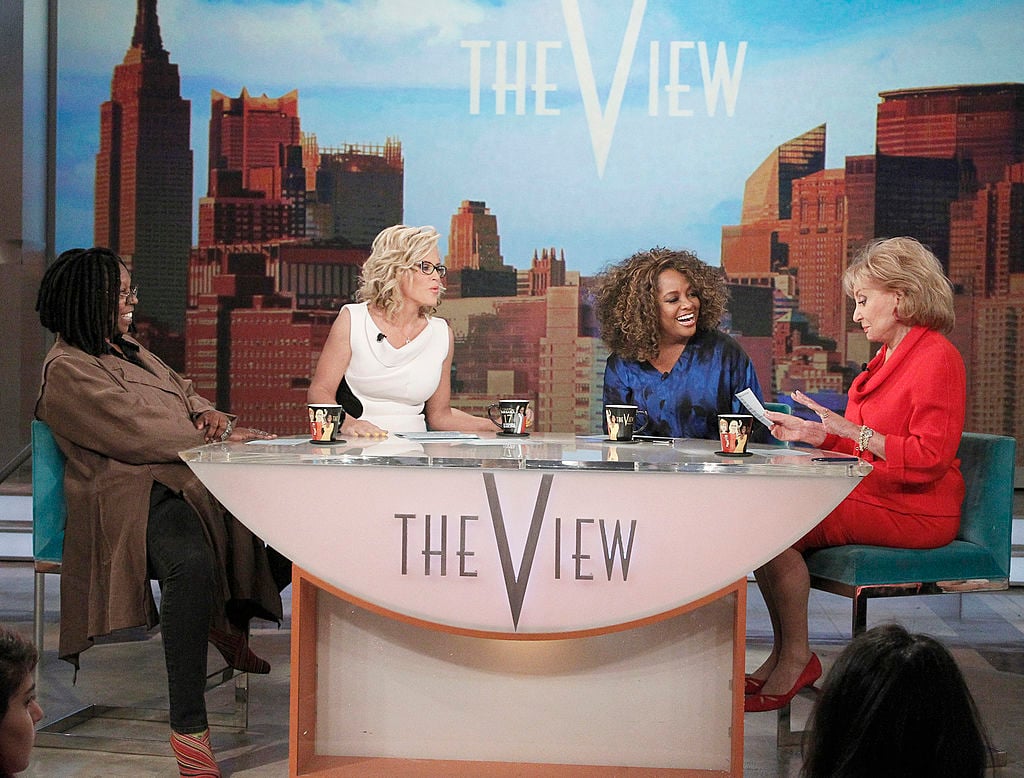 Jenny gets the job
McCarthy had already achieved celebrity status before trying out for The View in 2013. Her list of credits include television and film actress, host of radio and TV shows, and even Playboy model. Now at the judging table on Fox Network's The Masked Singer and married to singer/actor Donny Wahlberg since 2014, McCarthy is thriving both personally and professionally.
When McCarthy decided to throw her hat in the ring for The View, her goal was to try out a new venue with some substance while staying true to her fun persona. The timing was perfect since network execs had just let go of co-hosts Joy Behar and Elisabeth Hasselbeck, and wanted the show to veer away from political topics.
"How [Executive Producer] Bill [Geddie] sold it to me is that they actually let go of Joy and Elisabeth because they wanted to get rid of politics," McCarthy told Ramin Setoodah, author of Ladies Who Punch: The Explosive Inside Story of The View. "It was polarizing. That's the word he kept using: it was very polarizing to the audience."
When Geddie told McCarthy that he wanted the show to cover fun pop culture topics, the Masked Singer star knew that was in her wheel house. "I checked all those boxes for him," she said.
Choosing sides
The former View co-host told Setoodah that early in her tenure on the show, she tried to form a friendship with Goldberg. "I loved her in Ghost," McCarthy said of Goldberg. "I'm a fan. I thought I was going to work with the Whoopi that people thought they might know – fun and funny."
Yet despite trying to create some unity with the show's moderator, McCarthy didn't find the effort to be successful and felt a bit frozen out by Goldberg. She started to form a bond with co-host Sherri Shepherd, while noticing a competitive dynamic between the Oscar winner and show creator Barbara Walters.
"The table is an interesting dynamic because it reminds me a little bit of Survivor," McCarthy told Setoodah. "There were allies, and there weren't many people to choose from. Do I side with Barbara, who is royalty, but she's leaving? Or do I take Whoopi, who is a force to be reckoned with?"
Whoopi-Walters war
The Fox Network star revealed the role of moderator on the show caused a consistent conflict between Walters and Goldberg. "There was a war between Barbara and Whoopi about Barbara wanting to moderate," McCarthy shared in Setoodah's book. "This is one of the reasons I decided not to ally with Whoopi. It broke my heart when Barbara would shuffle to Whoopi and say 'Can I moderate, please?' And Whoopi would say no."
McCarthy expressed her surprise at Goldberg's rebuffing of Walters considering she's the one who created the show. "How can you do this to a woman who paved the way for so many female journalists?" McCarthy commented. "The reason we're doing this job is because of Barbara Walters."
Setoodah wrote that the moderator's chair became an "unhealthy obsession" for Walters, which just fueled Goldberg's frustration. "Whoopi was very angry," McCarthy said. "She was angry that she wasn't being paid what she was worth, rightfully so."
The Masked Singer judge found Goldberg to be abrasive with her, speculating that the Sister Act star's not-so-warm demeanor toward her was due to McCarthy's unwillingness to play favorites.
"Whoopi can knock over anyone in a debate. … I was able to get a point out in three words – like 'I don't agree' – and that's all I would be able to say," McCarthy recalled. "I would be stepped on or interrupted. I wasn't going to play a kiss a**."
In June 2014, ABC announced they were not renewing the contracts of McCarthy and Shepherd. Despite no longer having a permanent seat at the talk show's table, both women moved on to enjoy their view of success by pursuing other endeavors in show business.