'The View:' Joy Behar Talks About Her Argument With Star Jones at the Former Co-Host's Wedding
Joy Behar of 'The View' previously shared why she and Star Jones had an argument on Jones' wedding day.
Joy Behar of The View is continuing to appear on the show from her home, choosing to stay in quarantine due to the coronavirus crisis. Recently shooting down rumors that she has her sights set on retirement, Behar delighted fans when she stated that she has no plans of leaving the show anytime soon.
Viewers appreciate Behar's ability to tell it like it is and add some humor when telling a story. After the highly-publicized wedding of former co-host Star Jones in 2004, Behar revealed details on why the bride was quite upset with the comedian on her wedding day.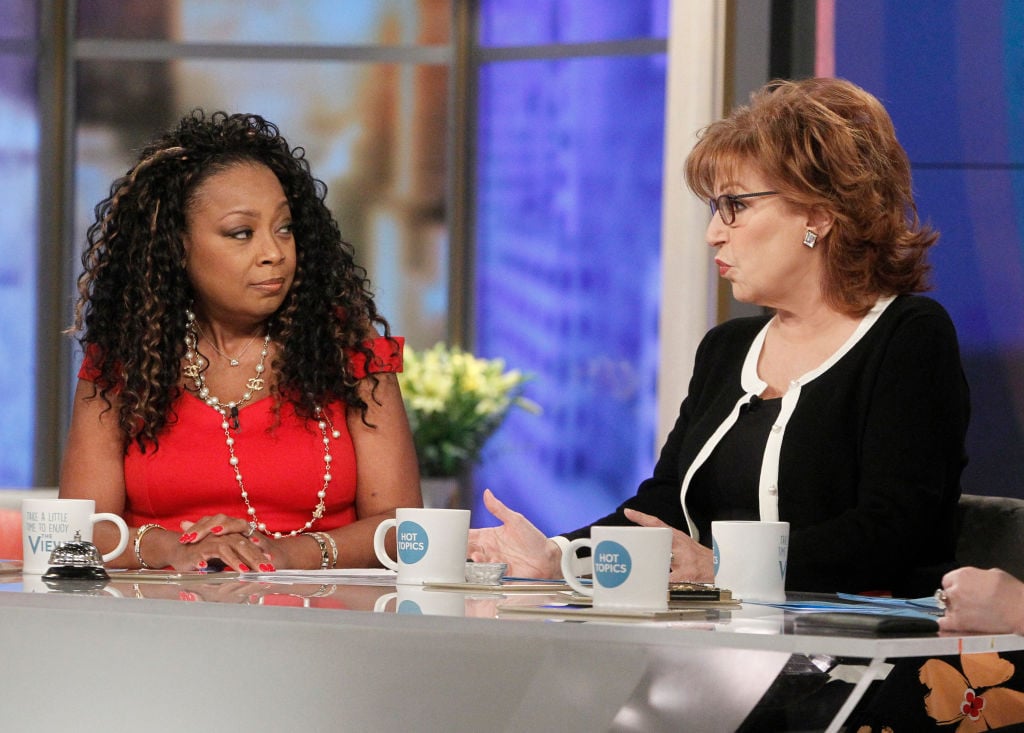 Star Jones plans her wedding on the air
In 2004, Jones served as a panelist on The View along with Behar, Meredith Vieira, and Elisabeth Hasselbeck. Announcing her engagement to Al Reynolds, Jones quickly began using the show as a platform for her wedding. In addition to dominating air time to discuss her upcoming nuptial planning, the co-host began exchanging free services from wedding vendors for a plug on The View, according to the New York Post.
Her fellow panelists were getting frustrated with how Jones' wedding plans were hijacking the daytime program. "It became a lot about the wedding, which really changed the format of the show," Behar told Ramin Setoodah in his book Ladies Who Punch: The Explosive Inside Story of The View. "I guess we were not thrilled with that."
"I certainly didn't like the idea of the show revolving around one person," Vieira told Setoodah. "I thought that was dangerous territory." Jones later agreed with Vieira's assessment, saying, "She is right. It did become about one person."
Former executive producer Bill Geddie shared that in hindsight, he should've pulled the plug on all the hoopla. "In retrospect, I should have said, 'Take your wedding somewhere else! Just don't talk about it here,'" he shared in Setoodah's book. "But it seemed stupid. It was a big event and we wanted to make the most of it."
'The View' co-host's wedding rules
When the big day arrived in November 2004, Jones and Reynolds pulled out all the stops. Their wedding included high-ticket items such as a white-horse-drawn carriage, Jones' 27-ft. tiara-topped crystal-encrusted veil, and a celeb-studded guest list of 450 attendees including Chris Rock, Kim Cattrall, Lorraine Bracco, Al Roker, and Angela Bassett, according to People.
Shortly after the event, Behar appeared in an interview with Conan O'Brien and shared that Jones had implemented some rules for her wedding guests, which the comedian did not follow.
"You were not supposed to take a camera to the wedding," Behar told O'Brien. "I read in the invitation 'no cameras, no cell phones, no pants.' First of all, I wore pants because I bought a skirt – I looked fat in the skirt, so I didn't wear a skirt, I looked better in pants… They wanted gowns, ball gowns and white tie. And no cameras."
The dress code wasn't the only directive The View co-host ignored. "I figured you know what, they'll probably confiscate the camera, so I brought it anyway in case I want to take a picture outside," Behar recalled. "I brought it into the wedding because they didn't stop me… They didn't take it."
As the event went on, Behar decided she wanted to get a few pics with her fellow co-hosts. "Now the cocktail hour is getting long and we're all getting a little bit antsy and we all look gorgeous and stunning," the comedian said. "So I whipped out the camera and I took a few pictures."
And then Star Jones came by …
Behar went on to reveal that after a couple of cocktails, she wasn't being very discreet with her photography and even called Jones over for a group photo.
"Then I had a few drinks. So now we're in the dinner part and I'm like a little sloshed," Behar recounted. "So the bride comes by… and I say 'Star, can I take your picture?'"
Apparently, Jones was furious with Behar's rebellion. "She got mad at me and lunged for the camera, so now we're in a big, like, lunge fight," she explained to an incredulous O'Brien. "She tried to wrestle me to the ground, but I'd been lifting weights."
Behar's now-husband, Steve Janowitz, ended up playing the peace maker. "So I got the camera, then she had the camera, then finally Steve, he said 'Star, let it go,'" Behar recalled. "And so she let go of the camera, and I kept the camera."
The View panelist went on to reveal that she wasn't the only co-host breaking the rules. "We were all very rebellious. Elisabeth Hasselbeck and Meredith Vieira switched the seats around," Behar shared. "She [Jones] was mad about that… She wanted her wedding to be the perfect wedding."
As for the photographs, Behar admitted that she kept them. Maintaining her status as a rebel, she showed a pic from the wedding on O'Brien's show of herself with her co-hosts, sans Jones.