'The View': Meghan McCain Confirms Dramatic Fight Before Abby Huntsman Quit
Meghan McCain talks about the fight with Abby Huntsman before she left 'The View.' The conservative co-hosts spills the tea on all the drama behind-the-scenes.
Meghan McCain is one of the most controversial panelists on The View. The conservative co-host constantly tops headlines for berating the show's audience or getting in feuds with her fellow co-hosts. Earlier this month there were reports that she was feuding with Abby Huntsman, who subsequently resigned from the show. After all the speculation, McCain finally talked about all the drama behind-the-scenes.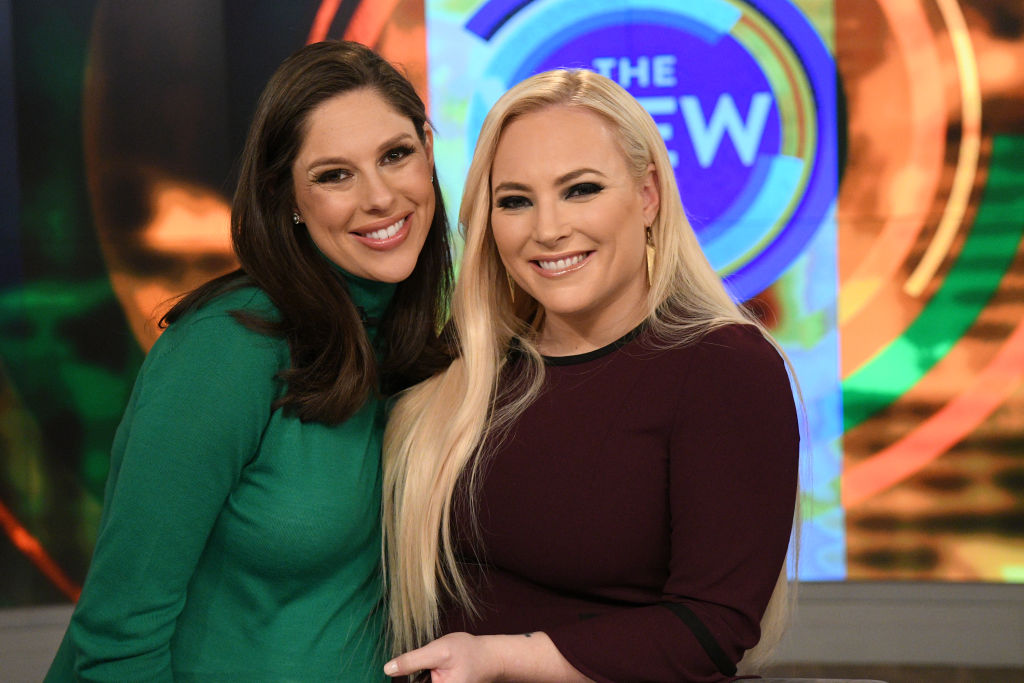 Meghan McCain and Abby Huntsman feud
McCain was a guest on Andy Cohen's late-night show Watch What Happens Live where she spilled the tea on all the gossip.
"Abby and I have been friends for over 10 years. Our parents were friends in politics, we worked at Fox together, part of the reason of why she came to The View is because we were friends. We are still very good friends. We are very close and I just talked to her yesterday morning," McCain explained.
The conservative co-host said that Huntsman leaving the show was genuine because she wanted to help her father on his campaign. However, McCain dropped the bombshell and acknowledged there was a fight between them.
"We did get in a fight, which is a very small fight and a friend-fight," McCain confirmed. "All friendships have ups and downs and it was bizarre for me to have the fact that we got into one fight to be put under dissection in the media."
McCain explained that she doesn't know who is the leaker on The View but it has been "cruel" and "rough weeks" for her on the show.
"It's been really emotionally taxing to have our friendship used this way in the media," she added.
Cohen further asked if the reason why McCain was mad was that she wanted to resign but Huntsman beat her to it.
"No," she replied. "First of all, if I was going to resign there would be no crypticism about it. I would be like, 'I'm out.' There would not be a long, drawn-out thing."
Meghan McCain addresses feud with Whoopi Goldberg
Cohen didn't let go of the opportunity to ask about McCain's debacle with Whoopi Goldberg, the show's moderator. If you all remember, back in December 2019, things at the "Hot Topics" table got really heated that Goldberg shut down McCain.
"Do you want to hear a conservative perspective on the show ever?" McCain snarked.
"Girl, please stop talking right now," Goldberg said.
"No problem," McCain responded. "I won't talk for the rest of the show."
"I'm ok with that," Goldberg added to audible gasps from the audience. "If you're going to behave like this…"
In addition, the Bravo host asked about how McCain felt during that heated exchange.
"It was rough," McCain answered. "I will say that she was having a bad day and we talked about it that night and the next day. It's live TV and it's really stressful times for everyone. I adore her. She apologized off-air, she apologized on-air. We all f***-up on the show. I forgive her and I love her and I could not do the show… if she leaves, I go."
McCain has a sweet spot for Goldberg and doubled-down saying she would leave the ABC talk show if the show's moderator left.
"Whoopi is the anchor of the show and my life there," McCain continued. "She always picks us up when we're down. If she jumps, I jump. Whoopi is… I adore her and I need her as the moderator."