'The View:' Meghan McCain is Embracing the Grays and Fans Are Loving It
Whoopi Goldberg, Joy Behar, Sunny Hostin, and Meghan McCain continue to appear on The View from home amid the coronavirus crisis. With the quarantine restrictions preventing the co-hosts from getting their usual hair and makeup done by their favorite stylists, the panelists have been prepping themselves to be camera-ready with whatever they have at home.
McCain is on lockdown with husband Ben Domenech and the two are expecting their first child. The mom-to-be has been openly sharing the changes in hair color that are naturally taking place, where her trademark blonde locks are slowly but surely turning to gray.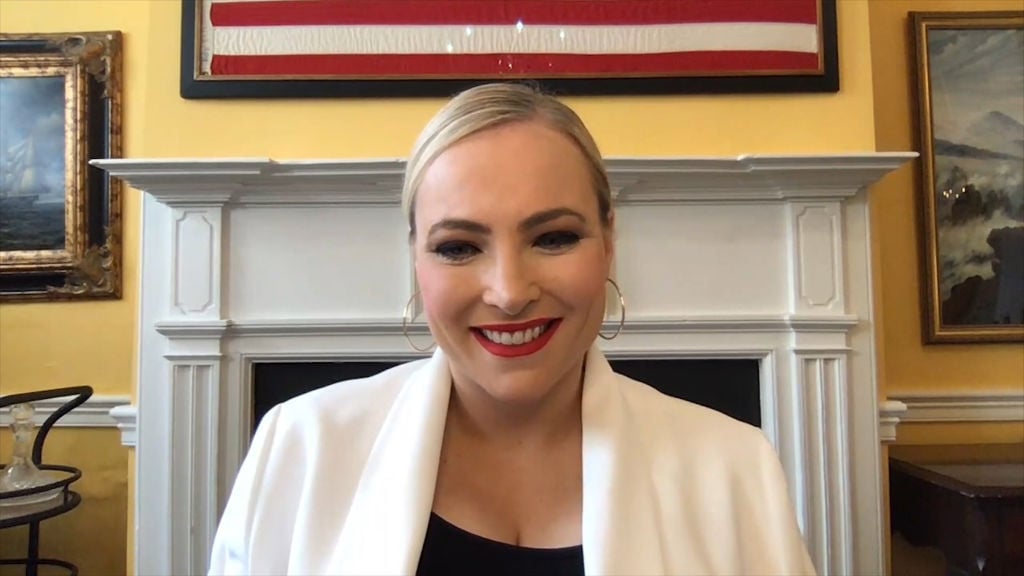 Meghan McCain asks for help
The View co-host took to social media last month to enlist the assistance of her followers on how to combat the ghastly grays.
"So, I've been doing root spray … and I think I've taken this as long as I can take it," she said in an Instagram video.. "So the question I have for everyone is, does anybody have any ideas on what to do? I'm too scared to bleach my hair because it'll make my hair fall out and my hair is fine as it is. Any ideas of grey hair dye? Should I go brown? Should I go pink? I can't take this."
According to Good Housekeeping, the talk show host was open to going full-on gray or trying a new color altogether. McCain revealed that her family members also had early onset gray hair since it was hereditary.
'The View' star keeps followers posted on the graying process
McCain got real about her color conundrum on Instagram in a telling post accompanied with photographic proof on the graying process overtaking her blond strands.
"No lies about 'lighting,' 'dry shampoo' or at home treatments here…. reached my full quarantine Witch grey hair completion," she wrote in her post. "Longest time in my ENTIRE life without getting my color done."
The conservative co-host praised those who were sisters in silver as she tries to embrace her new coif color.
"Shoutout to all my fellow women who also hereditarily went prematurely grey in your twenties. I'm owning it," McCain posted. "Just gotta go find my cauldron. Wanna join my coven? 🧙🏻‍♀️🔮😈👻🧙🏻‍♀️ (also please don't ask me to do my color at home, I can barely blow dry my own hair let alone highlight it)."
Meghan McCain's followers show her love on Insta
McCain's Instagram followers showed their support by applauding her bravery in being so transparent, especially for a celebrity who is used to being glam for the cam.
"Embrace your natural hair because you are so beautiful no matter what," one follower wrote. "Go gray girl!! It looks awesome!" another posted.
Some told their own stories of early onset graying. "Started going white when I was a teenager," a fan shared. "Dyed my hair for years. Now that I'm 34 deciding to just let it go!"
"Girl I am 50% grey and am not even 40," another revealed. "I started finding grey hair in middle school. Quarantine hair is real eye opening."
One fan admitted that while she didn't share McCain's political views, she greatly admired her authenticity.
"I LOVE how raw and honest you are. We can all learn a LOT from each other these days… even when we don't always agree," the follower wrote. "Your honest Grey's only continue to show your honest YOU. I truly appreciate that these days. Thank you."
McCain may decide to stick with the new color even when quarantine is over!