'The View': Meghan McCain Posts Tribute to Her Dad on the 2nd Anniversary of His Death
Meghan McCain of The View often speaks of her close relationship with her father, the late Senator John McCain. Diagnosed with terminal brain cancer in 2017, the Arizona senator passed away on August 25, 2018. To honor his memory, The View co-host took to Instagram to post a special picture of herself with her dad.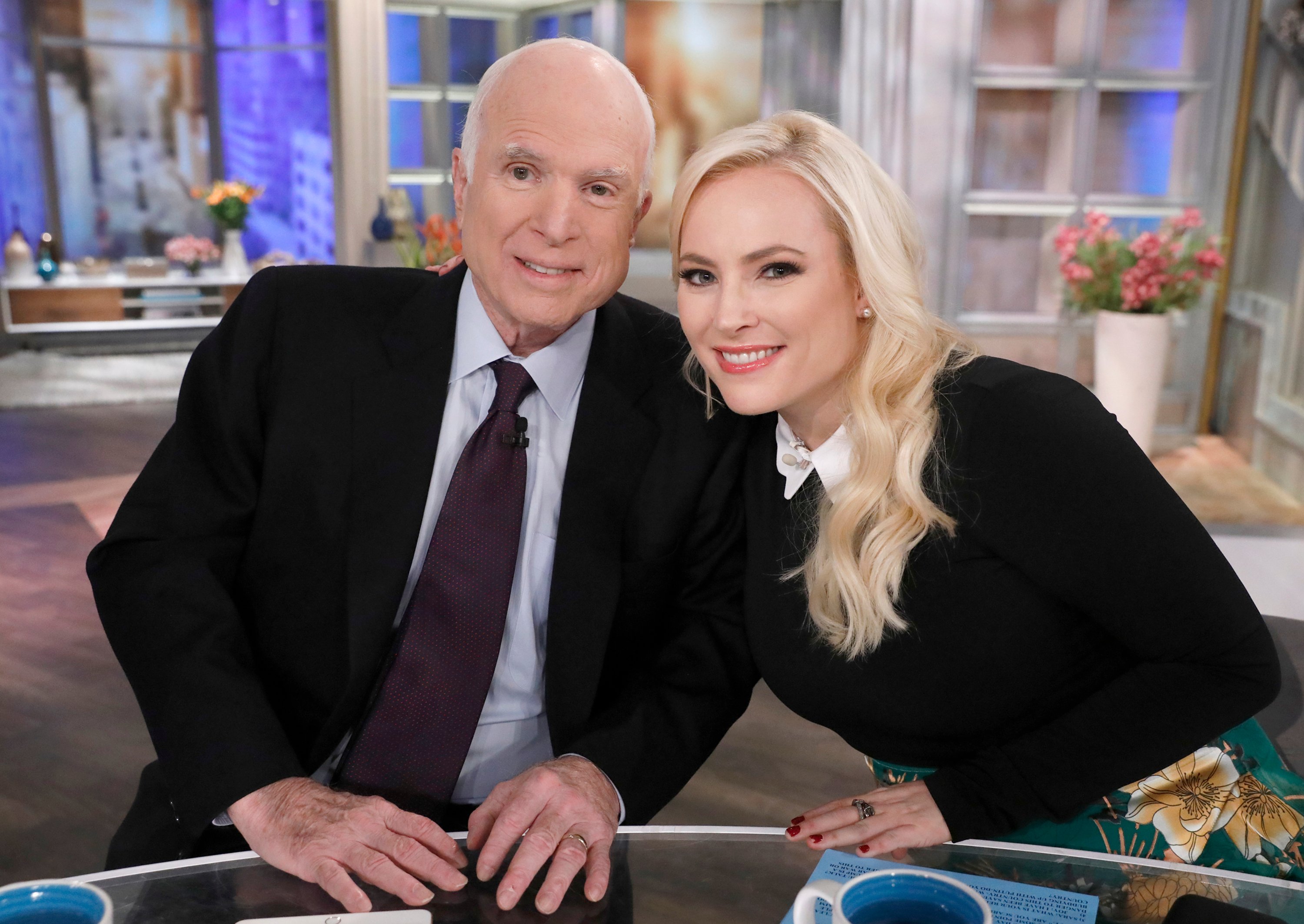 Meghan McCain discusses her father's diagnosis
In a conversation with the Endwell Foundation, The View panelist described how her dad had started showing symptoms before his diagnosis.
"When he was diagnosed on July 19 [2017], not that I'm counting, the world sort of already knew something was wrong," McCain said in December 2019. "He had been speaking in a hearing, and he had screwed up his words … like he couldn't say it correctly. He couldn't say his words. … I called my mom and I said, 'I don't know what's going on, he's got to go to the doctor because something's happening.'"
McCain revealed her father's aversion to seeing doctors, but relented after his family pushed the issue. The television personality recalled her reaction upon hearing the heartbreaking diagnosis.
RELATED: 'The View:' Meghan McCain Shares Something People Don't Know About Her in 'Rapid Fire Questions' Segment
"He went to Mayo Clinic, he got a scan, [and] was diagnosed," McCain said of the senator. "He called me and he said he had a melanoma that needed to be removed, which is a lie. … I didn't understand and then my mom texted me, he has something called glioblastoma. And I Googled it and it said mortality rates, I think, to up to 12 months. I started screaming."
'The View' star describes her bond with her father
McCain frequently mentions her dad and how their similarities sometimes got some teasing from her mother.
"We were extremely close, even since I was very little," the conservative co-host said. "My mom calls me John McCain in a dress … Even down to like our mannerisms and the way I hold a microphone is like the way he
does it. And we like the same food."
The View co-host has never held back on her praise for Senator McCain, or her gratitude for their bond.
"We were best friends," she said at the Endwell Foundation. "I worshiped him. And not a weird way but just I think any daughter who's close to their father can understand that love and it's very specific. … I called him the sun in the center of my universe."
Senator John McCain visits 'The View'
On October 23, 2017, Senator McCain stopped by The View to deliver a birthday gift to his daughter.
"It happens to be a picture of Meghan and her old man," the senator said as he took out a framed photo of the two of them sitting in the sun.
"We hiked in Sedona," McCain recalled tearfully. "It's really special … on the top of the mountain. I love you so much."
As the two embraced, moderator Whoopi Goldberg added some levity by saying, "And we point out, that John McCain is wearing a do-rag," noting the senator's head covering in the pic. "It's a sun protective hat that we make so much fun of," the senator's daughter explained.
RELATED: Why 'The View's' Meghan McCain Got Emotional Seeing This Vintage Interview
McCain posted the photo on Instagram to mark the second anniversary of her dad's passing. "Two years today. 742 days," she captioned the pic. "Miss you every single one."
On McCain's birthday episode in October 2017, co-host Sunny Hostin asked her to shared the biggest lesson she's learned from her dad.
"That character matters, and that believing in something greater than yourself will always be important," The View star replied. "And to really respect and love America and the people who sacrificed for us. That America has always been great and is always going to be great. I'm the luckiest person in the entire world. We are such a family that's filled with blessings. We have such a bond and such a love, and I'm so grateful for that."