'The View': Meghan McCain Reacts to Kanye West Meltdown at Birthday Rally
Meghan McCain from 'The View' is once again calling out the attention Kanye West is getting from the media. This time McCain's comments after the rapper broke down during a rally.
Meghan McCain from The View follows politics closely. The conservative co-host has had multiple heated debates with her fellow panelists over the past week. There is nothing that McCain doesn't speak on and raises her voice when she knows it's necessary. The Republican pundit has been critical about Kanye West's alleged presidential hopes and reacted after the rapper had a meltdown during a rally.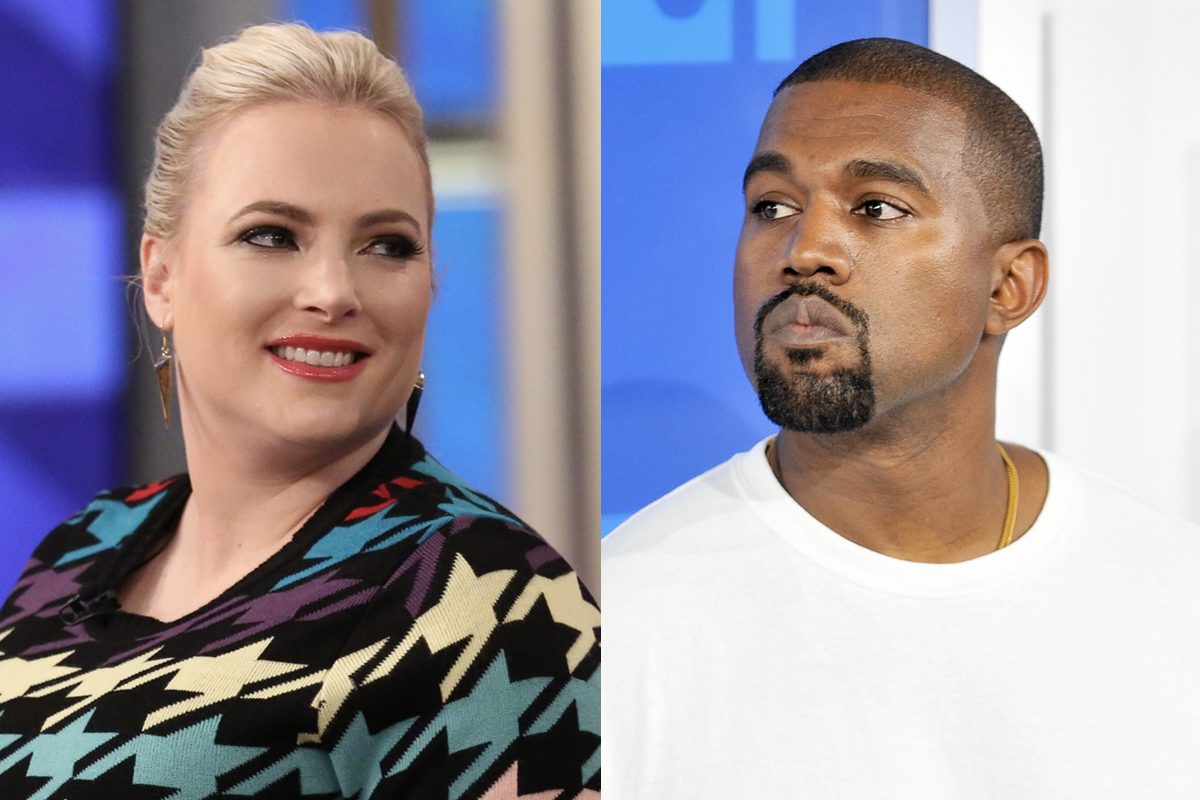 Kanye West holds his first rally
West seems to be serious about running for office in 2020 and held an event in South Carolina that doubled as his birthday celebration. One of the moments that went viral from the rally was when he had a meltdown acknowledging he had asked Kim Kardashian to have an abortion.
"My mom saved my life. My dad wanted to abort me," West said according to NY Post. "I almost killed my daughter. I love my daughter. … God wants us to create."
The rapper had a bulletproof vest throughout the event and said that "everybody that has a baby gets a million dollars." He also took a dig at Harriet Tubman who is known in history as the underground railroad hero.
"Harriet Tubman never actually freed the slave, she just had the slaves go work for other white people," West alleged.
As reports from West's rally came up, McCain tweeted in reaction to what she was seeing.
"Kanye West needs serious help, not media coverage," The View co-host tweeted.
Meghan McCain fans support her tweet
After McCain tweeted out her opinion, fans poured in replying with their own reactions echoing what the political analyst said.
"I agree with you but just think, he said nothing crazier than what Trump has said and that's the leader of your party," a fan replied.
"It's no secret that he has mental health issues and his treatment has been successful," a viewer added. "That being said disqualifies him from ever becoming a presidential contender. This is common knowledge, why would his family lead him to believe otherwise?"
"I completely agree," a Twitter user said. "I'm surprised his family allowed him to make a fool of himself. Surely, they don't think that he is presidential material. It's all a publicity stunt. I smell his next hit song."
"He absolutely does need help but that's on the people around him, not the media," another fan commented. "If the circumstances were to turn just right, he could be part of swinging the election. He's in this, the media has no choice but to report on it."
Not the first time Meghan McCain calls out the media
It was on the 4th of July that West tweeted his intentions to run for the presidential seat in 2020. The news took everyone by surprise and it set off fireworks across the nation.
"We must now realize the promise of America by trusting God, unifying our vision, and building our future. I am running for president of the United States," the rapper tweeted.
McCain later tweeted that the media would have not taken the announcement seriously if it were have been a woman.
"There is no woman on planet Earth, celebrity or private who could behave has unhinged and erratic as Kanye has the past few years [and] be taken seriously as a presidential candidate," she tweeted. "Women are punished for raising our voices on TV, let alone saying things like, 'slavery was a choice.'"
When Forbes published an interview with West, McCain tweeted out once again calling the media to stop giving him attention.
"Stop giving this attention and covering it," McCain said in a now-deleted tweet. "This is LITERALLY how we all got Trump in the first place. And who the hell exactly wants a Vice President who doesn't consume the news?"
The View airs weekday mornings at 11 a.m. ET and 10 a.m. CT/PT on ABC.