'The View': Meghan McCain Slams Troll Shaming Her for Saying 'My Father' Regularly
Meghan McCain from The View is the conservative co-host that regularly makes headlines. Her points of view tend to clash with her fellow panelists making for explosive moments. McCain is a woman that values family and had a close relationship with her father, the late Senator John McCain. Internet trolls have tried to shame McCain for frequently mentioning her father during debates but the fiery political analyst is clapping back.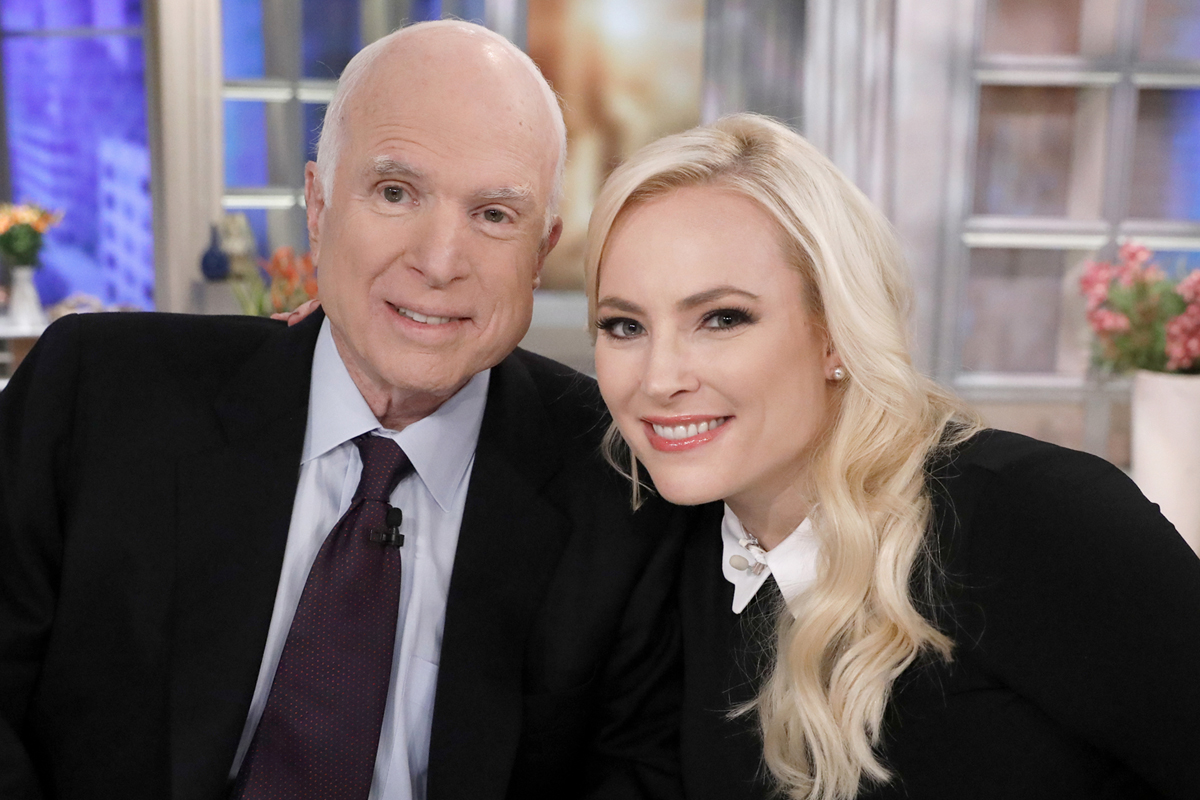 Meghan McCain is not embarrassed about mentioning her father
The late senator left a great legacy that McCain does not want to have tarnished by mean-spirited people. McCain is used to receiving heat on social media from people that don't agree with her politically. There was a recent mention that caught McCain's attention on Twitter that tried to shame her for talking about her father.
McCain is proud of her dad and had a close relationship with him. This has led her to tell stories saying, "my father," during numerous appearances on talks shows and on The View. Someone on YouTube edited a one minute video of all the times McCain has mentioned "my father" over the years.
A Twitter user tried to shame McCain for the seemingly overwhelming times she has referred to her late father. The user shared the video on Twitter and mentioned McCain.
The tweet caught McCain's attention and slammed the Twitter user for trying to embarrass her.
"I loved and revered my Dad," McCain replied. "There is no Internet shaming brutal enough to make me embarrassed of how often I've spoken of him and how deeply I respected him. I hope people like you understand what a gift and blessing that is someday… I am grateful for EVERYTHING he gave me."
Controversial television personality Piers Morgan replied to McCain's tweet sharing kind words about her father.
"Your father was one of the greatest people I've ever met," the Good Morning Britain host said. "A magnificent man in every regard. Never stop talking about him. These trolls aren't fit to be mentioned in the same breath."
Meghan McCain shares baby update
McCain is pregnant and expecting her first baby with husband Ben Domenech. The Republican television host has not shared too many details about her pregnancy. However, a couple of weeks ago she updated her Instagram Stories with the sweetest anecdote about her unborn baby.
"My baby moves around inside me all day like a wild cat…," she shared. "Wild in the womb. I should have expected nothing less from the spawn of me and Ben. Mothers, this is a truly special and paradigm-shifting thing to experience…"
McCain has not been shy about her journey to motherhood. However, she and her husband have made the decision of trying to respect their baby's privacy.
"Ben and I have made the conscious decision to guard our (growing) families' privacy as much as is possible," McCain recently posted on Instagram. "I believe children have a right to privacy and hope you will all understand as we navigate this as much as possible going forward without sacrificing our comfort or safety."
McCain has not revealed when she is due yet.
The View airs weekday mornings at 11 a.m. ET and 10 a.m. CT/PT on ABC.
RELATED: 'The View' Alum Abby Huntsman Tests Positive for COVID-19