'The View' Original Cast: Where Are They Now?
The View has seen 22 permanent co-hosts, as well as many memorable guest hosts, since it debuted in 1997. The View's original cast was composed of journalist Meredith Vieira, lawyer Star Jones, comedian Joy Behar, TV host Debbie Matenopoulos, and journalist Barbara Walters.
It was thanks to Walters, the creator of The View, that the panel came together. But the women have since gone in different directions. So where are they now?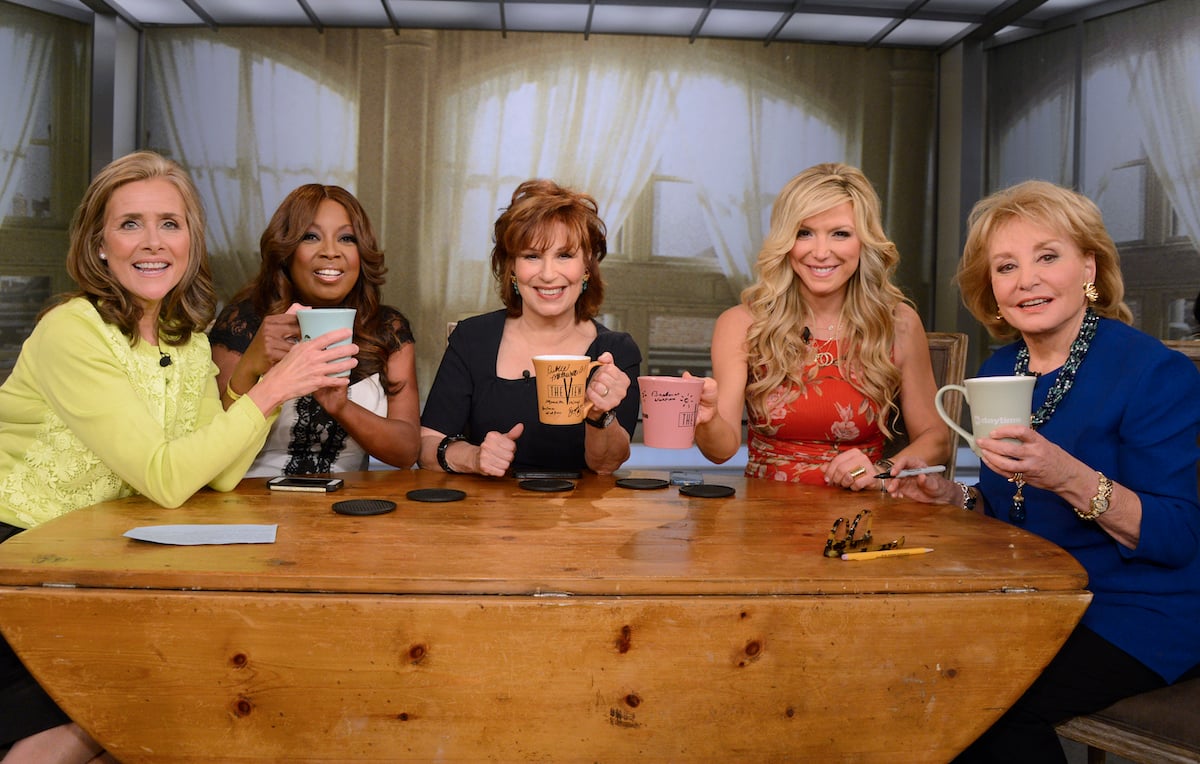 Barbara Walters
Barbara Walters created, co-hosted, and executive produced The View all the way up until she left as host in 2014. After that, she continued to contribute to 20/20 and other projects. Her last on-air interview for ABC News was with then-president candidate Donald Trump in 2015.
Walters is now 92 and apparently maintains a quiet lifestyle. She has rarely been seen in public since her retirement. In 2020, former co-host of The View Jenny McCarthy told Us Weekly that she heard Walters was "in a place of not doing great." "I just talked to Sherri Shepherd about it and we're sending some cards over to her," McCarthy said. However, a rep for Walters denied these comments, saying "I see her every two to three weeks and she's doing just fine."
Meredith Vieira
Meredith Vieira served as The View's table moderator from its premiere in 1997 until 2006, when she left to co-host Today as the replacement for Katie Couric. She also expanded her TV career, serving as the host of Who Wants to be a Millionaire between 2002 and 2013. And she's been a correspondent for the Olympics as well as Prince Harry and Meghan Markle's royal wedding.
Nowadays, Vieira hosts the game show 25 Words or Less. She also has served as a guest co-anchor of the fourth hour of Today with Hoda & Jenna. Plus, Vieira briefly returned to The View in 2016 as ​​guest moderator for one episode.
Debbie Matenopoulos
Debbie Matenopoulos was only 22 years old when she became one of The View's original cast in 1997. But her time on the program was brief. In 1999, her contract with the show was not renewed, and Lisa Ling replaced her. 
Later in 1999, she became a host on the TV Guide Channel. And in 2004, she was hired to co-host Good Day Live. In 2006, she became a host on E!, and she returned to the The View as a guest co-host — which she has done several times again over the years. 
Star Jones
Lawyer Star Jones' time on The View might have been marred by controversy after her ugly exit in 2006. Jones had been discussing her wedding plans on the show, plugging products and vendors in exchange for free items and services. When she learned ABC would not be renewing her contract, she announced her departure before the agreed-upon date. However, Jones and The View did eventually make nice. She appeared as a guest co-host in 2012 and has returned several times since.
After initially departing the talk show, Jones worked as a host on several shows and networks including truTV, E!, and HGTV. She also appeared on reality TV programs, including the celebrity version of Are You Smarter Than a 5th Grader? and The Celebrity Apprentice. Her latest venture is becoming a judge on Divorce Court.
Joy Behar
Joy Behar is the only member of The View's original cast still remaining on the show. She currently co-hosts with Whoopi Goldberg, Sunny Hostin, and Sara Haines. Back in February, the comedian made headlines after making a tone-deaf comment about Russia's invasion of Ukraine. Fans also noticed when she recently tumbled off her chair.
Stumbles aside, Behar had initially been fired from The View in 2013, though the network's decision to let her go didn't exactly stick. Behar continued to guest co-host throughout 2014 and 2015. And in 2015, ABC announced that she would return as a regular co-host starting with the premiere of the 19th season.