'The View' Star Whoopi Goldberg Didn't Realize She Was an EGOT Winner Until This '30 Rock' Episode
Whoopi Goldberg of 'The View' recently revealed she discovered her coveted EGOT status only after appearing on this NBC sitcom.
Whoopi Goldberg of The View is part of the small yet elite group of EGOT winners. Garnering an Emmy, Grammy, Oscar, and Tony, Goldberg has more than proven her talent in numerous forms of entertainment. Yet the multi-award winning actor wasn't aware of the coveted acronym until a popular NBC sitcom satirized the concept.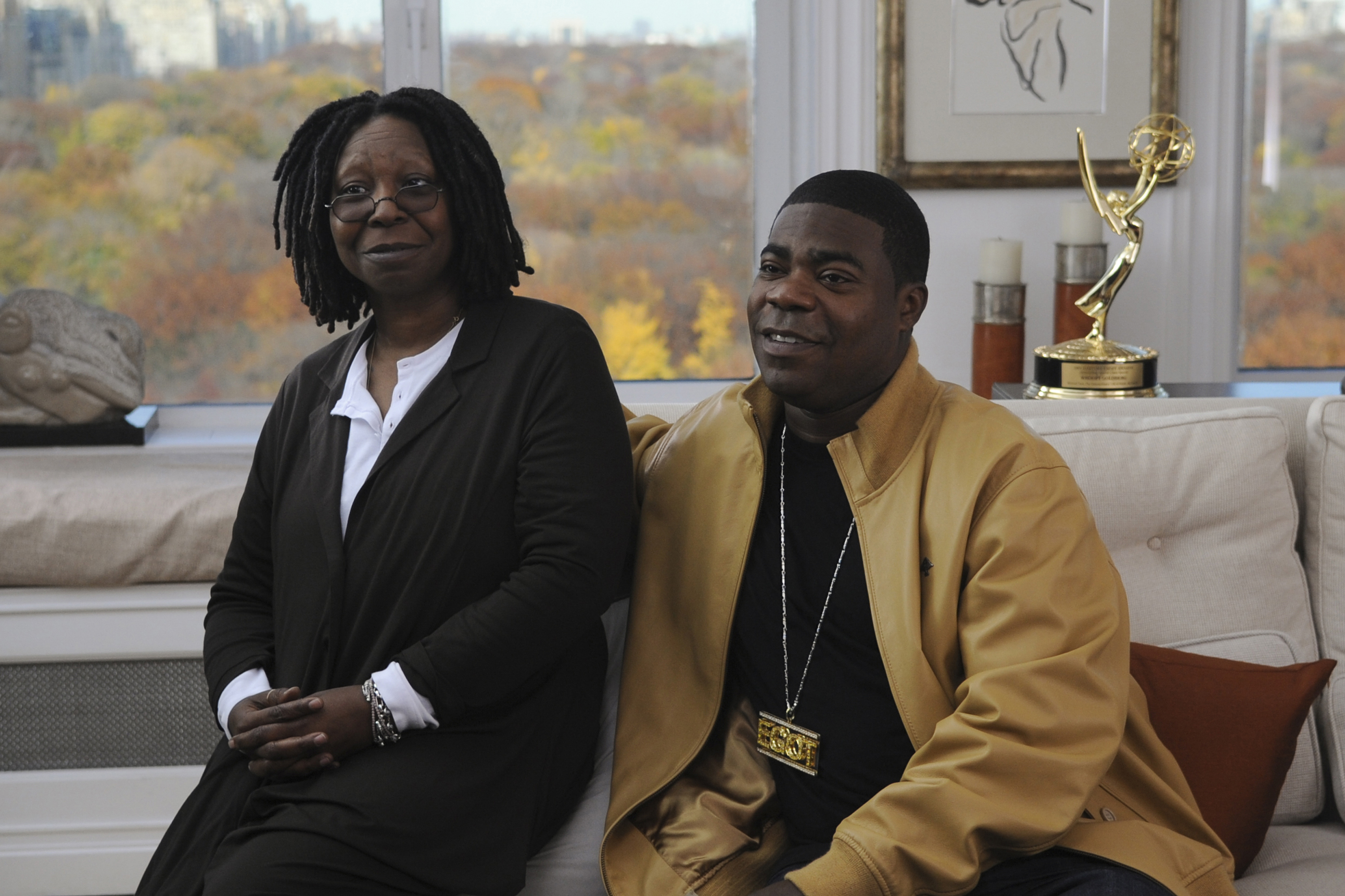 '30 Rock' featured an EGOT episode with Tracy Morgan
The term "EGOT" was reportedly coined in 1984 by Miami Vice star Philip Michael Thomas. According to The Ringer, the actor told the Associated Press that he aspired to win all four awards within the next five years. The acronym stuck, though few have achieved EGOT status. Goldberg, John Legend, Mel Brooks, and Audrey Hepburn are some of the successful recipients.
In the fourth season of 30 Rock, the episode entitled "Dealbreakers Talk Show #0001" featured Tracy Jordan (Tracy Morgan) getting inspiration to achieve the coveted four awards after spotting an ostentatious gold necklace bearing the letters "EGOT" spelled out in diamonds. Apparently, the episode launched the acronym into fame.
"When that episode came out, there was a lot of talk about the EGOT, about EGOTing, and that felt like a new, fresh idea," 30 Rock writer/producer Kay Cannon told The Ringer. "So many people were talking about it. We thought that people would really remember this idea of EGOTing."
EGOT winner Whoopi Goldberg was recruited for the episode
When the concept for the EGOT episode began developing, Goldberg was the first name that came to mind for the 30 Rock staff.
"I remember thinking Whoopi Goldberg had done that and how impressed I was by her doing that, because she did it 'the harder way'," Cannon explained. "It wasn't from the same project or it wasn't writing music or something like that. She played four different roles and she won those awards. I always felt like: 'Why aren't more people talking about this?'"
In the episode, Tracy seeks advice from Goldberg on how to reach the illustrious goal. Cannon recalled her excitement at the genuine EGOT winner being a part of the storyline.
"I was so excited that Whoopi was on the show and that we got her playing herself, as someone who's EGOTed," she said. "That was a little bit of a dream come true."
Whoopi Goldberg discovered the EGOT term during her '30 Rock' appearance
In a recent interview with Variety, Goldberg admitted she wasn't familiar with the acronym of awards.
"That was the first time I was made aware that I was an EGOT winner," The View star remarked.
Goldberg's EGOT status was achieved by her 1985 Grammy for best comedy recording, "Whoopi Goldberg: Direct From Broadway"; a 1990 Best Supporting Actress Oscar for Ghost; an Emmy for hosting the 2002 TV special Beyond Tara: The Extraordinary Life of Hattie McDaniel, followed by another Emmy in 2009 for The View; and a Tony for producing Thoroughly Modern Millie in 2002.
Morgan praised Goldberg for her authenticity, clearly grateful for their close relationship. The 30 Rock alum noted her advice on keeping a healthy perspective regarding award wins.
"Whoopi's like an aunt to me," he said. "I would just ask her, 'How does it feel?' And she'd say, 'You know, it's an award, but those things don't last. What lasts is the work.' She's always maintained to me to be funny first and work hard, work smart. She's always talking to me about my work. The awards and all of these things are great to have, but it's about the work."