'The View': Sunny Hostin 'Borrowed a Bit' From Her Friendship With Meghan McCain For Her New Novel
Sunny Hostin may have used some details from her relationships with her co-hosts on 'The View' in her new novel, 'Summer on the Bluffs'.
Sunny Hostin released her first memoir, I Am These Truths, last fall. Now The View co-host has taken up fiction writing with her new novel, Summer on the Bluffs. Apparently, the attorney-turned-television personality is using some of her real life relationships as material for the storyline.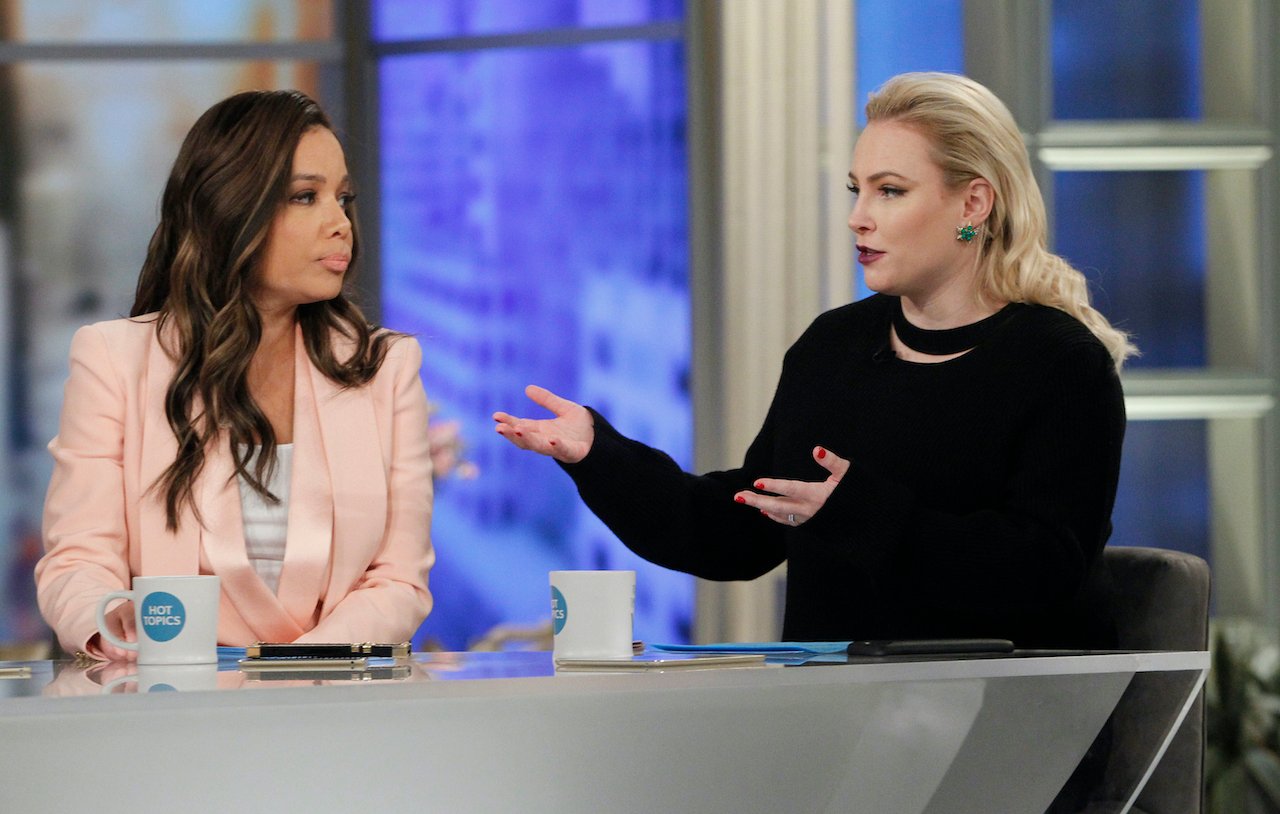 Meghan McCain and Sunny Hostin converse on Twitter for 'Summer on the Bluffs'
With Hostin's book just hitting the shelves, co-host Meghan McCain took to Twitter to celebrate her pal's achievement.
"Congratulations @sunny on today's releases of 'Summer on the Bluffs' – a perfect beach read for everyone!" McCain tweeted along with a link to the novel. "A beautiful story of fascinating, complicated women on Martha's Vineyard. I loved it!!"
Hostin expressed her gratitude to her fellow panelist on The View, revealing that McCain may notice some sections in the book that resemble their own relationship.
"Thank you for reading it @MeghanMcCain!!!" Hostin wrote, adding with a winking emoji, "I'm so glad you enjoyed. And thank you for letting me borrow a bit from our friendship."
Another co-host from The View weighed in with her well wishes, along with a suggestion for subsequent novels.
"Congratulations, Sunny," comedian Joy Behar posted. "Look forward to more sexual sections in the trilogy."
Sunny Hostin was inspired by her co-hosts of 'The View'
In an interview to promote Summer on the Bluffs, Hostin revealed she incorporated some content from her own life into the story.
"Much of the book is fiction," she told Yahoo! Finance. "But I definitely used my own experiences as a frame of reference. And I will say that I used a lot of my friends as prototypes for it."
Hostin created the novel's matriarch, Amelia "Ama" Vaux Tanner, partially from characteristics of her co-hosts on The View.
"In terms of Ama, I find that it seems that, especially after speaking with women like Whoopi [Goldberg] who's in her 60s and just so incredible, and Joy [Behar], who's in her 70s, they often have said, it seems like women just get written off," The View star explained. "That's unfortunate because we're here, and we're vibrant. We're alive, and we're having incredible adventures. I also wanted to write those stories as well. Because there's something for every generation in this book, much like The View."
'Summer on the Bluffs' was written with a purpose
After seeing a lack of novels that reflected her own culture, Hostin set out to write a story that offered readers something with a more diverse group of characters.
"I love beach reads, but I never see beach reads with people of color," The View star remarked. "I really wanted to write about characters that have similar lived experiences to my own. … I thought, let me write a work of fiction that reflects my world. I wanted to tell a story with Black and Latino characters, front and center, and fill a void because there is such a void in that space."
Hostin noted that creating the story for Summer on the Bluffs was nothing like producing her memoir.
"Writing [I Am These Truths] is very different than writing a beach read where I am exploring Black joy and Latina joy and exploring friendships," the former federal prosecutor said. "It's still complicated because women are complicated. … This book is women being strong and helping each other, and being self-possessed. They're career women, and they're making difficult choices. It's really beautiful and lovely in terms of their friendships because I have really strong girlfriends and friendships."
Summer on the Bluffs is now available.